2020 has been a crucial year with certain social limits that confined the marketing strategies of the brands and businesses. This restricted marketing plan pushed all the brands and businesses to the world of online marketing. This new wave took social media marketing to the next level.
One of the most popular social media channels, Facebook gave its users the platform to boost their marketing campaigns by creating attractive ads.
Facebook ads are evolving continuously since the time it was launched. Talking about the present time, Facebook Ads is one of the most powerful and far-reaching ways to promote the business and introduce the brand to the targeted audience.
97% of marketers prefer Facebook to run paid ads to boost business and there is no denying that we all see at least one business ad on Facebook each day. So, why not make that ad around your own brand and business?
But before gaining our knowledge on the Facebook ads strategies, let us first understand how to advertise on Facebook.
So, let's dive in.
7 Steps Towards Creative A Successful Facebook Ad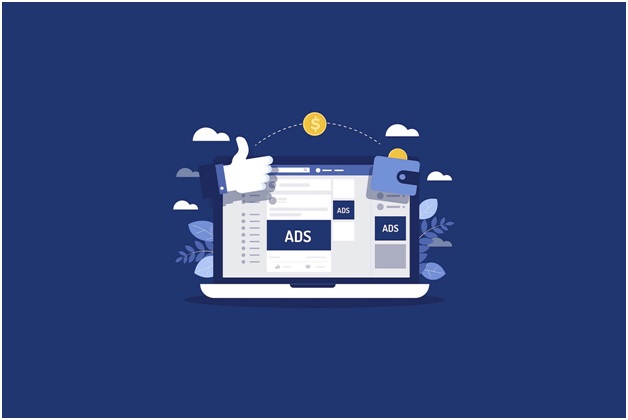 Determine your objective
The Facebook ads manager offers 11 marketing objectives that define the end result of your ad campaign.
They include awareness, consideration, and conversion.
Some of the following are-
Creating awareness about your brand.
Expose the brand to a wide audience.
Drive traffic to a specific page/post.
App installs.
Get new customers into the sales funnel, etc.
Based on your goal, choose the objective of your ad campaign
Decide a unique name for your campaign
Give your Facebook ad campaign a name that aligns with the objectives of your ad.
Setup your ad account
Set up your ad account and enter the required details such as country, currency, time zone, etc. once entered, click on Continue.
Define your targeted audience
Once you have selected which page/post you want to promote, it's time to target your audience by choosing the age, gender, geographical location, etc., or by adding the list of custom audiences.
Choose placements for your Facebook ads
Choose where you want your ads to appear. You can either choose the option of automatic placements or can choose each point manually.
You have an option to choose device type, platform, placements (feeds, stories, messages, etc.), specific operating system (IOS, android, all devices)
Set a schedule to run the ad
You can set the budget of our ad campaign and schedule the time when you want the ad to run. The best time to run your ad is when your targeted audience is most active on the platform.
Create your Ad
Choose the ad format that may vary depending on the campaign objective that you have chosen. Click on the confirm button when you are done and then wait for the approval mail from Facebook.
4 Important Facebook Ads Strategy
Promote Your Page Via Facebook Ads
It is important to grow your community on Facebook and it can easily be done by creating a Facebook ad. With his, you can retarget your audience to your Facebook page that reflects the objectives of your page and brand.
By promoting your Facebook page, you can drive more traffic to your Facebook profile and expand the reach of our brand.
It is important to use compelling images on the page so that it can hold the audience for a longer time once they are directed to your page. It will help you grow more likes on your page and specific post.
Use UGC To Create Facebook Ads Campaigns
To create attractive and authentic Facebook ads, you can use user-generated content as your ad's content.
UGC or user-generated content is the most reliable and trustworthy content that is posted by the real and genuine users of the brand on social media. There are various ways by which brands can leverage UGC for their promotions and advertisements.
One of the most exclusive ways is by using UGC for creating Facebook ads. This user-generated content can be collected and curated using Taggbox Facebook Widget in a simple and easy way.
It will help the brands showcase the credibility of the products and services and build trusted relations with Facebook users. Also, it will increase the number of clicks on the ads and impressions on the brand's profile and post.
Provide An Option For Direct Sales
One of the most innovative ways to grow your business using Facebook ads is by adding direct shopping links on the ads.
It is important to target the customers that have already considered buying your products in the past. This strategy can help you generate high-quality leads and increase conversions on your site.
With this, you can enhance the sales of your products and can attract more customers to your brand.
Increase Your Website's Traffic
Website is the online storefront of your brand and there is no other alternative that exists to make your business stand out other than increasing impressions and engagement on your website.
One of the most important Facebook ads strategies is to direct the viewer to the website of your brand so as to expose your brand to the customer in a better way.
Such Facebook ads can help you outreach the customer footprint on your website and boost the engagement rate of your website. The more users will land on your website, the more are the chances of increasing conversion rate. It will help you grow your business and boost sales.
Final Words
Facebook Ads are a creative way to generate awareness about your brand and achieve the marketing goals of your brand. People show interest in the ads displaying their desired products and services. Therefore, it is important to strategize your Facebook ads and make them even more appealing to achieve more with these ads.