If you are new to modern social networking platforms, you might have no idea that most of these platforms can be connected. As a normal user, you might not understand its importance but on having a plan to become an influencer and make money, you should connect your Instagram account with your Facebook page.
If you are a tech-savvy user of social networking sites, you must be aware of the fact that Twitter does not allow users to attach anything that is posted on Instagram along with the links.
Here are some stats about Instagram and Facebook which show how both these social networking sites can help you. As per a survey made by AdEspresso, there are some 1 Billion users on Instagram and 2.6 Billion users on Facebook till January 2020.
So, you can rely on your post to reach every type of audience. Remember always to keep your posts public on both Instagram and Facebook to get the maximum exposure.
As per the financial aspect, most users can gain a good profit from Instagram as you increase its credibility among the public along with yours. As per the same site, 31% of the global population who have an income rate of over $75K yearly are Instagram influences.
Another data indicates that most of the Instagram users belong to the age group of 18 to 29. It is also a good reason to connect your Instagram account with Facebook as you can easily expand your network.
Here, you will be able to know the way of connecting the Instagram account to the Facebook page and the benefits related to it. Every process is minutely discussed in detail. You should always try to follow the proper algorithm to ensure the connection easily.
Procedure for Linking Instagram Account With Facebook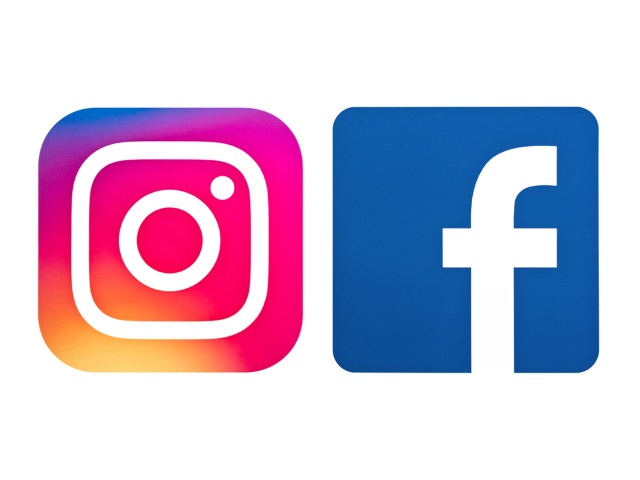 To link your Instagram account to the Facebook page you must follow the process mentioned below:
Consider the following prerequisites:
Having an Instagram Business Account: To connect your Instagram account with your Facebook profile, you will need to have a business account. You can either change your existing personal account to business or create a new business account.
Procedure to open an Instagram Business Account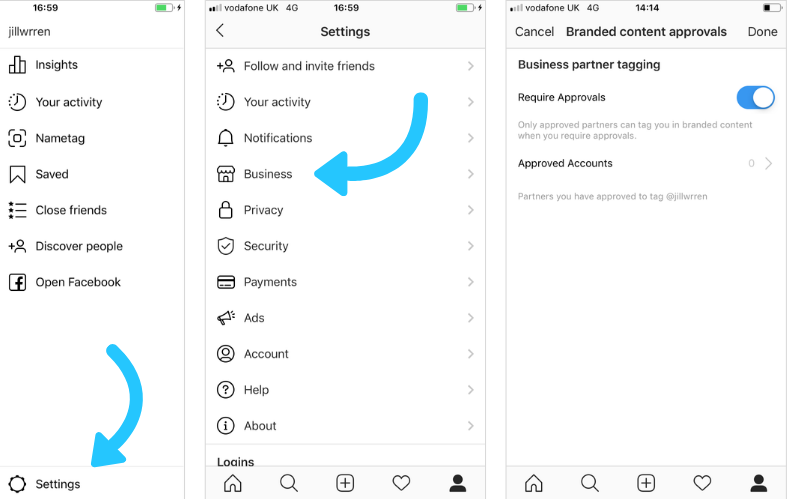 Download the application: You need to download the Instagram app from the app store. Make sure you are downloading the updated app. You can go through the users' reviews on the app store to judge the performance level of Instagram.
Follow all commands: If you don't have an Instagram account, you can create by following the guidelines given on the screen. On having an account, you can log in inputting your user name and the password.
Choose the business account: If you are opening an Instagram account for the first time, make sure to choose the 'Business Account' option while opening a profile, if you need to convert the personal account to a business account, you need to access the settings.
Connecting Instagram to Facebook Page
To link the Instagram business account to the Facebook page, you will need to visit your Facebook profile. The next steps are mentioned below:
Look for the News Feed option and tap on it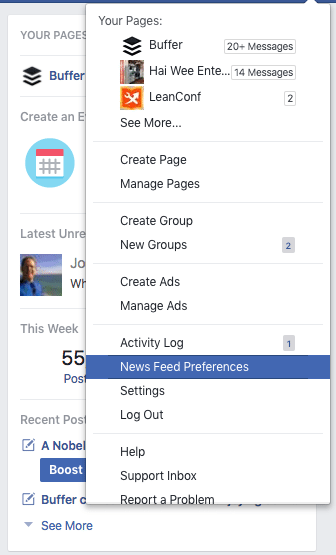 The 'News Feed' option is present in the left menu of Facebook. You need to find the option 'Pages' on it.
Get access to Page Settings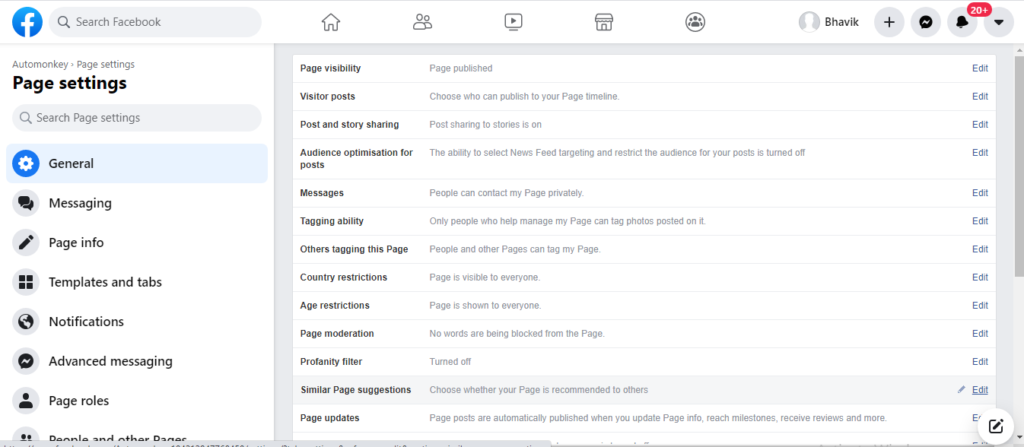 As you tap on 'Pages', a menu with several options will flash on your screen. You need to look for the 'Page Settings' option on this menu.
Choose Instagram under Page Settings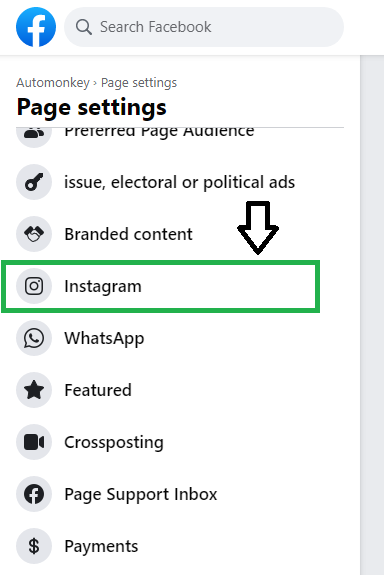 Tapping on Page Settings will lead you to another menu where you will mind the 'Instagram option.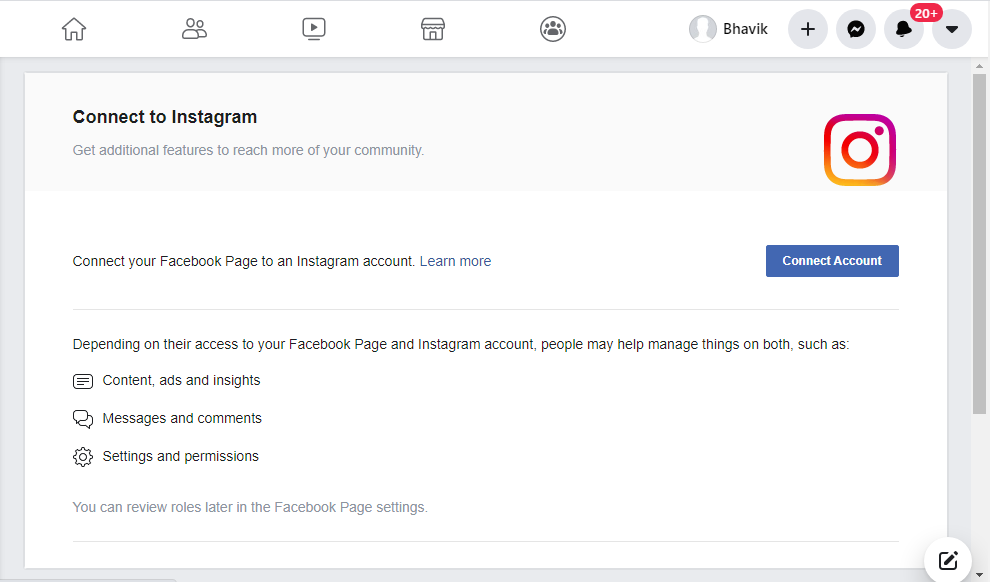 As you find Instagram, all you have to click on it, and an option of connecting an account will pop up. You need to follow all further prompts on the screen till your Instagram account is finally linked with your Facebook page.
However, you must keep in mind the prerequisite as you might face an obstacle in the process if it is not fulfilled.
Disconnecting Instagram from Facebook Page
As you run a business, you might face a situation when you need to disconnect the Instagram business account from a particular Facebook page. The process of disconnecting both the profiles from each other are given below:
=> Access the News Feed
While being on your Facebook page, you need to access the News Feed. On the News Feed, look for the Pages menu.
=> Go to Page Settings
As you have already done during connecting the Instagram account to your Facebook page, find the Page Settings and under it, Instagram.
=> Disconnect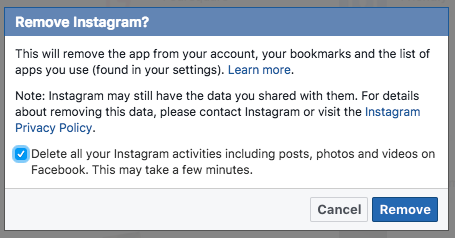 Once you find the disconnect option by scrolling down, you just need to click it.
So, these are the steps by which you can connect and disconnect the Instagram account from the Facebook page according to your necessity. However, you must remember syncing your contract info while connecting your Instagram business account with the Facebook page.
Contact Information Synchronization
Here is a brief step-by-step guide for contact info synchronization that you must do as it shows up on the Instagram page:
=> Access Pages from Facebook
Being initially on your Facebook page, you need to get access to Pages. If you are synchronizing the contact information for the first time, look at the menu located on the left side of the page.
=> Click on Page Settings
When you click on 'Page', a menu will appear where you have to click on the 'Page Settings' option. You can find the option named Instagram under the 'Page Settings' menu.
=> Click on Connect Account
As you click on Instagram, you will find the option named connect account. After you click on connect account, some prompts will appear on the screen. Follow all the prompts and you can get the business contacts synchronized easily.
Benefits of connecting the Instagram account to Facebook
Some key benefits of linking the Facebook page to the Instagram account is given here in detail.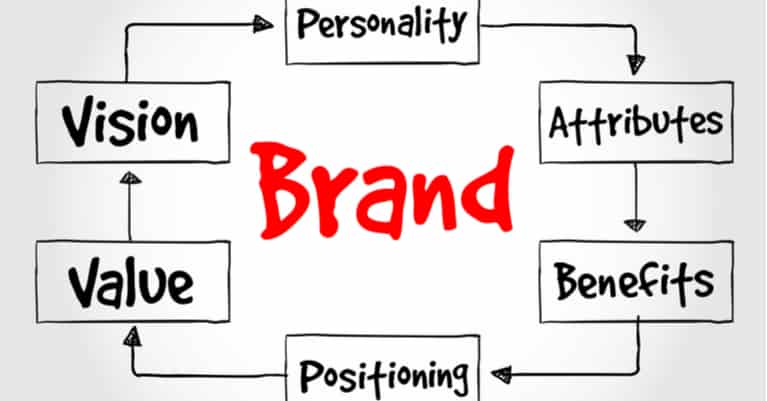 As an influencer or a business person, you will be able to manage the brandings of your products. It will be easier for you to launch new products and rapidly propagate them among your followers base.
Once you publish something either on Instagram or Facebook, the interconnection between two platforms can enhance your chances to attract leads. The best you can do is to post frequently and keep the reach of both platforms quite high.
As Instagram is now owned by Facebook itself, both platforms can work together as backups. You should be aware of the contact synchronization process mentioned above to be ensured that all your business-related contacts and information are safe.
Both Facebook and Instagram act as excellent advertising mediums. You can save a lot of time while publishing posts. The audience present in both of your accounts can see the content easily.
Now, here you can get an underlying benefit. The taste and preference of the audience present in Instagram and Facebook are different as the prior one is used mostly by the youth. If the youngsters are your target customers, you can expect to get the right response on Instagram.
Difference Between Instagram and Facebook Page
If you are about to connect Instagram and Facebook pages, naturally, you would have a question in your mind regarding the difference between both. So, here are some of the leading differences between Instagram and Facebook. All the differences given here are based on some aspects:
Facebook believes in the family whereas Instagram is quite vast when it comes to the position of the mass. You can observe that on Facebook, the mass is more colonized but on Instagram, you would be able to make a new community of your own.
Instagram is mostly accessed by people from smart gadgets. So, it can be considered as a mobile-centric app. On the other hand, Facebook is largely accessed by web browsers and mobiles. As a result, it has more reach.
Both Facebook and Instagram have large differences when it comes to the type of content posted on it. Where you can post both written and image content on Facebook, Instagram can only show the images to the audiences. Although you can post a write-up as a caption, you will be unable to add the hashtags and links as needed.
Final Words
The presence of modern-day social platforms has made communication easier. In such a scenario, the business sector has turned largely digital as the business persons or influencers are enhancing their presence on these sites to make money. All they are doing is simple mass communication.
If you are passionate about making money using social networking sites as your tool, it is high time to connect the Instagram page to the Facebook page. As you go through the differences between the two platforms, it will be easier for you to understand how you can get your posts propagated to a humongous mass.
Remember that time plays a crucial role in case of your success in terms of the yield you get from social media marketing and branding. So, you should observe your competitors and follow their style for posting in both platforms.