Linking building is one of the solid ranking factors for any website and that doesn't appear to be changing anytime soon!
But what are the best link building methods for an ecommerce store?
I will show you 5 tried and tested strategies that will give your website a huge boost in the SERPs.
Let's get going….
1 – Stealing Your Competitor's Backlinks
This is perhaps my favourite link building method that has your competitors doing all the hard work.
Find all your competitors backlinks and replicate them. Yep, it's that simple.
Let me show you exactly how this process works…
Set up an excel sheet and add the top organic results for your target keyword.
For example: the keyword 'running shoes'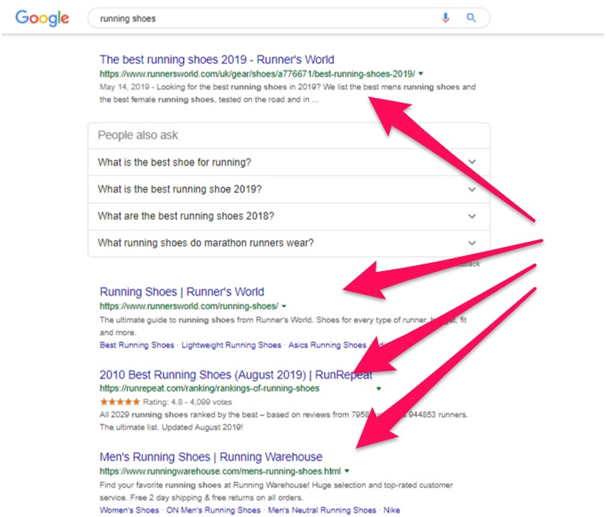 Produces these as the top organic results. You then need to put these URLs into a backlink checker tool like Ahrefs and view their backlinks: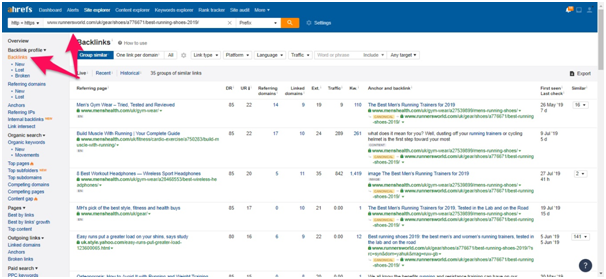 You can export the information to make it easier to sort through and then replicate the easy wins and reach out to the others.
I would recommend doing this process for the top 10 URLs.
Ok let's take look at some more link building methods that give your ecommerce SEO a boost.
2 – Guest Posting
I know you have probably heard all about guest posting already but it really is an awesome strategy to use if you wanna build links.
Providing great content for other websites not only ensures you get a link placed from them but it builds good relationships which always come in handy especially if you are trying to grow your business.
Guest posting at a glance looks like this:
Prospect your niche
Qualify those prospects
Reach Out
Create Some Content
Build relationships
Here's a useful infographic which to help with prospecting…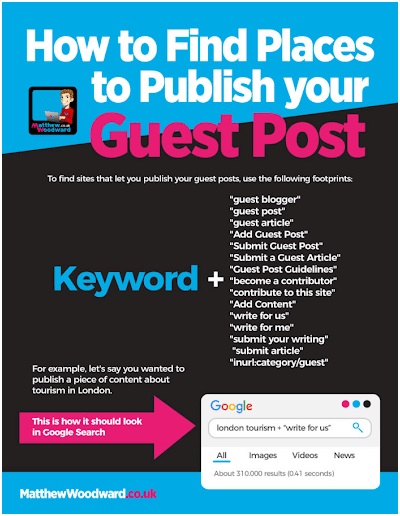 3 – Data-Driven Content
If you create content that has lots of data you are much more likely to attract links. As they say, data doesn't lie. So convincing people to place links to a well-presented article that is full of facts about a specific topic should be a piece of cake.
So take advantage of this strategy by thoroughly researching the topic and finding or even creating unique data then all you need to do is make it easy to digest in a graphic.
These graphics are also golden when it comes to reaching out to site owners. Imagine being able to include an attractive graphic in your email template rather than it just being rammed full of text.
Here's an example of a data-driven graphic from my blog:
This is from my post Which Is The Best WordPress Hosting? Where I put 7 WordPress hosts to the test and use the data I collected to create the content.
4 Brand Mentions – Reclaim your name
This is a really quick and easy strategy that you can set up in minutes which sends you an alert via email every time you or your brand is mentioned on someone's website.
You already have the head start of the mention being in place… all you need to do is reach out and ask them to update it with a link back to your website.
Before setting up the alert though you want to check that all existing mentions have links in place.
Just Google search your brand, your business name, products that are specific to you… well, you get the idea. Go through the results and look for your mentions.
Then you can use this search '-inurl: (insert your domain)' to bring up any mentions (excluding your site)
And follow the same process.
You should now have a list of mentions which you can reach out to try and get the link placed.
Once you have completed this exercise you need to monitor for any new mentions as they are made.
Do this by setting up a Google alert which will hit your inbox as the mentions published.
Quick and easy link building, that will give you great results in relative short time.
5 – Newsjacking
This strategy is basically to ensure you create content that everyone is talking about. You need to monitor what's trending in the news and react quickly with killer content.
Use Google Trends to see what is in the headlines and what people are interested in. Make a list of everything that is going on.
Then you can brainstorm ideas from that list for topics in your industry to write content about.
Once you have decided, you then need to get writing and publish as fast as you can.
The news today's is tomorrows trash as they say.
Then you need to promote the hell out of it!
If done right, newsjacking is a great strategy to get your content out there, seen, shared and most importantly… linked to.
Wrapping It Up
In this article we have looked at 5 ways you can use link building to optimize your ecommerce store. To recap:
Stealing Competitor Backlinks
Guest Posting
Data-Driven Content
Brand Mentions
Newsjacking
These strategies are tried, tested and successful when it comes to building links. Go ahead and see for yourself.