Have your team ever ended in a muddled up situation even when all the resources and timelines were made available beforehand? It may be because of a missed deadline, overlapping of works, miscommunications or unclear coordination between the members of a team. To get all the team members on the same page, project management software helps small businesses to bring a clear, even playing field for all team members and avoids unnecessary time wasted in sorting out the issues.
Project management software keeps everyone updated on the progress of each team member and makes resources available for all to access from a single point so that there is no room for errors.
Here's a list of some of the best project management software for small businesses available on the market.
1. Zoho Projects
Zoho Projects is one of the best comprehensible project management software with a variety of tools that caters to a vast majority of small businesses. It has an option for users to create reports, save your documents and emails to Zoho Projects, provides social media feed for the team to access and has some more convenient features like:
Kanban and Gantt charts – While Kanban helps to monitor the workflow and displays milestones, Gantt charts are used to track the tasks assigned and the status of it with the timelines.
Integrated chat app – Allows the team members to chat and discuss from a single interface; particularly suitable for remote team workers.
Issue Tracker – In software projects, team members can track, identify and prioritize the bugs and create logs for future references.
2. Wrike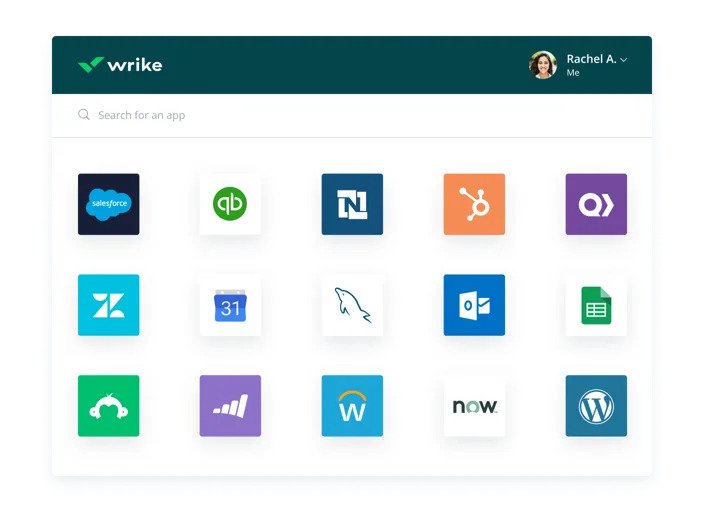 Wrike is one of the few project management software that is available for free. One of the main features of Wrike is its Cloud platform. The free version allows users to add up to five collaborators, a maximum of 2 GB storage space and basic integration with applications like Google Drive, Dropbox, OneDrive, Box and iCal. For the paid version, teams have unlimited storage space and can include any number of collaborators. The unique features of Wrike are:
Email and calendar synchronization helps to access all your project related details from a single space.
Reports help in creating a real-time view of the schedules and keep records.
Time and Budget Tracking can be used to track timelines and expenses, and one can create a common template and use it across multiple projects.
3. LiquidPlanner
LiquidPlanner aims to provide an overall software solution for businesses that are constantly on the change. There are various features which set it apart and some of those are:
Resource management helps to keep track of the workload each member has which is handy when allocating new tasks.
Advanced analytics can be applied to find the real-time status of the project and easily build reports.
Cross-project visibility lets you manage different projects with a common dependency factor.
4. ActiveCollab
ActiveCollab uses boards for the teams to collaborate and work on the tasks. It helps to monitor the tasks each team member has, the deadline for each subtask and the budget with the expenses. It has a Gantt chart-like timeline and Kanban boards which tracks the progress of the project.
This software is available for free trial for 30 days and has some efficient features like:
Integration with accounting software – Let's you export your project expenses into accounting software like QuickBooks and Xero.
Built-in time tracker – Tracks the timelines and deadlines of each task.
Invoices – Facilitates in sending invoices to clients after completion of a task.
5. Trello
Trello is one of the commonly used software by small businesses. It offers a kanban-style interface and is best for small teams. The free version includes unlimited boards, checklists, and members, and allows up to 10MB per attachment.
Tags and labels help in categorizing and prioritizing the tasks.
Applications in Android and IOS is useful for the team to access and update from their mobile phones.
Email creation of cards and comments lets you use the app from email without actually opening the app.
6. Asana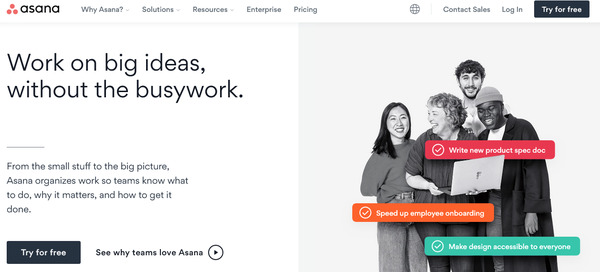 Asana has a simple, visual interface which helps to manage tasks easily, use the software intuitively and manage tasks with the help of some features like:
Integration – Over 100 plus integrated software from emails, calendars and files, it is made possible to access all the related information by bringing it to a single place.
Templates – You can create and give access of common templates to all the team members to use.
Custom fields – You can create custom fields and prioritize the important tasks by assigning different parameters to consider.
7. Teamwork
Teamwork is a simple to use project management software which breaks down the complex projects with the help of its simple features and tools. It has easy drag and drop functionality with lots of color codes to categorize and makes the whole experience intuitive.
With the free version of this software, one can use up to two projects. The paid version comes with an affordable monthly payment option. Some of the best features of Teamwork include:
Gantt charts – provides a comprehensive view of the project with deadlines and current progress with a lot of color coding options.
Billing Tools – helps the team to track the invoices, expenses.
Android and IOS applications – facilitate the team to work on the projects from their mobile phones.
8. Basecamp

Basecamp brings a centralized, organized platform for all team members to access all details of the project from the same point. Team members can discuss with others in specific discussion boards, create to-do lists for every team to access and follow, and also have the option of instant messaging. Some of the main features are as follows:
Automatic check-ins allow people to periodically update the progress of their tasks.
Files can be accessed by all team members from a single point.
Emails can be sent to Basecamp for all the team members to see.
9. Freedcamp
Freedcamp is one of the best free project management software available with applications in Android and IOS for teams to work on the go. One can create tasks, subtasks, and track deadlines by using Freedcamp. Also, some of the advanced features are:
Kanban boards to drag and drop into columns.
Gantt chart to have a complete view of the tasks.
CRM lets you save all your customers' contacts and make it accessible from a single place.
10. Quire
With a simplistic approach that keeps the process clean, Quire offers solutions that are easy to track projects, assign tasks with color codes and subtasks and has some of the best features like:
Sharing the projects with anyone who has the URL of the project.
Integration with Siri, GitHub, Google Calendar, Slack, and an option to export to Excel.
Reminders, chart view and calendar view make sure that the team members stay on schedule.
Quire is also available for Android and IOS applications and as Chrome extensions.
With the various project management software solutions available, small businesses can make use of the best-matched software according to their requirements and focus solely on the projects. Teams can improve their productivity by bringing all the resources, discussions and your project plans in one place.