The key to a successful e-commerce business relies on building trust and confidence with your users. No one will consider your brand if they deem it suspicious and untrustworthy. However, users who have already made a purchase from your site already know your shop. And to help you increase your sales by appealing to these existing customers, we present to you the WooCommerce Cross-Seller plugin.
What is Cross-Selling?
Cross-Selling: The practice of selling to an existing customer, is something emphasized by even the leading online retailers including Amazon. They send customers regular follow up emails with product/service suggestions. If a customer likes anything out of the suggested products, they should make a purchase that easily without bothering about the authenticity of your site and the purchasing experience
WooCommerce Cross-Seller Plugin: How it Helps?
The WooCommerce Cross-Seller Plugin comes in a freemium tool. Users on a budget can go for the free version which covers mostly all the basic functionalities. And if you need access to any advanced functionalities, then you can go for the advanced alternatives.
It is meant to work with WooCommerce enabled website, which in turn is an e-commerce plugin created for WordPress websites. And so, you will need to use a WordPress powered e-store to use the plugin. Also, the plugin is an add-on for WooCommerce, so the later also needs to be installed on your site.
Now, once you have everything set up, the plugin will use its host of features and functionalities to suggest existing users with products/services that are related to their previous purchases. The suggestions are sent via emails with links to guide them back to your website and complete the purchase.
WooCommerce Cross-Seller Plugin: Features
As we said earlier, the plugin comes in a free and premium package. Here are all the features that you get with the free option.
Free Features:
Checks every purchase made by customers and suggests unpurchased products only.
Option to exclude products that you don't want to promote via cross-selling emails.
Each email sent by the plugin will have a built-in unsubscribe options. Users who are not interested and click the button, and they will not be sent any further recommendation emails.
You can customize the subject line and headline for the settings panel.
As you can see, all these features are more than sufficient to help you successfully run your cross-selling strategy. But you can also go for the premium version to access some advanced options.
Premium Features:
Option to cross-sell products through a thank you page. You can configure to show the recommended products on the thank you page, where a customer is taken after they have made a purchase.
Full customization control over the cross-selling emails, directly from the settings page. You can edit everything from a dedicated editor.
Option to set multiple subject lines to help randomize the emails.
WooCommerce Cross-Seller Plugin: Pricing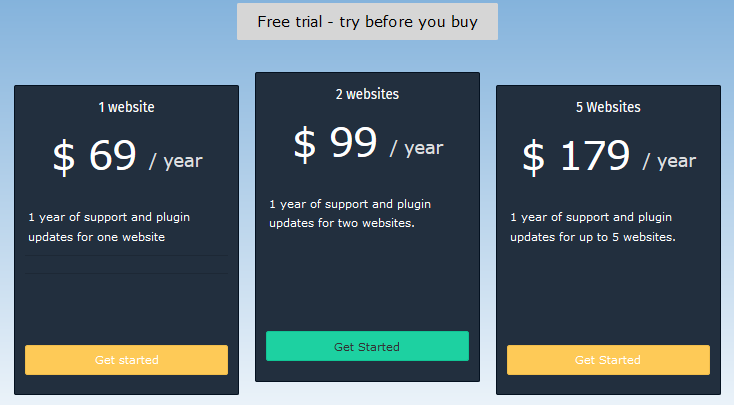 If you feel unsure about how much success the plugin will bring for your website, then you can go for their free option. It is available for download from the WordPress plugin repository. However, if you are looking for some advanced functionalities to add to your site, then you will have to go premium.
Depending on the number of websites you intend to use it for, there are three different pricing plans, The cheapest one gives you a 1 website license and 1 year of support for $69. You can extend this to 2 website license for $99, and 5 website license for $179. All pricing plans will give you only 1 year of support.