Magento today comes out as a smart form of technology using which you can build a e-commerce website. It helps you to get familiar with all beneficial solutions, helping your business to grow with a higher sale online. Now, it's important to choose the feasible Magento themes depending on which you can drive more traffic to your eCommerce website getting genuine buyers.
Here are mentioned top 10 Magento themes from where you can find a suitable option according to your needs:
1. Handystore

This theme is a suitable option for real estate and construction sector and thus you can now handle your business activities in your way with a good web presence. It comes out with a full responsive layout that helps users to use the features without any worries. They can now access your website anytime and from any smart devices, helping you to get more users visiting your eCommerce store. Here, you can also find product badges with detailed product descriptions helping users to choose confidently.
2. EBajes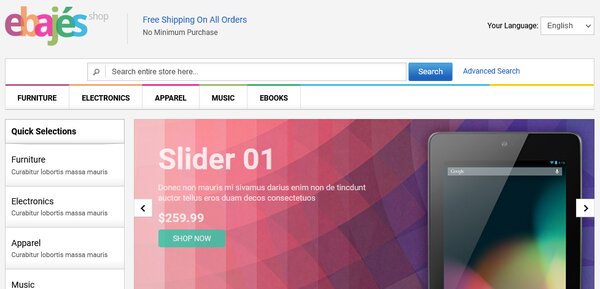 EBajes is a free responsive Magento template for electronic products, providing a better experience for users. The template carries a sleek design that gives your website a sophisticated look that makes users feel happier while visiting your online store. Thus, they show interest buying the stuffs knowing that he/she can make a safe purchase with a user-friendly interface.
3. Bakerop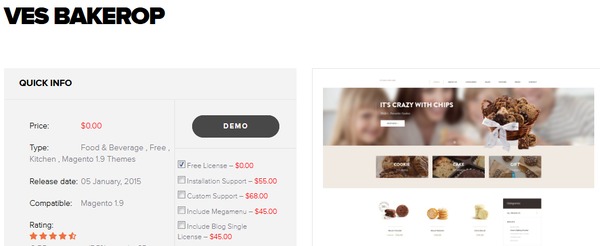 This is a tasty Magento template designed for your online food store. It's an ideal theme for cakes, bakeries, cafes and restaurants creating a customized backdrop helping users to get familiar with a good experience. The template is flexible enough and is based on Bootstrap framework that gives you the ultimate responsive look. The design carries a soothing chocolate color that makes it more attractive and a user would start feeling hungry once he/she visits the site. The tidy and downy outlook of this theme makes it a nice one in real time.
UPDATE:  This theme is not available or removed
4. Trex
It's a perfect Magento template for selling online bike and bike accessories. The template comes out with a mega menu, product slider, slide show and product list that help you to manage a good display of your products. Using the line preview you can do a testing on different screens displayed on the right side's top screen that helps you to adjust the final view. Using Trex free Magento template you can start online sales at your ease earning more revenues for your business. The layout is a simple one with a comprehensive backdrop that helps you to handle all the features in the right way. Here, you can also find 5 color presets from where you can opt for a suitable one, which would go well with your products.
5. Absolute
This is a nice free template with customized settings that help you to manage a clean view of your products accompanying all necessary details. It's a perfect one for shop owners featuring an index page, image slider and a 2-column design. This template turns out with 10 different color options, which are like green, pink, silver, violet, etc. The front page here carries a comparing product block with newsletter subscription that allows you to incorporate all customized options as you need.
6. Grayscale
It carries a sleek design and the bright color options make the template a perfect fit for jewelry, electronics and accessories stores online. The features you can explore here are a home page slider, product/categories menu in a horizontal frame, a banner slider with manageable admin options, newsletter and a sidebar with shopping cart option.
7. Computer Store Template
It's a smart yet clean template with gray and orange color combination. It gives you a complete responsive backdrop powered by Bootstrap that makes it a user-friendly one. And the quick-view extension gives it a customized backdrop helping users to get a better visibility. Overall, the complete open source platform gives you the best results, ensuring that your online computer store runs successfully.
UPDATE:  This theme is not available or removed
8. FreeGo-Solwin
This is a full responsive template with an elegant design featuring all customized options that are easy to use. In addition, the backend panel helps you to create a fully functional online store accompanied with a smarter slideshow with touch options. The off canvas menu is also another creative part of the template helping your users to get a different experience there. Finally, you can find the mega menu option that comes up with advanced features.
9. Necessary
This is another free and full responsive Magento template, which features an advanced admin panel. Using the theme, your eCommerce store would get a clean and professional look that helps you to manage your online business efficiently. The product quick-view options also give users a better experience, ensuring that you come out with all positive aspects along with a smarter navigation option.
UPDATE:  This theme is not available or removed
10. Ves Yume
This is an ideal theme for a baby store, as it turns out with a vibrant background. The front page consists of the cart based products that aids you to make right choices adding to your cart. So, it helps you to do easy shopping enhancing the overall business opportunities. The products are arranged in a grid list accompanied by bold thumbnails with pricing options that makes the process easier.
UPDATE:  This theme is not available or removed
Conclusion
In this way, you can get the best Magento template for your eCommerce store getting access to a clear backdrop with more buyers showing interest in your brand.
Author Bio
Maggie Sawyer is a creative Magento developer at MarkupHQ Ltd., a leading convert convert psd to  responsive magento theme services with vast experience in Magento fully design & development. She provides responsive Magento theme conversion services with 100% client satisfaction guarantee.