PHP is one of the most used and powerful languages on the web. W3Techs' data suggest that around 78.9% of websites use PHP along with a known server-side programming language. Almost 8 out of every 10 websites you visit are using PHP in some way.
Laravel is a web application framework with an expressive, elegant syntax. It is a free, open-source PHP web framework designed to make developing web apps more comfortable and faster through built-in features. However, Laravel is just a tool, and you still need an experienced and expert developer to get your website going.
Though there are hundreds of places to hire Laravel developers, selecting the right ones can be a baffling task. Since there are more than 5 million Laravel developers in the world, getting the best quality developer from such a large pool can be a little daunting, and we understand your confusion.
Here we have collated a list of 10 top-notch websites and platforms you can make use of to hire the best of the best.
Toptal
Toptal is undisputedly the best platform to hire Laravel developers. The reason Toptal is the best among the best is that it accepts only 3% of the freelance Laravel developers. It admits only the top tier developers after a must pass English screening tests, rigorous technical testing, and other patented screening processes. Laravel being a robust PHP framework is only one half of the coin; you also need an expert developer for building a website that is top-notch.
Toptal eliminated all hassle and doubt one might have while hiring a Laravel developer. A downside, on the other hand, is that hiring these developers is very expensive. If you are a small business, then you might want to consider something that is not too heavy on your budget.
DevITJobs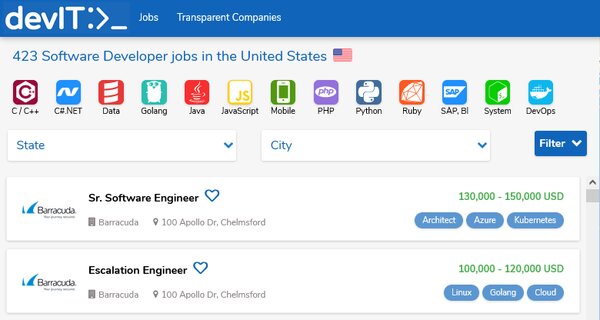 DevITjobs is a new player in the U.S. market – it's a job board built with Software Engineers in mind. Every job has a salary range, full tech methodology and detailed information about the company, making the job search process simple, transparent and enjoyable. Just pick your location (or remote filter!), preferred technology (e.g. Laravel) and you can start sending your resume.
Job-seekers connect directly with the employer, without proxies getting in your way. Employers have their job postings reviewed manually and can edit every bit of information from their panel, which also provides a clear picture of their recruitment process. At least until the end of 2022 job postings on DevITjobs are completely free of charge. DevIT is also present in the United Kingdom.
Hired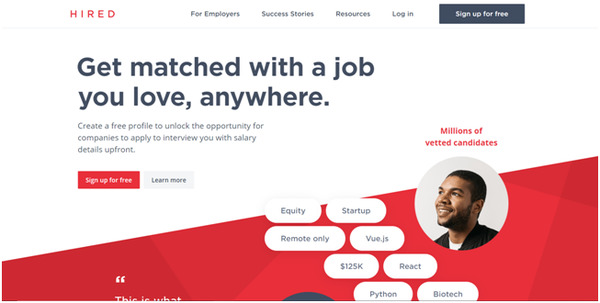 Hired is one of the largest career based marketplaces. It brings together its intelligent job matching algorithms to find you the best developers on site. Hired offers transparency into salary offers, competing opportunities, and job details to both job candidates and companies.
Hired takes off multiple quarters from the recruiting process making the process easier and quicker for companies. The job candidates are all interview-ready and to start working right away. You will find experienced Laravel developers hired as they only recruit candidates with minimum 2 years of experience.
GitHub Jobs
GitHub has a trusted niche community and a massive niche job board. Exploring general marketplaces for freelancers can be a time-consuming process. Niche job boards save you time because you get exactly what you are looking for. Since GitHub is one of the largest code repositories, millions of independent developers and tech companies visit the site monthly. GitHub Jobs can be an excellent place for you to look for Laravel developers.
Upwork
Upwork is a giant freelance marketplace. There are millions of users on Upwork currently providing their services. Freelancers prefer Upwork over other freelancing websites because Upwork has a screening before admitting candidates.
Though Upwork is not a niche marketplace, yet it has some excellent PHP Laravel developers. It can be a cost-effective and efficient place for you to start looking. If you are looking to work with someone on short terms, probably for a single project or a few of them, then Upwork will suit your needs perfectly well. You may even discover some hidden talent.
Gigster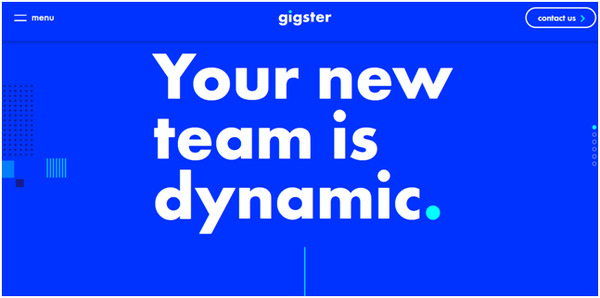 Gigster is a robust platform that allows users to get tech projects built on demand. It, in many ways, is a matchmaking service that can help you create dynamic teams, bring together diverse talents, and get your project going. In 2017, Gigster raised over $20 million in investment in Series B funding round.
It is a fantastic recruiting platform for companies with a large budget at hand.
Indeed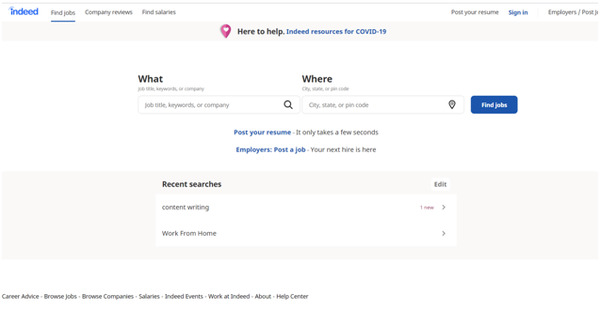 Most of the websites we have discussed so far, other than Upwork, are niche sites for PHP developers. Though Indeed is easier and more rewarding to look for Laravel developers on these niche-based sites, you can also explore a few general marketplaces to recruit full-time employees or freelancers.
Indeed is one of the top job hunting sites. It receives over 250 million unique visitors every month. It adds 10 jobs every second globally. These are some fantastic stats, to begin with.
Though you might have to make your way through to the right kind of developers, this effort can be rewarding.
LinkedIn Jobs
LinkedIn is one of those names that is everywhere. For people looking for professional networking, this platform works like magic. As of May 2020, LinkedIn had 690+ million registered members in 150 countries. LinkedIn's Job board is a marketplace where freelancers can bid for project proposals submitted by individuals and small businesses or look for job postings by companies. In 2017, it had around 60,000 freelancers in more than 140 service areas, such as Photographers, bookkeepers, website builders, content writers, etc.
LinkedIn is a cool place for networking but can also be used to find the right talent for your projects. You can look for full-time or freelance Laravel developers and schedule interviews before hiring. It also gives you transparency into the professional history of developers.
Scalable Path
Scalable Path is another great match-making platform for Laravel developers. They have more than 17,000 top-tier developers. Scalable has a similar approach to Toptal; they have a screening and selection process before actually admitting any developer on the platform. This allows them to admit the best and most experienced developers.
You can use Scalable to bring a complete on-demand specialist team with a week's turnaround time. Their network of pre-qualified talent accelerates the hiring process while you can sit back and be assured of hiring top talents.
LaraJobs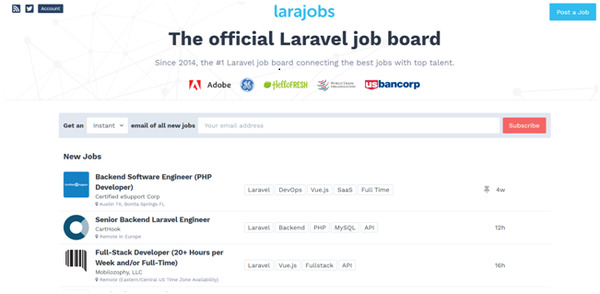 If you want to be quick and precise, then LaraJobs is the place for you. The entire platform is dedicated to Laravel PHP developer jobs. The platform is a job listing platform where you can contact LaraJobs to post your job on their website. The platform provides a guarantee to every company that pays to list their jobs with LaraJobs.
You can either get a months' extension of your listing or a complete refund if you contact the platform within 30 days of the listing.
Conclusion
Time is a valuable commodity. If you are running a business, then giving too much time to finding the right developers for your projects might cost you heavily in other ways. We have curated this list for you with an intention to save you an awful lot of time and point you in the right direction.
You can quickly go through these platforms; according to your budget, urgency of the project, time-period, level of experience, etc. you can make an informed decision.