As an individual artist, blogger, entrepreneur or social media influencer, it's crucial for you to have a substantial online presence. The best way to do it is by creating a portfolio site that can put you in direct touch with potential clients and showcase them important details with regards to your expertise, current projects, past achievements, client testimonials, etc. In case you've not done it already, this is the right time to do so.
There are two primary ways in which you can proceed hiring a designer who'd charge thousands of dollars for a one-page portfolio site or designing a beautiful website yourself. If you're interested in going forward with the second option, then choose a perfect WordPress theme to give your portfolio site a unique touch.
We have made a list of 20 handpicked WordPress themes that most leading portfolio sites prefer to use. You can take a look at them and select the one that seems most appropriate to your field of operations.
1. Clean
Should you want to present your work creatively without any unwanted graphical or animation effects, then Clean has to be on top of your list. It's a lightweight, search engine ready and mobile-friendly WordPress theme with a broad range of custom-designed features. You can install it on your portfolio website to get first-page rankings and constant organic traffic quite comfortably.
2. Feminine
Are you a female blogger covering topics related to women empowerment, fashion or the latest trends in the lifestyle space? If yes, then go for the Feminine theme and give your website a classic touch that can attract new users and keep them hooked for a long time. You can easily customize it according to your requirements and achieve desired outcomes. Feminine is SEO friendly, mobile optimized and has a robust options panel.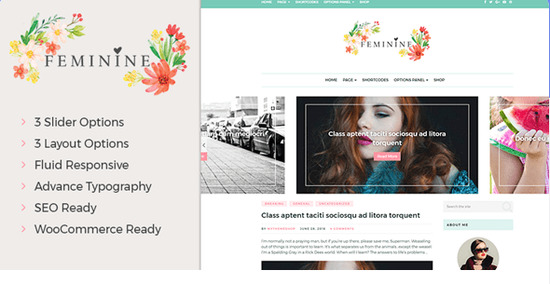 3. Gorge
Gorge is a popular portfolio WordPress theme with a clean and minimalistic design. If you're looking for a clutter-free theme that can perform well on any device and enhance the overall user experience, then it's the best theme to check out. Some of its primary features include support for the visual composer, retina ready design, dark & light version, endless color choices, shortcode generator, REDUX option framework, awesome icons, and dedicated technical support.
4. Kitchen Design Pro
Our kitchen design WordPress theme has a teal color or many say turquoise color which appeals to many and is a popular multipurpose template because it can be used for several types of industries like interior, modular kitchen, modern apartments, luxury goods, furnishings, kitchen utensils, kitchen ware, laminates, carpenter, home services, handyman, renovation, architects and other types of service industry websites too. Its responsive and comes loaded with SKT page builder for ease of use.
5. Lester
Lester is a creative WordPress theme that can turn your portfolio site into a client acquisition and sales funnel. It's packed with multiple advanced custom fields, drag & drop page builder, visual portfolio editor, one click demo import, inbuilt support for MailChimp, and dozens of other features to showcase your work to potential clients in the best possible way. Have a go at Lester and put an end to all your growth hacking related doubts immediately.
6. RokoPhoto
Being a photographer, you need to pay extra attention towards creativity and visual appearance of your site. This is where a theme like RokoPhoto can make a huge difference. It's multipurpose and responsive, so you'll never have to face any performance related issue again. Besides, its translation-ready feature ensures that your site ranks even in the countries that have a different native language than yours. Overall, a fantastic theme to showcase your work and acquire new clients.
7. Inspiro
Inspiro is a video and photo focused WordPress theme by WPZoom. Packed with a modern design and full-screen slideshow, this theme has the potential to revamp your site's layout without affecting its loading speed and search engine rankings. Some other features of Inspiro are the widgetized homepage, impressive gallery module, WooCommerce support, multiple color schemes, and mobile-friendly structure.
8. Silvia
Silvia is a powerful photography theme for promoting your portfolio across the globe. Its beautiful photo gallery and world-class customization options empower you to stand out and take your photography business to all new heights. Silvia features with regular updates, one-click demo import, custom-built design, responsive layout and multi-lingual support.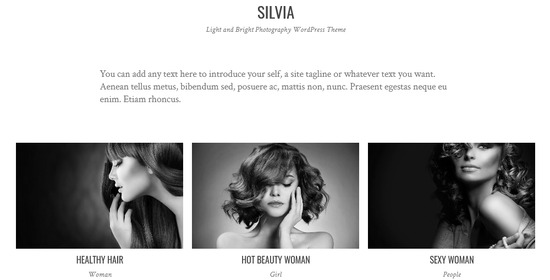 9. myPortfolio
Whether you're a singer, writer or a blogger, myPortfolio has all the essential functions to showcase your past and current projects, client testimonials, skills and other details on your website in a compelling manner. The setup and installation process of this theme is incredibly easy, and the support system is world-class. An ideal WordPress theme for those who seek excellent results without wasting any time.
10. Passionate Pro
Passionate Pro is a professional WordPress theme that can be installed on sites revolving around personal branding, business, agency, blogging or anything similar. Major hotspots of this theme include topbar contact widget, team section, unique pricing widget, advanced typography, footer editor, and 24/7 premium support. It's lightweight and SEO friendly, so you'll never have to worry about getting your site into the first page of search engines and drive massive organic traffic in a fully automated mode.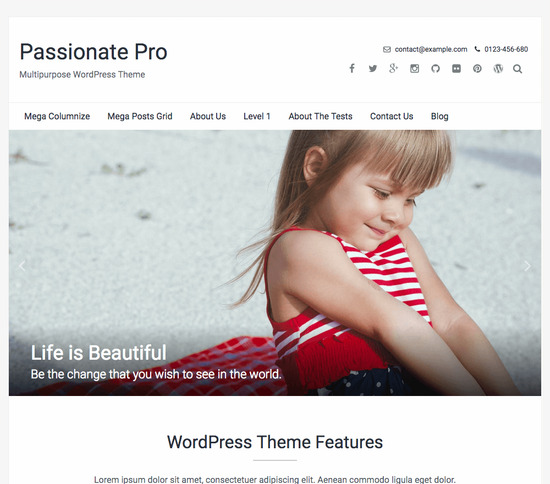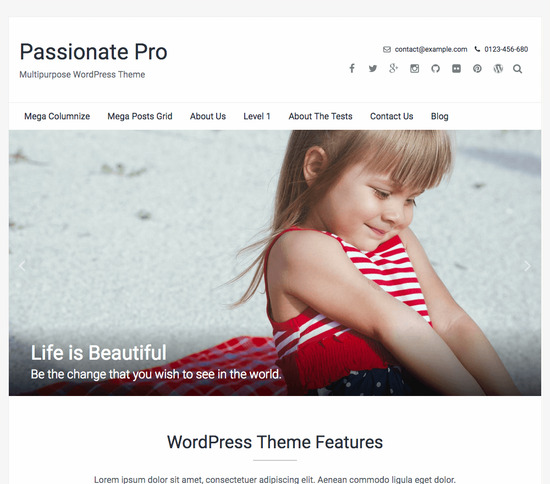 11. Talon Pro
Go for Talon Pro if you always wanted to hold the site customization power in your hands. It's built on the free WordPress theme Talon, with a wide array of premium features good enough to take your site's layout, functionality and SEO readiness to all new heights. Whether you run a business blog, agency website or a portfolio site, you can install this theme and achieve desired results in terms of user experience and search engine rankings comfortably.
12. Puzzle
Puzzle is one of the most user-friendly, customizable, and easy to install portfolio themes in the world. It's translation and RTL ready, ensuring your site content is flexible enough to target users from different demographics. Moreover, Puzzle is search engine friendly and comes with a one-minute setup guide. You can install it on your site and start getting positive results right from day one.
13. Venture
If you run a startup that's making innovation a part of everyday life and deserves to get people's attention for its excellent work, then go for the Venture portfolio theme without any further delay. It's packed with an easy-to-use options panel, responsive layout, dynamic homepage builder, visual customizer, built-in portfolio feature and multiple widgets. Venture loads fast on both desktops and smartphone devices to ensure you get good organic traffic and high conversion rate.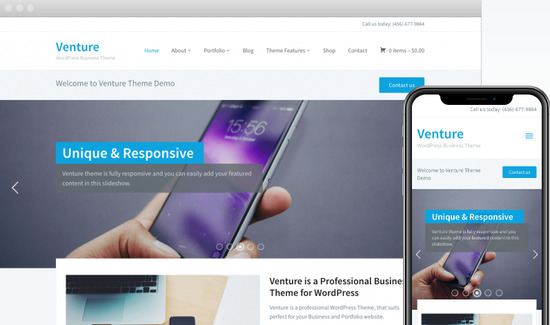 14. Portfolio Theme
The Portfolio Theme is an ideal option to showcase your best work to users from all around the globe. It's simple and responsive with a professional touch. The development team has ensured that your site performs well on smartphones without any lag in the loading time. Moreover, its built-in support for WooCommerce will help you sell online and shoot earnings to all new heights in 2018.
15. Hellomouse
Hellomouse is a clean portfolio theme with world-class features, such as minimal layout, powerful and custom-designed homepage, responsive design, over 60 customization options, world-class widgets, search engine ready structure, and highly-flexible sidebars. Its color schemes and backgrounds can make your site stand out in no time without affecting its load time on desktops as well as smaller devices.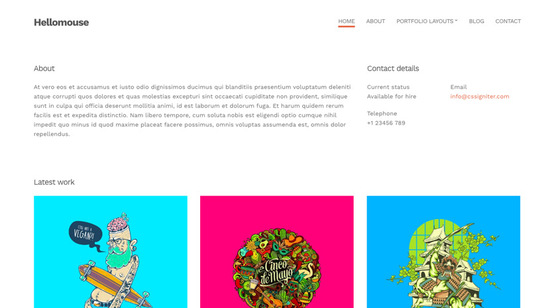 16. Pinable
Are you one of those creative artists who wish to give their sites a Pinterest-like look? If yes, then check out Pinable portfolio theme immediately. It's a popular and highly customizable WordPress theme that can set you apart in the dot-com world. Pinable's multiple content layouts, customization options, a library of shortcodes, and 24/7 premium technical support give it an edge over others. Use it once and turn your site into an attractive web property.
17. Thebe
Thebe is an ideal WordPress theme for photography blogs, online portfolios, and agency websites. It's clean, elegant, and easy to install. Some of its primary features comprise of light/dark style, AJAX-driven structure, shortcode support, powerful theme options panel with dozens of customization options, more than 700 Google fonts, built-in support for WooCommerce, fully responsive design, and fast loading speed.
18. Reel
Being a video professional, sometimes you might feel trapped when it comes to communicating your creative ideas to the audience in an innovative manner. That's where a theme like Reel can make the entire process very hassle-free. It allows you to publish videos on your own site and add extra effects with the help of video background, video lightbox, and other user-friendly features.
19. Portfolio
A minimal portfolio theme for individual artists, bloggers, and entrepreneurs, who want to have a clutter-free website that offers a fantastic browsing experience to users without any additional animation effect. Portfolio theme is easy to manage and comes with the import/export feature to help you get through the initial installation process quite comfortably.
20. Writer
Writer is one of the most popular and high-rated multipurpose WordPress theme that can be used on personal portfolios, business blogs, and money websites. It's compatible with WooCommerce, so you can easily set up an e-commerce store and create a passive income funnel. Moreover, Writer's powerful customization options enable you to play around with your site's layout and functions as and when you want.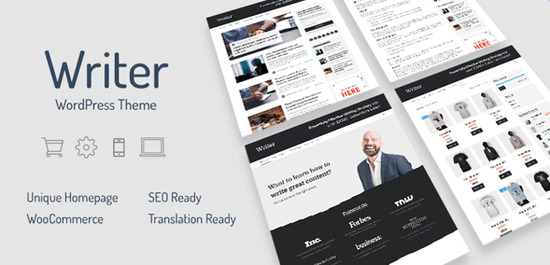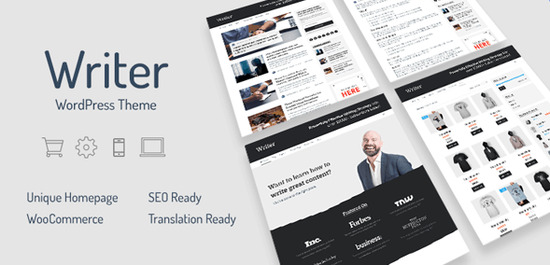 Choose any of these highly rated WordPress themes to give your portfolio site a classic touch and improve its search rankings over time.
Bonus:
21. Eclecticon
A beautiful WordPress theme to give your portfolio an edge over others. Eclecticon has all the necessary features to ensure you have a fabulous first impression on your readers. Its minimal layout and lightweight structure help you focus on the actual work, while the search engine ready design improves SERP positions quickly. In addition to this, Eclecticon has more than 60 options in its theme panel to give you total control of your site's design and functionality.