In today's visual-centric internet culture, the majority of your server's bandwidth will be devoted to serving images to visitors. And if your server can't handle the load, your WordPress website will become more and more sluggish as you keep adding more images, causing major SEO and UX problems down the line.
If reducing the number of images hosted on your website is not an option due to functional or design constraints, the next best thing you can do is use image optimization to lower their impact on website performance.
Image optimization is simply the process of using compression algorithms to reduce image file size while maintaining image quality (lossless compression), or with a certain downgrade in quality (lossy compression). Image optimization through compression will make your website load faster, in addition to making it more responsive overall.
Image compression is a feature present in most kinds of image editing software, from commercial applications such as Adobe Photoshop, to online services such as TinyPNG, to dedicated WordPress plugins, our topic for this article. The main advantage to using a WordPress plugin for image compression and optimization is automation – instead of converting your images manually, you can simply upload the images through the WordPress dashboard, and let the plugins do all the work.
There are numerous image optimization plugins in the official WordPress plugin repository, so choosing the right one for your website can be challenging. So to save you the effort, here is our list of the top 5 image optimization plugins for WordPress.
Smush is an image optimization plugin made by WPMU DEV. It is currently the most popular image optimization plugin on WordPress, and it comes in two variants, a free one and a premium one. Every image you upload through Smush will be automatically optimized, saving you the trouble of doing things manually. The plugin also offers bulk optimization, allowing you to compress multiple images at once. This option is particularly useful for creating WordPress websites from scratch.
The free version allows you to upload and compress 50 images at once, whereas the premium version has no such limitations. You can also opt to compress each image individually, which can be accomplished by heading over to your WordPress Media Library, selecting the file you want to compress, and pressing the Smush button in the Attachment Details window.
Smush utilizes lossless compression by default in the free version, whereas the premium version provides the option to use lossy compression for an extra reduction in file size. Depending on the kind of images you're hosting, this feature can be quite useful.
2. ShortPixel Image Optimizer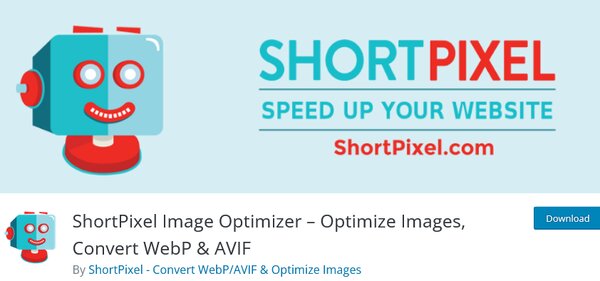 ShortPixel Image Optimizer is one of the better-known image compression and optimization tools on WordPress. It has a sizable userbase (over 100.000 active installations), and updates fairly frequently, bringing regular bug fixes and feature updates. In order to use the plugin, you will need to enter an API key during activation, which you can obtain for free by signing up for a newsletter with your email. Once the plugin is installed, every image jpg, png, and gif image you upload will automatically get compressed. Unfortunately, there is no option to turn the feature off as of this moment.
Similarly to other tools on our list, the ShortPixle Image Optimizer offers both bulk and individual compression. The latter can be accomplished by simply clicking the Optimized Now button next to an image in your Media Library. You can choose between lossless and lossy compression, with lossless being enabled by default.
The optimization process can be further customized through options such as image thumbnail conversion, EXIF data removal, automatic image backup, and custom resolutions. You are entitled to 100 image compressions per month with a free sign up, and you can acquire additional conversion credits through direct purchase or referrals.
3. Imagify Image Optimizer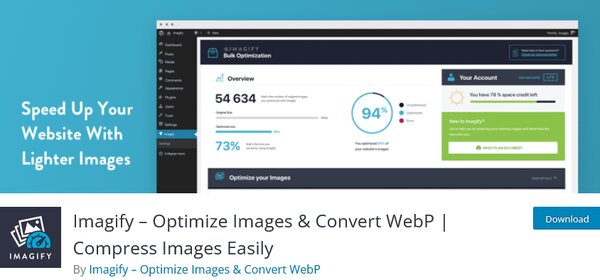 A relative newcomer on the image optimization scene, the Imagify Image Optimizer has managed to garner a loyal following soon after release thanks to its user-friendly design, a wealth of customization options, and the fact that it is free. The developers at WP Media also made an effort to implement many features requested of such plugins by the community, earning themselves a lot of goodwill.
To use the plugin, you will need to sign up for an API key. You can compress images individually or in bulk, and once you set up the plugin, every image you upload will automatically get optimized. The plugin offers three different optimization settings: normal, aggressive, and ultra.
Normal setting uses lossless conversion, and it is useful for handling images in bulk. Aggressive uses a combination of lossless and lossy conversion, creating images with a good balance between size and quality. Ultra uses lossy conversion, and it provides the most noticeable reduction in size, while still maintaining solid visual quality. The tool also lets you remove or keep EXIF data, and it keeps a backup of all optimized images, in case you're not satisfied with the results.
4. EWWW Image Optimizer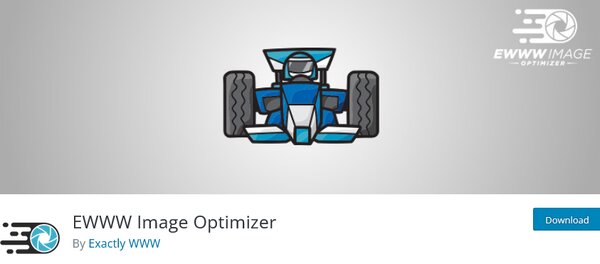 EWWW Image Optimizer is another popular image compression plugin. It was developed by Exactly WWW, and is completely free to use. After you install and set up the plugin, it will automatically optimize the images you upload to your WordPress website, provided they come in one of the following formats: jpg, png, or gif.
There is also the option to compress all images in your media catalog, which is useful if you are doing website image optimization for the first time. The main advantage to using EWWW Image Optimizer is the fact that the whole optimization process is executed server-side, instead of having to upload the images to a third-party service.
This will significantly reduce the time it takes to compress your images. However, in order to leverage this feature, you will need to install a number of pre-compiled binaries in your local WordPress folder. If you lack the experience and technical expertise needed to do this, there are professional web design agencies which can handle the task for you. Alternatively, you can opt to use the cloud optimization feature, which is a bit slower than server-side conversion, but is easier to use for laymen.
5. TinyPNG Compress JPEG & PNG images
TinyPNG is a household name in the field of image optimization. TinyPNG initially offered optimization services through their websites, but have since moved on into WordPress plugin development, and Compress JPEG & PNG images is the result. The plugin uses lossy compression by default, making it extremely effective at reducing image file size.
However, the algorithms it uses are well made, ensuring your images will still maintain a level of quality. The plugin is somewhat scant when it comes to customization options: you can only choose the maximum resolution of the images you upload, as well as the desired output size.
The main advantage to using this plugin is the fact that it preserves metadata, creation dates, copyright information, as well as GPS location, so you can rest assured that no one is using your images but you. The plugin also provides the option to handle and optimize different color profiles.
Conclusion
Keeping your images optimized is crucial for t providing a satisfying user experience on your WordPress website, and the easiest way to accomplish this task is through a WordPress plugins. Despite their differences, each of the plugins we have outlined is a good choice when it comes to streamlining the process of image optimization.