Are you searching for an effective WordPress security plugin to use in locking down your website?
In this article, we have highlighted 8 best plugins which provide a detailed way to WordPress security. Unlike some WordPress security plugins whose main focus is smaller things such as two-factor authentication, these go beyond.
You should always keep in mind that hackers are work tirelessly to access websites. So, ensure WordPress security is a key need and get effective WP security plugins.
Here are:
8 Best WordPress Security Plugins to use in 2023
1. MalCare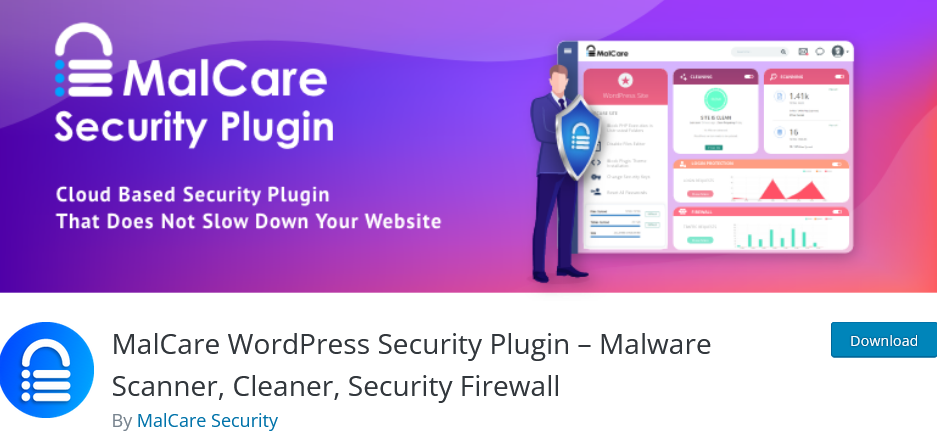 A plugin that assists you in scanning your website for malware. Besides that, this tool removes any malware that it finds. Similar to VaultPress, MalCare performs scans by copying the files to a location that is offsite, and scanning them from there. In turn, it lessens your server's load.
Besides that, here are other things that this tool will help you with:
Many smaller hardening. This resembles deactivating your file editor and securing the upload folder.
Actual-time firewall.
Captcha login protection.
Basic hardening of WordPress website.
Moreover, you can pair BlogVault and MalCare if you are in need of automatic backups. The starting price of this tool is $99 per year.
2. Wordfence Security
More than three million WordPress websites are using Wordfence Security plugin. For this reason, it is among the most famous and popular WordPress security plugins.
Furthermore, this tool does an amazing job of securing your website in many ways, which includes:
Many different security hardening rules.
Web application firewall for blocking dangerous traffic prior to harming your website.
Hardening of login page using two-factor authentication or CAPTCHA.
Checking for malware and other harmful threats through security scanner.
Besides that, Wordfence provides you with an attractive dashboard for viewing useful features of your website's security.
The main Wordfence plugin is available for free. But, to access actual-time firewall rules and malware signatures, you must pay for the Pro version. Although the free version protects you from common exploits, it does not do so to 0-days exploits. In fact, it is available for just 30 days.
The starting price of the Pro version is $99 per year.
3. SecuPress
A freemium WordPress security plugin which provides a detailed way to WordPress security. Further, SecuPress offers you high-level security features such as:
Blocking of IP.
Firewall.
Protection from brute force.
An option of blocking specific countries by geolocation.
Security notifications.
Malware scans
The last three features are all available in a Pro version. Still, SecuPress offers you with many smaller hardening features that are enclosed in an attractive interface.
Also, both versions are available at WordPress.org, with the starting price of Pro version being $65.
4. iThemes Security
iThemes is the developer of this security plugin. But, Liquid Web bought it in early 2018. Similar to Wordfence, iThemes Security is available in both free and paid versions. Initially, the free version was known as Better WP security.
In addition, iThemes Security offers you with over 30 tools for hardening the security of your WordPress website. When using the free version, the tools include:
IP bans.
Protection from brute force.
Detection of file change.
Monitoring file permission.
In fact, everything is modular. This means you can enable or disable the features as you want. But, the bad thing is that the free version does not perform the scanning.
Upgrading to the pro version gives you features such as:
reCAPTCHA.
Malware scans.
User action logs.
Authentication of two-factors.
Furthermore, this plugin lacks a web application firewall. Instead, the iThemes team suggests pairing it with Sucuri's Website Firewall if you are in need of a firewall.
Finally, the free version is limited, while the starting price of the Pro version is $80.
5. BBQ Firewall
The BBQ Firewall WordPress plugin stands as a crucial defense for WordPress website owners. Developed by Jeff Starr, it serves as a robust shield against a myriad of online threats, including SQL injection, cross-site scripting (XSS), and brute-force attacks.
What makes BBQ Firewall particularly valuable is its user-friendly nature. It empowers website administrators to bolster their site's security without requiring extensive technical expertise. With an effortless installation process and an intuitive interface, anyone can easily manage and customize their security settings.
Embracing BBQ Firewall ensures peace of mind, safeguarding valuable data and user trust. Protecting your WordPress site becomes a seamless experience, thanks to this reliable and powerful plugin crafted by Jeff Starr.
6. Jetpack/VaultPress
Jetpack and VaultPress are two different plugins. However, I have grouped them together because their developer is one, Automattic. And, their subscription is the same.
First, Jetpack offers tools such as:
Protection from brute force.
Monitoring of downtime.
Safe sign-in.
Some of Jetpack's features are free. However, you need to upgrade to the Pro version to enjoy advanced security features.
Second, VaultPress offers automatic daily backups of your website, and it performs security scans of these backups. Besides that, it has two benefits:
Ensures your website is always secure.
Does not affect the performance of your website because security scans occur outside your server.
Personal Jetpack comprises of VaultPress, with a starting price of $39/ year.
7. Sucuri Security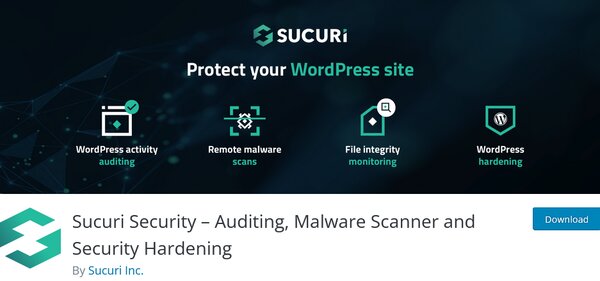 Sucuri is a popular security plugin which available in both free and Premium versions at WordPress.org.
The free plugin executes file integrity examinations, and some basic hardening. On the other hand, the premium version offers firewall service.
In general, Sucuri security plugin assists you in:
Sending email notifications for essential issues.
Monitoring file integrity.
Executing different hardening tips, such as blocking PHP files in in WP-content.
Scanning malware on the frontend of your website with the help of the public security scanner.
Tracing user logins.
Checking for blacklisting in Google and other browsers.
Even so, the free version is limited, while the firewall service costs $9.99/month. Also, the paid service features DDoS protection and a CDN.
8. All in One WP Security & Firewall
If you are on a budget, All in One WP Security & Firewall is your ideal option, as it is 100% free. It assists you in executing many different security hardening rules. Besides that, it provides you with a clean scoring system to assist you in deciding what matters the most.
In addition, it has detailed changes, which covers everything starting from image hotlinking, to the security of file permissions. And, other security hardening tips.
Among the key features of this plugin are:
Security of user account.
Scans of file integrity.
Protection from brute force.
Furthermore, All in One WP Security & Firewall features firewall. However, the firewall is different from that of Wordfence, as it uses rules that get updated regularly. In fact, this firewall is mostly about executing some standard set of rules.
Summary
You can make your website more secure using any of these WordPress security plugins for locking down your website. Further, WordPress security goes beyond the installation of a WordPress security plugin. You can also hire WP Experts who can provide WordPress support services.