Since its launch in February 2004 at Cambridge, Massachusetts, United States Facebook has been the leading social media platform all around the world. There was a time when Facebook enjoyed an absolute dominance over the social lives of people.
But that was before new social media platforms like Instagram, Snapchat and Twitter came up. And of course before the data breach and security scandals of Facebook.
But after the breach into the data of Facebook by Cambridge Analytics, an analytics firm working for the Trump presidential campaign and a subsequent drop of about $120 Billion dollars in the market capitalization of the company, people are questioning the position of Facebook.
Facebook without any doubt is the clear leader in terms of users among the social media sites out there. However, it is a well-known fact that after the data leak and the drop in market cap, Facebook is going through really tough times.
Some of the high-profile users such as Elon Musk, Will Ferrell, Jim Carrey and Steve Wozniak have been reported to deactivate their Facebook accounts over data- security issues. All this is a part of public shaming of what they call unethical and unsafe privacy practices.
This has given a major setback to Facebook. But this does not stop here, according to a survey by the Pew Research Center; Facebook is no longer the most popular online platform among American teens. Most of the teens prefer to use YouTube, Instagram or Snapchat in the time they spend online. Facebook was earlier the first preference but now the story is not the same.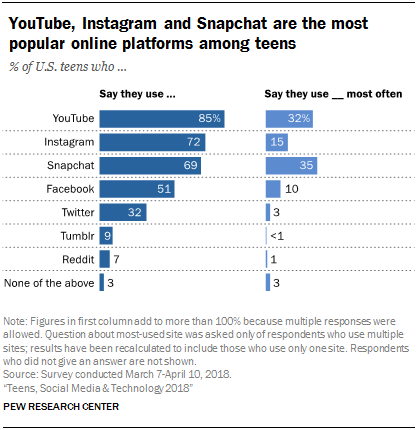 IMAGE SOURCE: pewinternet
Now that the audience is shifting its attention from Facebook to other social media sites, the question arises for the brands and businesses.
The question being asked is, is it time to move away from Facebook?
Well, clearly the aim of social media marketing for any firm is to reach out to their audience on social media platforms. But what should one do on a social media platform where they have no audience? The answer is pretty simple; you change your campaign strategy.
It's not just the shifting audience but also the new marketing opportunities being provided by other social media platforms that are luring the brands to adjust their focus. Let us have a look at some of them:
1. YouTube
With YouTube having the second highest number of daily searches after Google Search Engine presents a large user base. Millions of users are visiting YouTube every day. This makes it a useful platform for digital marketers to focus on.
2. Instagram
Instagram has been very active lately in improving the user interaction, which is one of the primary motives of social media marketing. The updates like IGTV and Question Sticker seem to be some of the most promising updates for user interactions and marketing opportunities.
3. Snapchat
Snapchat is a relatively new social media platform with a lot of hidden potential for business promotion. It has even as a part of providing an opportunity for business made a business dedicated webpage not known to many till now.
4. LinkedIn
A professional platform like LinkedIn has a lot to offer for the brands. The best way in today's time to connect to the high-profile businessmen and top-level management is LinkedIn. You can find almost all the professional profiles and easily interact with them which can prove to be of some significant benefits to your business.
5. Twitter
With hashtag being the simplest way to start a campaign or to get the attention of the masses, Twitter is certainly a beneficial platform. Whether you want to spread awareness or launch a new product, Twitter is one of the best places to start with.
All these platforms and the facility they are providing are showing a strong new market area. Marketers have already started to shift their focus and pay more attention to these platforms.
But can Facebook be ignored?
Now that we have talked about Facebook starting to fade, there are some more aspects to this which show a much more promising future for the social media platform.
The fact that Facebook in spite of seeing millions of users go still has the largest number of users compared to any other social media platform shows that Facebook still has got a good fighting chance. It still represents the singular social media platform with a reach of billions of people worldwide.
Out of these billions of users on Facebook, more than half are from the age group of 18-35 years. This age group represents the actual customer base for most of the businesses. Having such a large customer base offers great odds for businesses of all niches. These are the actual buyers of products and services available in the market.
Of all the other social media platforms discussed above, Facebook provides the widest variety of content formats. It gives you the option to post Text, Video, Image, Live videos and other content options. This presents the opportunity of having a larger number of users engaging with your content. Also, you can target the user with varied interests.
One of the features that marketers love about Facebook marketing is the vanity URL. Facebook gives you the option to create a vanity URL for your Facebook page. Having a vanity URL makes it easier to remember, share and even builds trust.
Facebook's share price has dropped and its founder has accepted that there were some "mistakes" made by the company. But this is also a known fact that Facebook is aggressively working on improving the situation and resolve its position.
Facebook is looking into the matter and also taking a close look at thousands of apps for which users take help of their Facebook accounts to give information. This, to some extent, allows the app with the access to the user information. This can come out with some unexpected and tremendous results for Facebook and other apps as well.
The discussion goes on…
It is very much clear that Facebook has still got the potential of billions of users. And these users are not going anywhere over the night. It's true that Facebook is having hard times but overlooking the advantage of the Facebook campaign is a luxury which can cost a fortune.
Shifting focus to other social media platforms is a wise move. But the same cannot be said for moving away from Facebook.
The decision about the marketing campaign rests in the hand of the planners but Facebook still ahead of everyone is not running out of the race so easy.
About the Author:
Shubham is working with Canbayinc as SEO Analyst with 3 years of experience. He loves to write helpful information related to SEO and social media, best practices and tactics on a regular basis. He is passionate about football and loves to get some dust off his boots whenever free.