TikTok content is everywhere right now. Since launching in 2016, TikTok has taken the world by storm. The app has around 800 million monthly users, and those users are spending an average of 52 minutes each day browsing videos – that's a lot of engagement.
As the hottest new platform on the social media scene, TikTok appeals to the younger generation, but it's also gaining steam elsewhere. Influencers, celebrities, publishers, and companies alike are all finding their way into the TikTok trend.
So, how do you create TikTok content that makes an impact? What does it take to become a household name on this new platform? Let's find out.
Step 1: Get Comfortable With The App
The first step to succeeding on TikTok is getting comfortable with the app. This platform isn't like the other social media platforms you're used to. It's closest in style to Vine – the looping video sharing platform that fizzled out in 2017.
The primary components of TikTok are:
The " For You" page: Here, you can see videos from trending creators. As you use the app and follow people, you'll see more content on this page. This handy environment is also great for finding out what's trending and discovering influencers.
The "Following" page: The following tab shows you the latest videos created by the TikTok artists you follow. You can search for hashtags and find interesting content on the Discover page. This is where you'll find things like hashtag challenges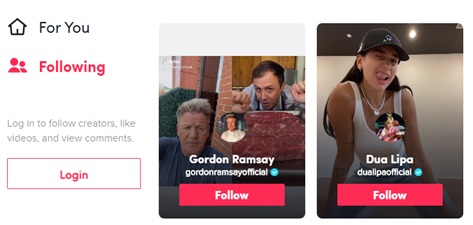 Tailor Your Content To Your Audience
Succeeding on TikTok is all about creating content that speaks to your audience. The TikTok trend is most popular with younger generations, such as Millennials, and Generation Z.
If you already have a user persona in mind for your company, use that to guide your content creation. Remember that younger generations like content that's fun, authentic, and meaningful. Your videos need to feel like they come from a real person.
Your videos don't need to be super polished. TikTok users are happy to see videos that come straight from your smartphone.
Get Inspired
Not sure where to get started? Find out who's trending in your industry and follow them to see what content they're posting. You can find TikTok influencers using online services and use their posts to determine what trends you need to follow.
Remember, TikTok is all about getting onto the For You page for your audience. To do that, you need to check out popular trends like dances, and hashtag challenges. Hashtag challenges are constantly appearing to make the platform more engaging.
For instance, a recent option is #MoveForMentalHealth: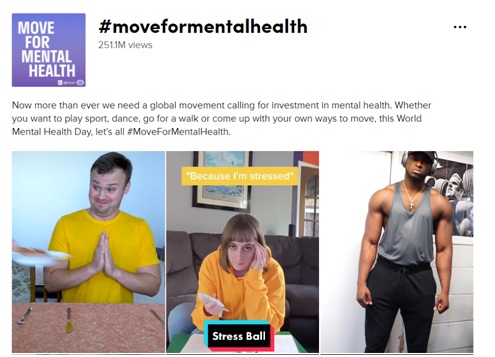 Check out what other influencers are doing in these hashtag challenges to ensure you're making the right impact. You don't want to come across as tone-deaf.
Step 2: Take Advantage Of Sounds
TikTok delivers a unique social media experience, miles apart from platforms like Instagram and Facebook. One of the things that makes TikTok so unique, is the use of sounds.
You can add music and effects to any video to give it more depth. Users frequently lip sync videos to create trending content. TikTok has access to virtually every popular song – making it ideal for brands that want to prove they're on the cutting edge.
To add a sound to your video, tap the Sounds button at the top of the recording screen.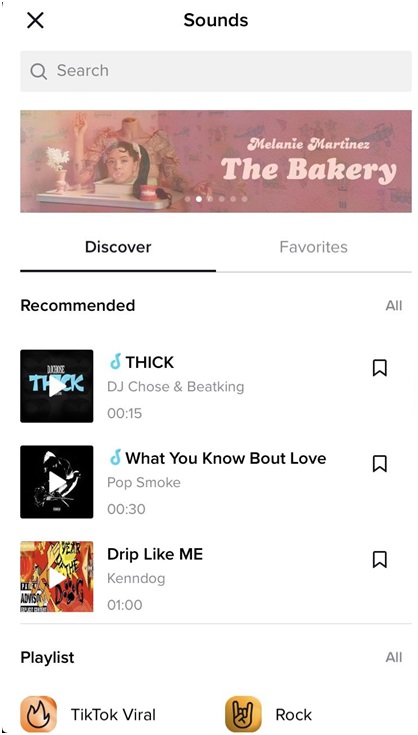 You'll see a page with recommended sounds, but you can also browse new releases, trending playlists, and various other categories. You can save anything you like to your favorites by clicking the bookmark icon next to the song name. This makes it much easier to use the same tunes later.
If you want to add a song to your current video, click the red checkmark button after tapping the song you want. After it loads, you'll go back to the recording screen, and the name of the song will appear where the sounds icon was before.
To use a sound from your favorites, click Sounds at the top of the screen, then Favorites, and click the sound you want to use.
Benefits Of Using Popular Sounds
Using popular sounds on TikTok is a lot like using the right hashtags on Instagram. There's no concrete guidance to tell you which songs are going to have the most impact, but it pays to find out what's trending.
TikTok users can select a specific sound to view all of the videos associated with it. That means that whenever you use a trending sound, you have a chance to rank higher, and find more customers. Think of it as an instant boost to your exposure.
You can combine your sounds with hashtags to improve your discovery and make it easier for more users to find you from the For You page too. Many creators believe that using the most popular sounds in their videos also helps your chances of your content getting priority listing from the TikTok app.
Step 3: Take Advantage Of Effects
Finally, like Instagram, TikTok gives you the freedom to spice up your videos with effects, filters, and transitions. To make the most of your recording, use features like:
Flip: Use either your front or back-facing camera
Speed: Change your frame speed to speed the video up or slow it down
Beauty mode: Blur any skin imperfections and improve face clarity
Filters: Check out tons of different screen colors and contrast levels to make your video look unique. You can also find filters that make certain items (like food) look more appealing.
Timer: Create video cuts in real-time. You can record for a few seconds of your song, pause, move to a different place, and continue recording from the same point in the sound.
Flash: Use your camera's flash
To make your content stand out, you can add effects. Go into the recording section on TikTok, and on the right side of the screen, you'll see some of the effects available.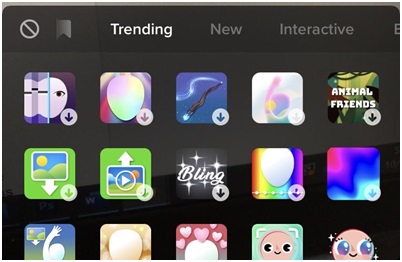 When you tap into the Effects option, you can transform your face, add unique backgrounds to your video, and more. Some effects are interactive, and when you shake your phone, it changes your face from one filter to another.
Check out what other people in your industry are doing to see which effects have the best impact right now. You might even find that seasonal effects are trending if you're posting at a certain time of year.
Mastering TikTok Transitions
One of the most popular ways to use effects is with TikTok transitions. This is when you indulge in small impacts that help you to move from one scene to the next. It isn't easy to pull transitions off perfectly, but when they're smooth, they can look amazing.
To apply a transition to TikTok, open the app and click the + button to start a new recording. Pick the length for your video and start recording your TikTok content. Release the red recording circle when you want to pause your video and tap and hold again to resume. You'll want to split your video up into several sections so that you can take advantage of the transition.
With your recording finished, tap Next, and you can start adding Effects. Tap Effects, then move along to Transition. You'll find it between Sticker and Split on your list of Effects categories. Tap a transition, and it will appear in your video line-up. Here, you'll need to drag the Transition to where you want it to go.
Ideally, the Transition should be just between two scenes, in the part where you paused your video to move to another position or do something new.
If you want to remove a transition, just click the undo button under the video.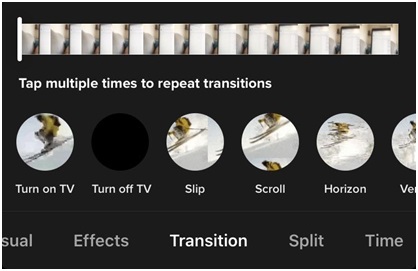 Making The Best TikTok Content
Remember, TikTok is a world apart from most of the social media platforms that today's creators are used to. This is a unique new platform that focuses on authentic, short videos that connect communities. What works on other platforms won't work on TikTok, so you'll need to get some practice in if you want to win.
Younger demographics want to see that you have your finger on the pulse of the latest trends – so keep track of what's popular. Your customers also want to see relatable content that humanizes your company and shows your personality. Avoid professional looking posts and stick to videos that look raw and genuine.
Learning how to create the best TikTok content is challenging – but if you can master this new environment, you could end up with an amazing new audience of dedicated followers. Don't forget to give your videos a boost with extra likes, which can help push you to the explore page: 20+ Best Sites to Buy TikTok Likes for Boosting Videos