Before 1954 running a four-minute mile was considered impossible but Roger Bannisterdid it in a record time of 3:59.4. Since then it was considered that the record is unbreakable. But recently Hicham El Guerrouj broke the record by completing it in just 3:43.13.
The marketers have long predicted that SEO is dead. Therefore, most of the business owners don't even bother to hire an SEO service agency to help get your brand ranked in Google. The good news is that the future of SEO is brighter than you think. The bad news is that not many people know which of the SEO strategies are working for you. This blog post is for everyone who is willing to outwit their competitors.
1) Your keyword research is not enough
Your whole SEO depends upon the 'best guess' keywords. But what if you don't know what keywords your customers are using to search for your product or how to discover better keywords for your brand? Every tool which is available in the market using'best guess' keywords to predict what your customers might be thinking.
Here are some free tools which you can use to do the keyword research and comeup with keywords which customers are searching.
Although this is not a tool, this serves the purpose of keyword research for free.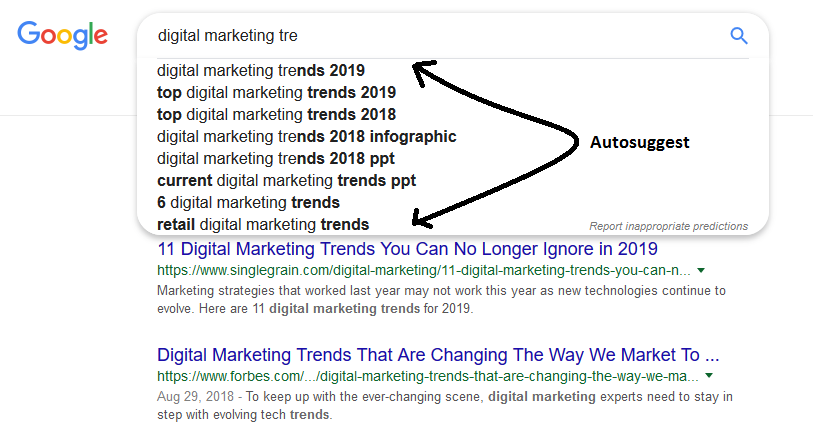 Just as you search for something on Google a drop down appears which can suggest you the popular phrases which people are using to get their desired product.
Or, you can scroll down to the bottom of the page to see a list of keywords people are using to search for the product.
Another great tool is Ubersuggest. It is a free tool for generating keyword ideas when you don't know which keywords to start with. The data which is presented here is generated from Google Keyword and Google Autosuggest tool. You don't need to pay attention to the search volume as its data is mainly based on AdWords.
To get accurate results you can use Moz's Keyword Explorer. The result is based upon organic search result which is 95% accurate.
With Moz, you have two options. You can either put your own keywords which you have generated from other tools or you can ask the Moz keyword explorer to generate more keywords.
Moz will also provide you with a monthly search volume, along with CTR which will help you to plan out your keywords in the best possible way.
2) Not using long-tail keywords efficiently
If you're not using long-tail keywords you're really missing 70% of Google traffic which can generate leads for you.
For instance, if you sell mugs, you can check that the search volume is around 9,000 per month. Which means you can generate 3 leads out of every 135 search results.
The beauty of long-tail keywords is that they're specific and get to the buyer's intent.
You can work on ranking your website on 'large Red Coffee mugs', or 'Game of Thrones Coffee mug'. With a search volume of around 500, you can generate 30 leads with an average traffic of 510 visits per day.
As you can see that long-tail keywords are the winner. Although there is a lot less search volume in long-tail, it generates more leads and has a higher CTR due to less competition.
3) Not tracking the performance of each keyword
If you want to rank your website faster in Google,you need to learn which keywords are not performing well and eliminate them without giving any second thought about it.
It is a good practice to Google your keywords every morning and sees which one is on top, but it is more important to see which of the keywords are not performing well and which keywords are generating sales.
If you figure the performance of each keyword this will help you to plan your SEO campaigns.
4) Not Blogging
Most of the website owners still don't realize the importance of blogging.
Google is constantly looking for informative and fresh information and if blog constantly, soon you'll get noticed by Google.
There are tons of ways in which you can use Blogging to improve your SEO. You can showcase industry knowledge and become the authority on the topic. Or you can demonstrate how to best use your product.
Generating traffic from a blog post can benefit the whole website. In the eyes of Google, your website will be treated with respect as it is providing something beneficial to its users.
5) Not building links
The rumor is that backlinks are not working anymore. But the rumor is wrong. If you don't take out time to guest post on other websites, Google will consider your website an authority. You need to find websites with high PR and pitch them your articles. The more links you can build, the better it will be for your website.
If your business is local, ensure to make the best use of local SEO. But this doesn't mean that you go all spammy with your brand. Google is pretty smart and has evolved in the past few years, you need to keep this in mind and devise your strategy upon this.
The conclusion:
SEO is a huge challenge not only for well-established brands but for startups as well. Doing the keywords research and seeing what is working takes a lot of time and effort. You need to know what is working for your brand and eliminate everything which is not working for you.
If something is working for your competitors, it is not a necessity that it will work for you too. You just need to find the strategies which will work for your brand. Try out the above-mentioned strategies and see which ones are working for you.
Furthermore, if you're already using some strategies which are working for you, feel free to share with us. Information if not shared becomes a burden. And if you're already using some strategies which are working for you, do mention them also.