Being actively involved with WordPress, we have come to realize that WordPress has an amazing set of default features that makes it extremely user-friendly. However, nothing can be perfect, and WordPress is no exception. Often developers and website owners come across something which WordPress doesn't offer. Luckily, its compatibility with plugins makes it uniquely creative, expansive, and flexible.
If you are managing a few websites on WordPress, then you must be uploading tons of media files regularly to your WordPress Media Library. One place where the CMS lags is that it does not let you organize all these media files into categories and subfolders. It's basically dumped in a single place.
Don't worry, we have tried a lot of things and one worked for us. Here we'll share with you a plugin that has got you covered. FileBird by Ninjateam is an extremely useful plugin that allows you to organize your WordPress media library.
FileBird: A powerful media management plugin
A website constantly feeds on media files like images, videos, documents, music, etc. that are uploaded to its server. Finding a specific file in this mountain is tedious, time taking and difficult. FileBird was developed to tackle this exact problem. It allows you to organize your files and folders by applying a virtual category to media files in WordPress without making any changes to the permalinks of the files.
The plugin is packed with features that cover almost everything you might be concerned about. Its features are not even the best part about it. There is so much care gone into the development of the plugin, which just blows your mind. The attention to detail, the interface, the security, its UI/UX and compatibility just make it even better.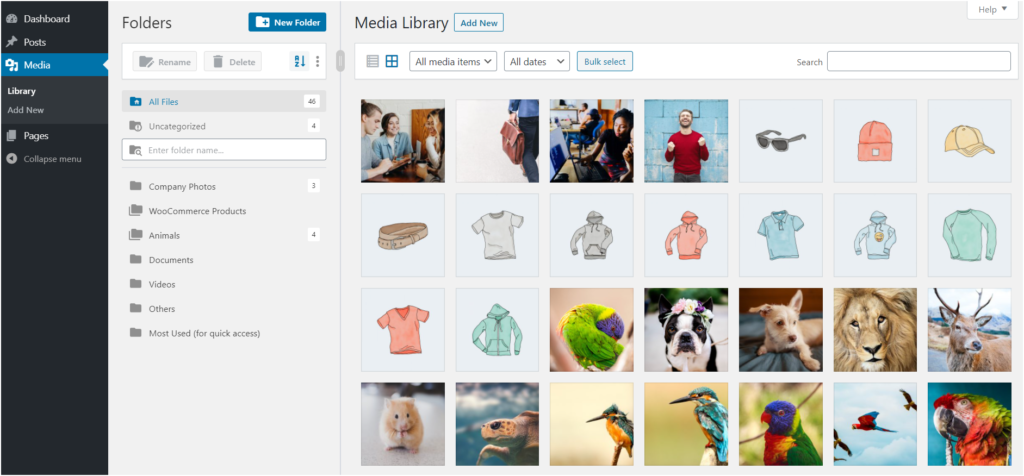 Before jumping straight to its features, let see how it might benefit your and your websites.
How can a media management plugin benefit you?
The issue with the default WordPress media database is that after some time, you have a chaotic library of media files that is impossible to navigate through and gives you headaches. This plugin benefits you in multiple ways:
8Keeps you organized and allows better management
Lets you multitask and boost productivity
Saves a lot of time
Your database doesn't look like a dump anymore
FileBird has benefited more than 100,000+ WordPress users and is the best-selling media management plugin. The review section of the plugin stands as testimony to its effectiveness itself.
Let's see what features does it offer.
Killer Features and Tools
Being rich with features, FileBird also offers a quality of experience and ease of work. There are no features that don't have high utility, and still, there are so many. Let's have a look at what FileBird can do.
Simple Drag & Drop
The plugin lets you move files and folders with simple drag and drop. It reduces the number of clicks it takes to get the task done. With the beautiful interface of FileBird, its feel so smooth to get a tedious task done.
Direct Upload to Folders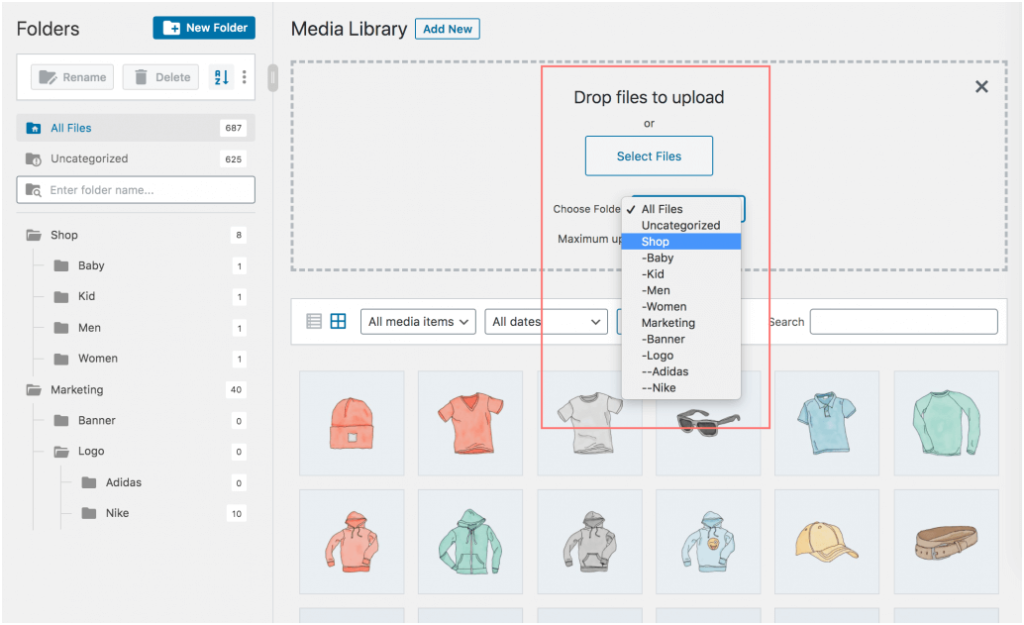 This new feature of FileBird lets you upload your files directly to a specific folder. You don't have to first upload files to a database and then move it to a folder. Simply choose a specific folder from the drop-down menu in 'Upload new media' and you are done.
Customizable Sidebar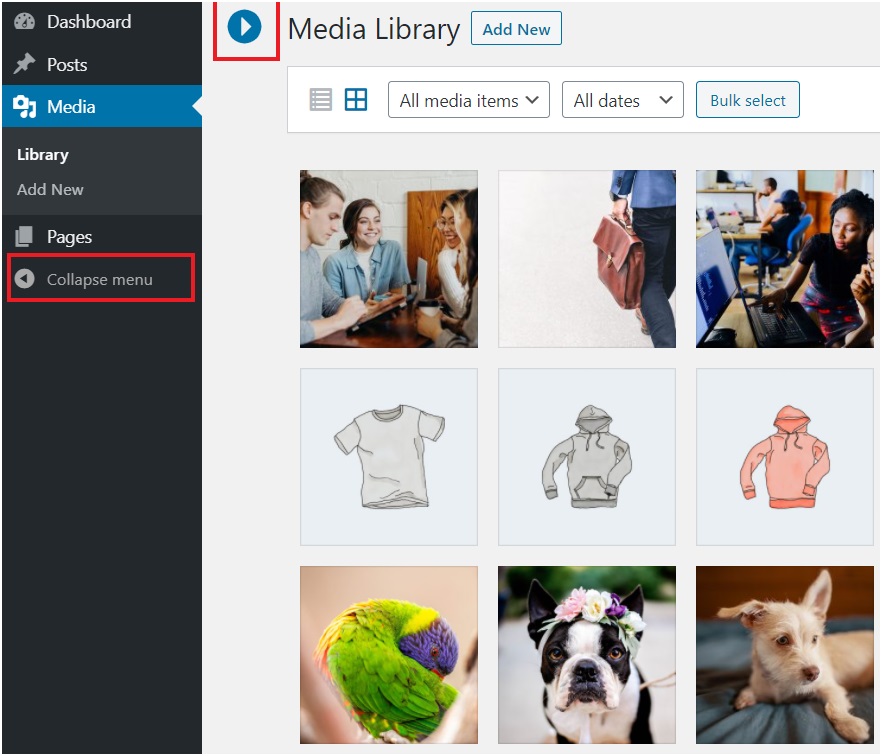 The sidebar can be customized as per your needs. It can either collapse entirely or be resized to fit the names of the folders.
Folder Tree For Easy Access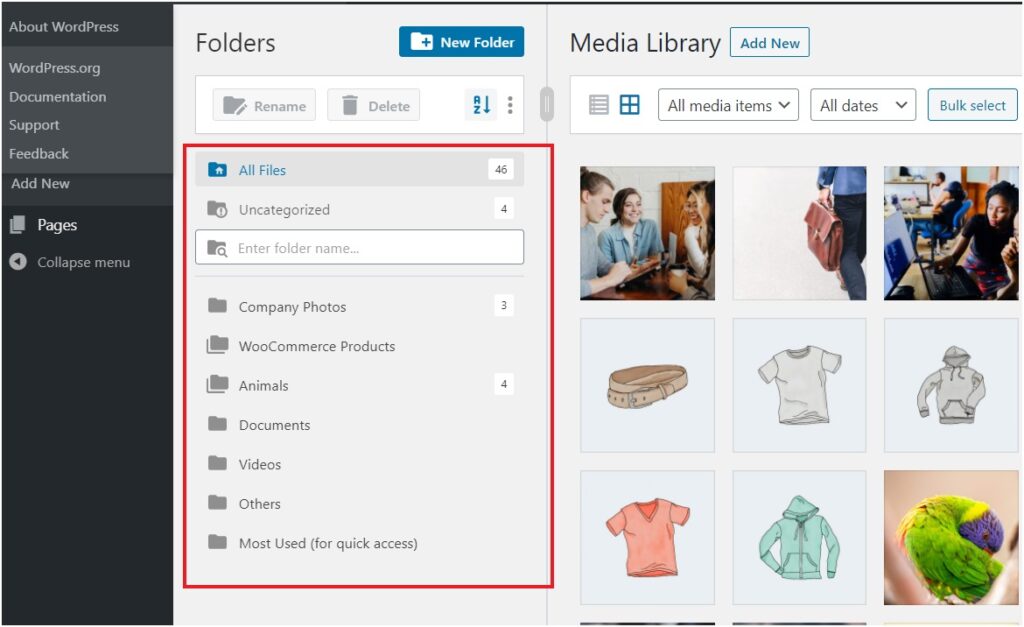 A folder tree is always visible on the sidebar, which lets you access the folders within minimum clicks and also gives you an organized picture of your media database.
Customizable Gallery View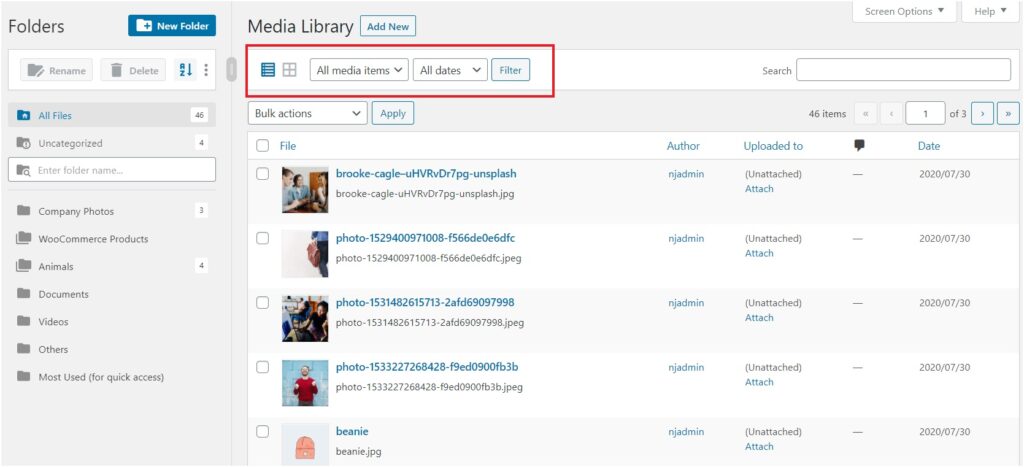 You can change your gallery view from thumbnails to list. This lets you select more files quickly for any bulk transfer.
Hassle-Free Migration
The plugin is designed with utmost care. It has been embedded with a feature that allows you to migrate all your media files from other media libraries to FileBird. Complete migration can be finished within a few simple clicks. In case you already use wpUXsolutions or Media Library Folders by Max Foundry, you can simply use migration tool to transfer your files.
Native File Browser in Page Builders
This is an exclusive feature of FileBird which lets you directly upload a file to a specific folder, while you are creating a page using any page builder. While editing a page with any page builder, simply add an image element and browse for image and select upload folder with the FileBird interface.
Embed With Gutenberg Block
You can embed a gallery to any page/post, by adding a simple 'FileBird gallery' block. This will allow you to show all the files in a specific folder in that page/post.
FileBird offer many more features that makes your work easier. They also have the following features:
Multiple Languages support
Flexible Media Taxonomies
Assistive SEO
CMS Optimization
Intelligent Delete
Compatible most of the page builders and 3rd parties like WooCommerce, WPML, WPBakery, Elementor, Gutenberg, Beaver Builder, Divi, Thrive Architect, Slider Revolution, Smush, etc.
How to be sure?
The plugin has been made with much care and details. The features reflect how beautifully the plugin is developed and how inclusive it is. However, if you are still not sure, then you need to read the next section.
The plugin's code is clean and does not collect your personal information for any purpose. Its codes are high quality and at par with the standard guidelines of GDPR. They also offer a 24/7 live chat support. Its good to know they always have your back.
However, the most important aspect is that there is a 24 hour free demo that you can test drive. You get to learn all the features, the workings and the effectiveness of the plugin through this Demo.
In case you are not satisfied with the plugin and don't see any positive improvements, there is a 30 Days money back guarantee. You can anytime drop the plugin within 30 Days and receive your payment back.
Conclusion
The plugin is made meticulously and the users are kept as the primary motivation behind its development. The features and other offers that FileBird has reflects the absolute brilliance of the plugin. We have used the plugin for a long time and don't see a reason to shift to any other.
Media management can help you save a lot of time and can allow you to manage your database more meticulously. FileBird can help you move in that direction.
We hope this review was helpful and gave you insight and hands on information about the plugin!