Are you also looking for the best crypto exchanges and apps?
If Yes, then you're at the right place!
Cryptocurrency's popularity has got a significant number of cryptocurrency exchanges. Cryptocurrency exchange refers to the platform where you can buy and sell cryptocurrencies. All the exchanges and apps help the consumers invest their money in these cryptocurrencies and other funds and investments.
Thus, in this guide, we have hand-picked the 10-best crypto exchanges and apps that have a very easy-to-use interface and allow easy but effective investing. These 10 crypto exchange apps have helped thousands of people make their lives financially stable.
Let's begin!!
Here are 10 best Crypto Exchanges and Apps to help you out in 2023: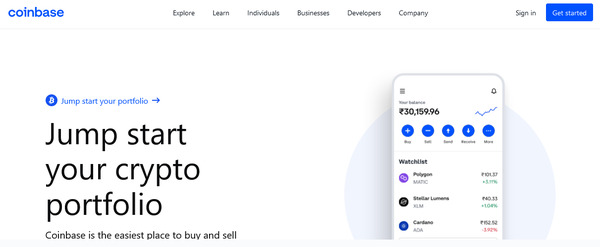 Coinbase is a perfect crypto exchange platform for beginners due to its easy-to-use interface and helping content. However, Coinbase also has several advanced features in its Coinbase Pro platform for experienced users. Whether you are looking to build your foundation or strengthen your crypto investing pillars, Coinbase is undoubtedly what you're looking for.
Pros:
You can select any cryptocurrency.
This is one of the top-rated exchange mobile applications.
It has several advanced trading features.
Cons:
You have to bear very high fees on this platform.
The fee structure of this app is complex.
Crypto.com is one of the best crypto exchange apps for people who want to have a variety of cryptocurrencies and would like to do all the processes on mobile phones. Here, on Crypto.com, you will find many options in digital assets with low fees. It has many advanced features for experienced investors, and you may also like its DeFi offer. However, this platform doesn't support crypto-to-crypto conventional trading.
Pros:
It has numerous choices for crypto assets.
You have to bear low fees if your accounts are funded with cash.
It has varieties of cryptocurrency products.
Cons:
Some services may not be offered to the U.S.
You can not do crypto-to-crypto trading.
Credit and debit purchase fees are high.
The Gemini is another largest platform for the crypto exchanges as people have earned around 1.5% on Bitcoin deposits and over 8% on stablecoins such as the Gemini dollar. This platform has so many cryptocurrencies offering along with numerous unique features. Gemini is an excellent platform for both beginners and experienced investors. This platform is SOC 2-certified and has robust security protocols ensuring users' funds. Therefore, Gemini is considered the most secure platform.
Pros:
It has several advanced trading features.
It is accessible to all the U.S. states.
It is the most secure platform.
Cons:
Many trades charge higher fees.
Some of the popular cryptocurrencies are not available on the platform.
Kraken is always considered a two-in-one platform as it has several tools, products, informational resources for beginners, customizable chat analysis tools, in-depth insights into the order book, and fast execution for experienced crypto investors. It has all the beginner levels. This platform has only 120 cryptocurrency options, that's relatively low in comparison to other crypto exchange options.
Pros:
It supports a good number of cryptocurrencies.
The Kraken pro is available at a lower fee.
It has a highly liquid exchange.
Cons:
Funding accounts are limited.
It is not accessible to all the U.S. states.
Binance is another brilliant crypto exchange platform with over more than 600 cryptocurrencies; it is one of the highest. You can also integrate your recent trading application with the help of the API of this platform. It has lower trading fees, which makes it even more enjoyable. It has an excellent primary and advanced user interface and fantastic customer support 24/7.
Pros:
It has so many cryptocurrencies.
The trading fees are lower.
You have to make the minimum deposit of only $10.
Cons:
Among the U.S., it is not accessible for 7 states.
PrimeXBT is needed before ending this list of crypto exchange apps, as you can easily access multiple markets through a single account. You will be allowed to deal in Cryptocurrencies, Stock Indices, Forex, etc., easily through this platform. All the people of the U.S, Canada, Cuba, Japan, Algeria, and other 150+ countries can access the platform and trade globally.
Pros:
It has DeFi support.
You can also do margin trading here.
You can use the leverage to improve your trading skills and results.
Cons:
Crypto trading fees are a bit higher.
It doesn't suit most crypto investors.
FTX is one of the prominent trading platforms due to its decent cryptocurrency offerings. FTX offers one of the most sophisticated products and attracts advanced traders. You can select decent digital assets through this platform. Trading between cryptocurrencies and various national currencies is easy with this platform. NerdWallet reviewed and said that FTX offers one of the lowest trading fees and features like margin trading.
Pros:
It has comparatively low withdrawal fees.
It consists of advanced trading options.
Cons:
It doesn't have an excellent support system.
It has lesser cryptocurrencies than its competitors.
Webull is considered one of the best crypto exchange apps due to its lowest costs, free-of-cost stock trading, and $0 commission over options trading. It is a very user-friendly app, but the mobile app doesn't come with the advanced charting and screener tool. However, you won't find many options here like mutual funds and lower educational resources competitively. Webull could be the best-fit crypto trading application for intermediate investors.
Pros:
It has lower costs.
It is an easy-to-use platform.
It has advanced tools as well for better trading.
You can easily invest in cryptocurrency without much hassle.
Cons:
You won't find mutual funds here.
Educational support is minimal.
Pionex is one of the leading exchanges with around 18 free trading bots that help retail investors. You can leave you investing in automation 24/7 with this platform. The robots it offers are as follows: Smart Trade Bot to play with the features like stop-loss, Grid Training Bot for to purchase at lower and sell at higher in a specific range, and Trailing Sell Bot, Spot Future Arbitrage Bot, Martingale Bot, DCA Bot, Rebalancing Bot for different purposes.
In this platform, you'll see features like TradeView charts, in-built live chats, light and dark modes, etc.
Pros:
It offers trading bots.
It offers low transaction fees.
It is mobile-friendly.
Cons:
Fiat currency can not be used to fund the account.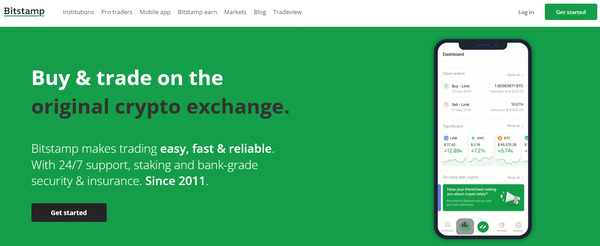 We can not end the list without mentioning Bitstamp, as it is considered among the top-3 regulated exchanges in the Euro and USD market. You will also have the pricing data for the significant Bitcoin products, 24/7 customer support, and a dedicated account manager for partners. You can invest in more than 50 cryptocurrencies based on your research and budget.
Pros:
It has several advanced trading platforms.
It has dedicated customer support.
It has low fees and liquidity.
Cons:
It doesn't have live customer support.
It takes 2-5 business days for the international wire transfer.
Final Verdict
These are the best top-10 crypto exchanges and apps to select the best suitable trading platform for you and perform something great at a financial level. We hope this article helps you find the best one for your crypto vision and help you become a professional investor.