Running a small scale business is not an easy thing. It requires an ample amount of money, time and human resources to manage multiple operational tasks, especially the finance department. It's always been difficult to run a business using limited financial and human resources.
In fact, most of the small business owners face challenges in managing their financial balance sheet, business expenses, and creating & sending invoices to their clients and customers on daily basis. This is where an online invoicing tool comes into play.
A reliable invoicing software makes it super easy for you to streamline your day-to-day operational tasks and track your bills and invoices in a breeze. It not only saves your time and money but also reduces the paperwork so that you can focus on other core activities of your business.
With that concept in mind, we bring you the list of 10 most trusted invoicing softwares that can help you manage, operate, and streamline your invoices at ease.
Let's get started!
1. FreshBooks
FreshBooks is a core accounting software developed especially for freelancers and small businesses. The tool comes with some of the overwhelming features to help you manage invoice and billing functionalities at ease.
With Freshbooks, you can expand your scale of business, create and send professional invoices to your clients and customers in seconds, and get paid faster with the use of credit and debit card payment procedures. Some of its rich features are:
Branding and customizable options
Invoicing automation
Time and expense tracking feature and much more.
2. Wave Accounting
Wave Accounting is an ideal solution for creating and sending professional-looking invoices, estimates, and receipts in a matter of few seconds.
It is a free invoicing software that lets you track and record all your bills and payments to your clients and customers on a regular basis. Plus, it accepts credit cards to boost online payment procedures and give a safe and secure environment to their existing customers. Some of its key features including:
User-friendly tool
Create and send unlimited invoices
Ready-made invoicing templates
Automatic reminders
Multi-currency support
Recurring invoices
Integrated with pay-as-you go payroll and credit card processing and a lot more.
3. The Invoice Machine
No matter whether you are a freelancer or a small business owner, The Invoice Machine is an outstanding online software that makes it easy to create and send invoices in the most convenient way. It is great for both the small as well as medium size businesses.
Although the tool is known for its paid version, you can also avail its free plan that allows you to send three invoices, and three invoices a month. Plus, it also helps you track time of your employees so that you can focus on improving the overall productivity of your business. Apart from this, it offers some of the exciting features, including:
Send PDF and email invoices
Unlimited clients and projects
Customized invoice templates
Recurring invoices
Multi languages and currencies options
PayPal, Authorize.net and Bacecamp integration and a lot more.
4. Invoiceberry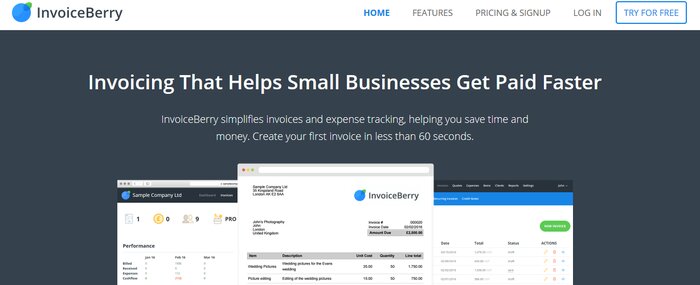 Invoiceberry's free plan allows small business owners to create, send and track invoices at ease. The plan lets you send professional invoices to three clients and you can also use two invoice templates to tweak the overall look and feel of your invoices.
Instead of starting from the scratch, you can convert the quote into an invoice and send it to your customer in a few seconds. Some of the advanced features of Invoice berry including:
Track estimates, expenses and invoices
Easy to add a logo
Multi-currency and language support
PDF and email invoices and a much more.
5. Nutcache
Nutcache is a versatile invoicing and account software that comes with multiple pricing plans. Its free plan includes 20 invoices per month for each user, along with 1GB of storage.
This free plan is specially designed for freelancers and small scale businesses. Apart from estimating, creating, sending and tracking professional invoices, Nutcache offers some of the amazing features:
Support eight languages
In-depth reporting
Unlimited clients and projects
Create customizable invoices and a lot more.
6. Sighted
Sighted is one of the most affordable invoicing software, offering a ton of customizable options to let you create beautiful and user-friendly invoices for your customers.
It eliminates the use of paperwork and encourages business owners to simplify their invoicing and accounting tasks in a breeze. Some of its free features including:
Comprehensive expense reporting
Unlimited clients and projects
Brand customization
Robust customer support
Multi-currency support and a much more.
7. Clientary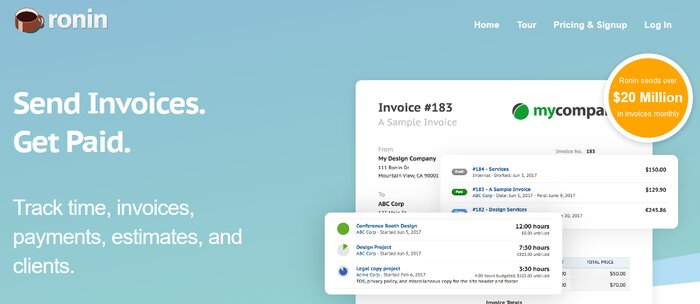 Clientary comes with a free plan that enables one user to create and send invoice 2 clients and on contact per client.
It is a pretty amazing invoicing tool that helps freelancers, independent entrepreneurs and small business owners to streamline their day-to-day operational tasks for improved productivity and higher revenues. It includes staff and rolls, expense and time tracking support and other exciting features including
Client facing logins
Customizable logo
Invoice templates
Multi-currency support.
8. Hiveage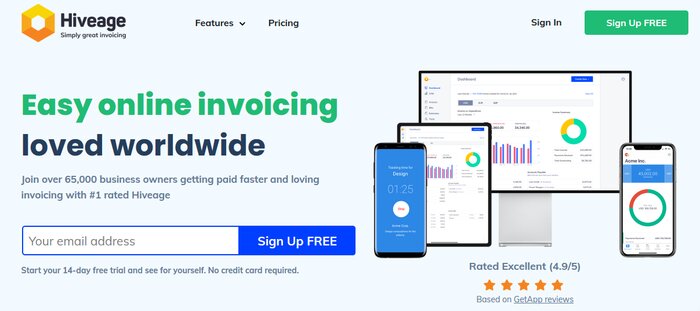 Simplify your accounting operations by leveraging the rich features of the Hiveage invoicing tool. It helps you manage your billing and invoicing tasks quickly and easily.
With its free plan, you will get an access to Google wallet and PayPal standard, along with unlimited customers and invoicing support. Let's have a glimpse at its key features:
Customizable invoice templates
Easy to track expenses, estimates and invoices
Create invoice reports
Integrated with over 12 online payment gateways such as PayPal and Authorize.net, etc.
9. Invoicely
Another robust invoicing software that offers unlimited invoices for each user and enables them to bill in multiple currencies on the go.
Under its free plan, you will access to assorted features that can help you run your organizational tasks at ease. Some of the key features are:
Simple and intuitive user interface
Accept all types of payments
Limited branding support
Customization options and a lot more.
10. Due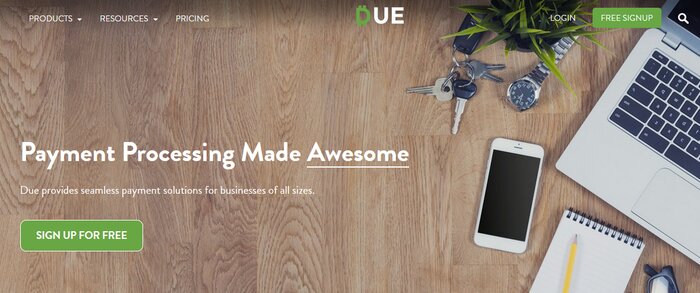 Download
Improve the cash-flow of your business by integrating this super-amazing online invoicing tool. Due is known for one of the best free invoicing softwares that offers a ton of advanced features to let you track the income, expenses, and payments for your business at ease.
Due allows you to create beautiful and customized invoices that you can send to your customers on the fly. You can even use its credit card and debit card processing solutions to get paid faster – all thanks to its integration with PayPal, Stripe, and Basecamp. Let's have a glance of Due's rich features:
Time tracking option
Track expenses and invoices
Multi-currency and multi-language options
Integrated with digital wallet
Money transfer and other online payment options
Customized invoicing templates, etc.
Conclusion
These are the 10 most trusted and powerful invoicing softwares that you can use to simplify your invoicing and billing tasks in a breeze.Save
Save
Sa