Like many others, the photography industry took a tumble this year. Freelance photographers and even large scale agencies were, around the world, forced to down tools for almost 6 months. Whilst initially this might've come as a welcome break from demanding clients, many of us are now ready to get back to work.
As the cities and countries begin to open back up, we thought we'd put together this short list of useful websites to help kick-start your business back into gear. After such a prolonged period being away from clients and freelance work, I'm sure this list will come in more useful than ever.
And if not to kickstart your business and creativity, this concise list will at least inspire you with resources that might come in useful to your business at some point in the future.
Although there's only 5 websites featured in this list, each of the selected websites combines a range of useful resources and downloads for photography professionals. So regardless of which photography niche you work in, you're sure to find something to suit your needs.
So without further ado, let's get into our top 5 photography resource websites for professional photographers in 2020…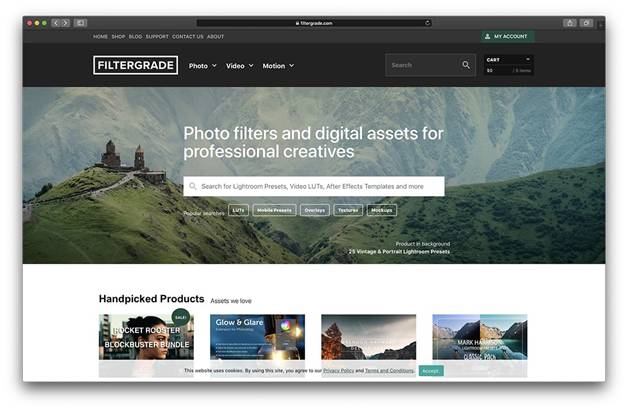 Boston-based FilterGrade is the OG of photography filters. Originally starting out as a Photoshop actions blog, FilterGrade now offers an exhaustive collection of resources for photographers, agencies & creative professionals.
These include Lightroom presets, digital overlays, Photoshop actions, Capture One Styles, video luts and more. If you've ever wanted your photos to look like a leading photographer, or wondered how your favourite instagrammers capture such vibrant styles, FilterGrade might give you the answer.
Each of the filters and presets available on their site are contributed by leading photographers from around the world, giving you an inside look at exactly how professional photographers finish their images to such impressive standards.
But you don't need to spend a dime either, as FilterGrade also have an extensive list of freebies.
Another consideration for FilterGrade would be becoming a seller yourself.
If you're in need of a helping hand right now (and by helping hand I mean extra income), it could be worthwhile to consider selling with FilterGrade (details here). As a creative professional, you've probably built up a wealth of resources which might be useful to other professionals in your niche. Simply leaving them on your hard drive might be costing you money!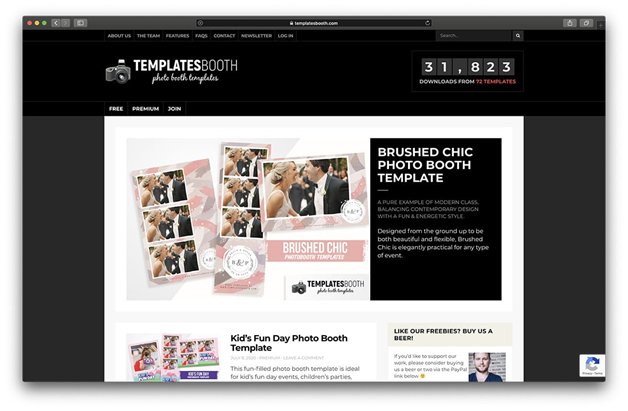 TemplatesBooth is a relatively new kid on the block when it comes to photography resources, but already they're making waves amongst photo booth owners. Their growing collection or premium photo booth templates is giving established sites a run for their money.
Photo booths have seen increasing popularity over recent years, becoming a popular attraction at weddings, birthdays, bar mitzvahs, corporate events and more.
And we don't mean the sort of photo booths you go to for new passport pictures. These photobooths feature fun themed props for capturing memories of the event whilst having fun with your friends.
So get this site bookmarked. If you're ever asked to provide photo booth services at client events, you'll find TemplatesBooth an incredibly useful resource. Don't miss their freebies, too. A great way to take their templates for a spin without spending a dime!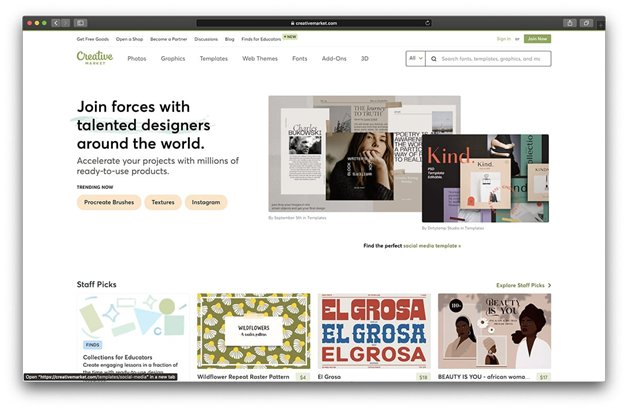 CreativeMarket is one of the world's leading design marketplaces, with a huge choice of digital assets for all creative professions. In particular, their resources for photographers (like these Lightroom Presets) are especially good.
All of their resources are contributed by leading designers from around the world, so if you need additional creative assets to complement your photography work – like overlays, patterns & textures – CreativeMarket is the place to go.
They also have a collection of weekly freebies you should keep an eye on. Each week the CreativeMarket editorial team hand picks a selection of 6-9 free resources which are given away without you needing to spend a penny.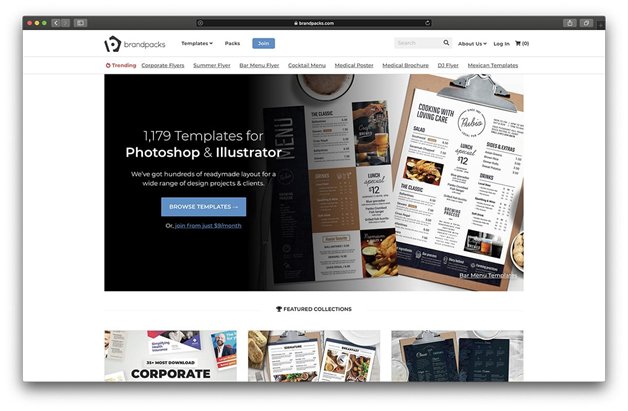 We've all got those photography clients who end up asking for more than just photos. And if you're like me, anything outside of Lightroom isn't your speciality. Lucky for us, sites like BrandPacks exist.
BrandPacks offers thousands of readymade layouts and design resources for Photoshop, Illustrator & Indesign.
So if you ever find yourself in need of templates to create flyers, posters, brochures and more, BrandPacks is the place to go. Their ever-growing library of designs and competitive pricing makes them one of the web's all-star templates websites. Better still, for you camera-wielding professionals, their range of photography templates is second to none.
Oh, and did I mention BrandPacks also have an incredible selection of freebies?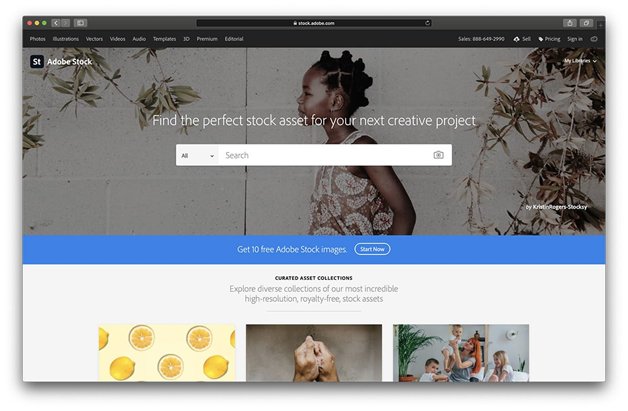 Adobe Stock is actually one of the newest creative marketplaces in this list, which I'm sure you'd find quite surprising given that they actually created the tools most creative professionals use.
However, what they lack in age they make up for in a diverse range of high-quality creative assets for professional designers & photographers. In fact, Adobe Stock actually acquired the decades-old Fotolia company, so I suppose you could say they're actually not that young at all.
Although Adobe Stock doesn't yet offer many products for Lightroom, their recent launch of templates makes them exceptionally useful to multi-discipline photographers.
Adobe Stock doesn't offer a dedicated selection of freebies like the above mentioned sites, but they do offer 10 free downloads when you sign up for a free trial. More details here.
What are your favourite photography websites?
We know this list is short and sweet, but these 5 sites have been our go-to domains for photography resources in 2020. But what about you?
Whilst these might be our favourites, we're sure you've got some gems saved in your bookmark bar.
If you know (or event run) a photography website which you think should make this list, let us know in the comments below! We'll update the article with the best suggestions!