With the rapid rise in number of enterprises adopting cloud for running business applications and storing confidential data, cyber-criminals are primarily targeting websites and web applications.
As per a research, a single data breach costs around $5.9 million to enterprises in US to remediate the loss of data, service disruption, and reputation tarnishing.
To secure the internal and public web applications and data, enterprises use Web Application Firewalls (WAF). It helps them avoid the expensive data breaches and downtime. The WAFs are deployed to protect the web servers against hacking attempts, monitor the access to web applications, and gather access logs for compliance and analytics.
The difference between a firewall and a web application firewall (WAF) is that a firewall protects the client whereas a WAF protects the server.
The WAF can protect the server against cross site scripting (XSS), hidden field manipulation, cookie poisoning, web scraping, layer 7DoS attacks, parameter tampering, buffer overflow, backdoor or debug options, stealth commanding, third-party misconfigurations, site vulnerabilities and forced browsing.
Nowadays, the WAFs are available as physical appliances, virtual appliances, cloud-based services, as well as dedicated modules within Application Delivery Controllers (ADC).
There are a lot of WAF providers in the market today and choosing the best one depends on the requirements of the business and budget. Here are the best providers available in the market (in 2023).
CloudFlare
AppTrana
Fortinet
HubSpot WAF
Sucuri
Akamai
F5
Radware
Incapsula
SiteLock
Citrix
Trustwave
Having said that, below are the top 10 web application firewall providers for stronger web server security.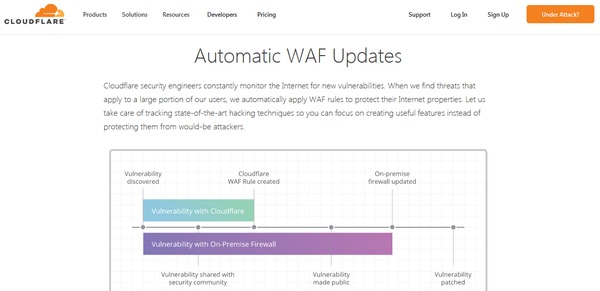 Cloudflare delivers enterprise-grade WAF for protecting the internet property from SQL injection attacks, cross-site scripting, and cross-site forgery requests.
Cloudflare WAF gets automatically updated when a new security vulnerability is released. It creates rules to mitigate the new threats on the network.
For stronger security, the Cloudflare WAF protects the enterprises against the top 10 OWASP (Open Web Application Security Project) vulnerabilities. These vulnerabilities include sensitive data exposure, XML External Entities (XXE), Broken Access Control, Security Mis-configuration, Cross-Site Scripting (XSS), Insecure Deserialization, Broken Authentication and Session Management, injection, known vulnerabilities, insufficient logging and monitoring.
Further, it helps enterprises meet the PCI compliance requirements to handle the credit card information of consumers. The PCI compliance can be met by deploying a WAF in front of the website, or by conducting application vulnerability security reviews of in-scope web applications.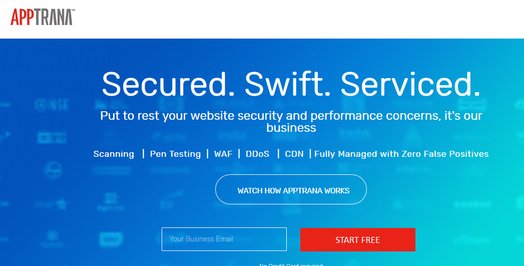 AppTrana is a cloud based fully manage Website Security from Indusface that includes
Cloud based Web Application Firewall and CDN for site acceleration
On Demand Automated Web Application Scanner & Manual Penetration Testing
Managed Custom rules, Virtual Patching with Zero WAF False positive guarantee backed with SLA and penalty clauses
24×7 Monitoring Support and Managed Service
It combines risk protection, risk detection, risk monitoring and website acceleration under one umbrella to provide a fully managed website security offering. You can sign up for a Free Trial (no credit card required) and it also includes a free forever automated website security scanning service.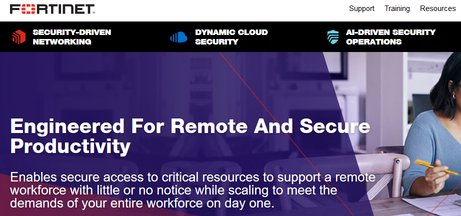 Fortinet provides FortiWeb WAF that uses artificial intelligence and machine learning technology to detect application request anomalies and find whether they are threats. It protects hosted web apps from known vulnerabilities, OWASP top 10 app attacks, and zero-day threats.
It provides up to 20 Gbps WAF throughput and visual analytics tools for advanced threat insights. For advanced protection, Fortinet comes integrated with Security Fabric and virtual patching.
It is available in appliance, virtual machine, hosted, cloud, and container.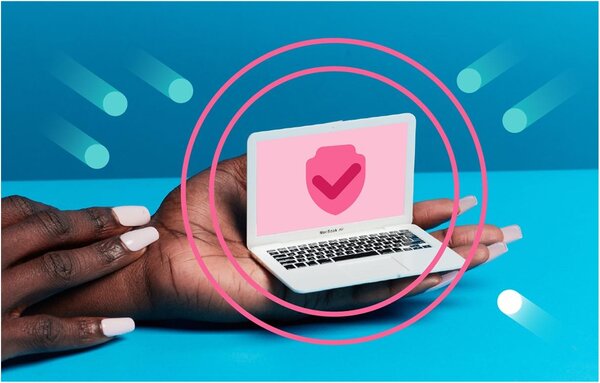 Put your security system on autopilot.
HubSpot understands that the everyday entrepreneur doesn't have time to worry about security threats to their business's website.
With HubSpot's free CMS, you're automatically given a free Web Application Firewall to automatically detect and protect your website from potential threats. This way, all you have to worry about is giving your customers a best-in-class digital experience that they will never forget.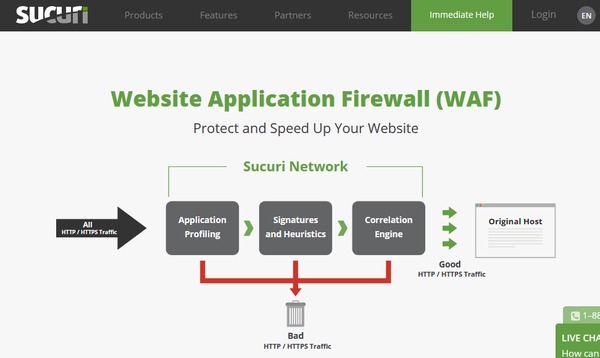 Sucuri offers a cloud-based WAF for detecting and mitigating the DDoS attacks, zero-day exploits, as well as the OWASP Top 10. It can also prevent brute force attacks against the website login pages.
Sucuri WAF allows addition of custom rules for virtual patching and hardening, and comes with smart caching options. It supports fast HTTP/2, reduces server load, works with other CDNs, and optimizes the resources via GZIP compression. Enterprises can install this WAF with a simple DNS change.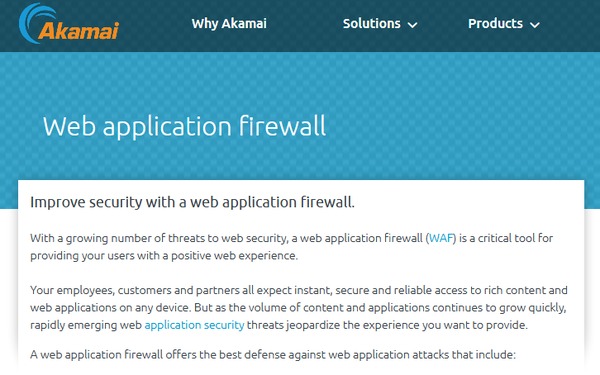 Akamai provides Kona Web Application Firewall for defending against emerging web attacks. It uses Akamai Intelligent Platform for preventing massive application attacks, inspecting HTTP and HTTPS requests, and automatically identifies and stops threats before they reach datacenter.
The adaptive rate controls in Kona WAF automatically defends against DoS and DDoS attacks, whereas the network-layer controls allow IT teams to whitelist or blacklist specific IP addresses.
7. F5
F5 Advanced WAF leverages data analysis and machine learning technologies to identify and mitigate the attacks. It always remains active to defend against automated attacks by bots and mitigate them.
The F5 Advanced WAF can prevent layer 7 DoS attacks, web scraping, brute-force attacks, and protect confidential information from inception by encrypting data in the browser.
If you are building a website, you can deploy this WAF as a hardware, software in hypervisor or private cloud, on public clouds including Azure, AWS, and Google Cloud Platform, or as a part of the F5 Silverline service.
8. Radware

Radware delivers WAF service through its AppWall, which provides reliable security for mission-critical web applications for corporate networks and in the cloud.
An ICSA Labs certified service, AppWall WAF is PCI compliant and integrates positive and negative security models to protect against web application attacks, API manipulations, advanced HTTP attacks, brute force attacks on login pages, etc.
AppWall comes integrated with Radware Attack Mitigation Solution, and supports several deployment modes— on-premise, in the cloud, inline, out of band, and as a stand-alone service.
9. Incapsula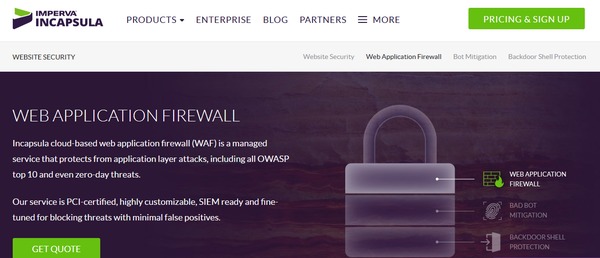 Incapsula's WAF comes as a cloud-based managed service that can defend against application layer attacks, such as OWASP top 10 and zero-day threats.
It is a PCI-certified service, SIEM-ready, and allows customization of WAF security policies. When setup your website and use Incapsula, you can configure the security rules as per the security needs on the basis of IP reputation, URL slug, client type, number of requests, geo-data.

SiteLock TrueShield WAF provides advanced protection against websites from malicious traffic and requests. It can secure the websites from bots and attacks by evaluating the traffic based on behavior, IP reputation, location and type of information.
It can automatically block malicious bots from accessing websites, locks down your site database so that it becomes difficult for attackers to hack your site. It also protects against the top 10 online threats including cross-site scripting, and SQL injection.
BONUS:
11. Citrix

Citrix provides NetScaler AppFirewall service for analyzing all the bi-directional traffic, like SSL-encrypted communication, for protecting the server against various cyber-attacks.
Using the Citrix NetScaler AppFirewall, enterprises can perform deep-packet inspection of HTTP, HTTPS, and XML. It can also protect against the SQL injection attacks, cross-site scripting attacks, cookie tampering, form validation and protection, JSON payload inspection, and signature and behavior-based protections.
Citrix delivers its NetScaler AppFirewall technology through the NetScaler MPX and VPX appliances. The appliance supports memory range between 8GB to 48GB with its MPX versions. Whereas, the platform performance ranges between 0.5 Gbps to 20 Gbps.
12. Trustwave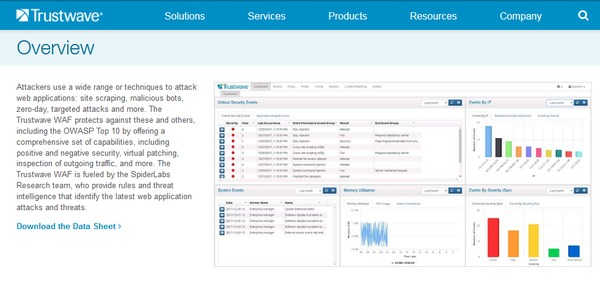 Trustwave WAF can protect web applications against scraping, malicious bots, zero-day threats, targeted attacks, as well as the OWASP top 10. It offers a wide range of security capabilities like positive and negative security, virtual patching, inspection of outgoing traffic, etc.
It can detect the threats in real-time, allows you pre-define rules, and customize scenarios for specific needs of apps and business.
For prioritizing and responding faster to the threats, Trustwave WAF comes with centralized management dashboards and an intuitive UI. Further, it can be implemented inline or out-of-line, and as a cloud service in Microsoft Azure or Amazon Web Services. It can also be deployed as a physical or virtual appliance.
Conclusion:
No matter whether you are a startup, small/medium or large enterprise, the web application firewall should be a top priority for you. Your business can't afford to loss customer data, assets, financial transactions, etc.
Mentioned above are the best web application firewall providers. Choosing the right one primarily depends of the requirements of your business, budget, and height of protection.