If you have a restaurant, cafe, bar or something similar, you need a multifunctional website to attract customers. Most people use WordPress to create professional and attractive websites for restaurants, cafes, cafeterias, pubs or bars.
To do so, one needs to choose the best, adaptive and ready-to-use themes. Due to the availability of so many WordPress themes, many people find it difficult to choose the right theme for the creation of hotel and restaurant websites. Therefore, we have reviewed several themes and compiled a list of the most suitable WordPress themes you will find suitable for your needs.
1. Litmus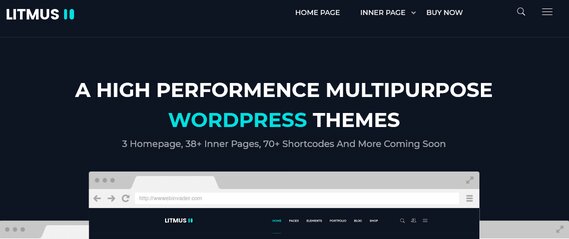 Litmus is a high-quality WordPress theme with several demos. You can install any one of them in just a few minutes. It comes with a designer King Composer, allowing you to create your own site from structural units. Furthermore, you can also use the slider plugin Revolution Slider to attract visitors to your website easily and effortlessly. It easily gets integrated with a variety of premium and free plug-ins.
2. HungryBuzz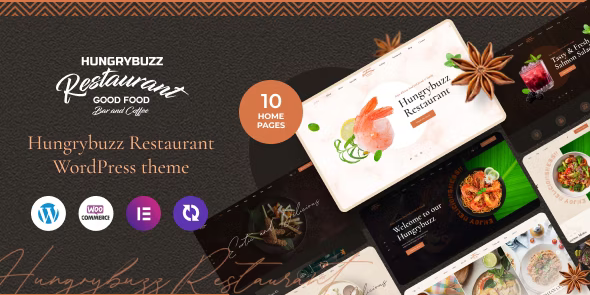 The HungryBuzz WordPress theme showcases a variety of captivating features. It elegantly displays recipes through visually pleasing recipe cards, providing both ingredients and instructions. The theme provides a wide range of layout possibilities for homepage and recipe pages, facilitating creative personalization.
Its seamless integration with well-known page builders streamlines design adjustments. Furthermore, it incorporates a convenient built-in recipe index and filtering system to improve user navigation. Enhancing outreach, it includes social media sharing buttons and SEO optimization, while also offering ad integration for potential monetization. With its responsive design and regular updates, HungryBuzz distinctly caters to dedicated food bloggers.
Features:
Visually appealing recipe cards
Customizable layout options for homepage and recipe pages
Integration with popular page builders
Built-in recipe index and filtering system
Social media sharing buttons
SEO optimization for better visibility
Ad integration for potential monetization
3. Pearl
This unique WordPress theme is ideal for the creation of amazing and stunning restaurant websites. It can also be used to create several types of websites. It has a high download speed of 97-99%. It allows you to create websites with more unique design, customize it as per your needs and add all necessary functionalities to your website.
4. Lemon Chili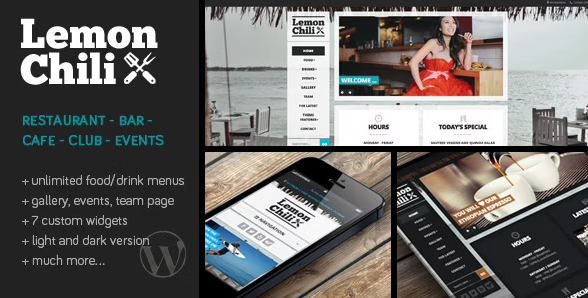 Lemon Chili stands as an energetic WordPress theme crafted to invigorate your digital footprint. Tailored for content like food, lifestyle, or creative pursuits, its lively design exudes vibrancy. Seamlessly melding aesthetics and utility, the theme guarantees a pleasurable user journey. Featuring customizable elements, a responsive layout, and seamless integrations, Lemon Chili emerges as a dynamic choice for diverse content genres.
Features:
Ideal for food, lifestyle, and creative content
Customization options for personalized touch
Responsive layout for various devices
Seamless integration possibilities
User-friendly and enjoyable browsing experience
Versatile suitability for diverse content genres
5. Grand Restaurant
Grand Restaurant is a clean and modern WordPress template for creating a cafe and restaurant and for any food-related business website. The template supports all the latest WordPress technology and updates. Grand Restaurant has a responsive layout and looks great on all devices. It has predefined styles for the Modern Restaurant, Asian Restaurant and Elegant Food Restaurant, which can be imported with one click.
6. Gusteau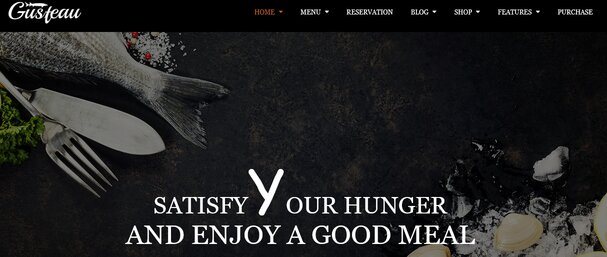 Gusteau is an exquisite WordPress theme on food and a restaurant that is perfect for launching and operating a restaurant, a cafe, or a food delivery service. This template has an attractive appearance and will highlight your online store among competitors, allowing you to attract a large number of customers every day.
It comes with a modern homepage and various sample pages, such as Booking, About us, Blog, Gallery, etc. It is responsive and has been tested on all major portable devices. Try it yourself to create amazing websites and excel in the restaurant business.
7. Baker
Just like any other WordPress restaurant templates the Baker theme has a beautiful modern look that will amaze you with its versatility. This allows you to use it everywhere in the culinary field easily and effortlessly. In a bid to simplify the website development process for you, the developers added 12 homepage layouts to the set and integrated it with the WooCommerce online store.
A blog is attached to the theme for the lovers of sharing recipes. You can boast beautiful photos of dishes and attract more customers every day.
8. Gourmet

Multitasking culinary theme Gourmet comes with 15 beautiful layouts. It simplifies the process of website creation up to a great extent and launch your site quickly. You get access to more than 100 unique pages from which you can choose the best and customize as per your needs.
Moreover, the theme has unique portfolio options for beautiful galleries, 4000 unique icons and more than 75 web components for manual configuration. It contains 13 options cap, lightbox effect, slider, video and image. Its downloading speed is outstanding, making it an ideal theme for webmasters who want to create faster websites.
9. Grill and Chow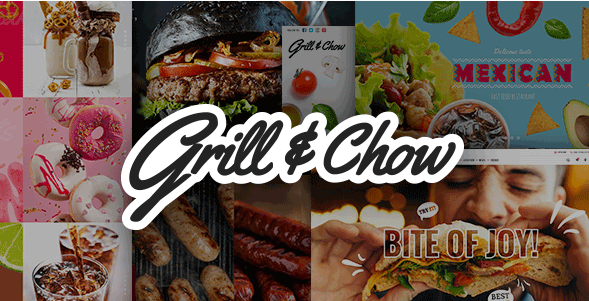 This WordPress theme is perfect for all those business owners who run fast food shop and restaurant. It is a unique theme with 9 concepts of design of the main page. Apart from this, there are a number of standard pages for the creation of websites. The best thing about this theme is that it is supported by a designer with a huge collection of shortcodes and widgets for various web components of the site.
So, you can add a carousel, product information, banner ads, Twitter and Instagram feeds, social networking icons, and a blog section to your website, promote your restaurant business on the web, and get more business opportunities.
10. Appetito
To be honest, Appetito provides ready-made solutions for various types of restaurants, cafes and other institutions. Apart from this, it contains beautiful standard pages and incredibly stylish menus. This theme is well optimized for different mobile devices and is OK with smooth transitions between pages & scrolling.
It also includes call-to-action items and customizable Google maps, allowing customers to find your restaurant easily on the web and make decisions quickly.
11. EasyEat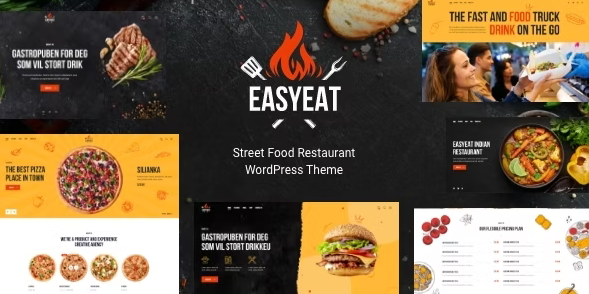 EasyEat WordPress theme streamlines the journey of creating a captivating food-focused website. Tailored for restaurants, cafes, or culinary blogs, its intuitive design and user-friendly interface simplify content management.
With visually enticing layouts, customizable options, and seamless integration with reservation systems or menus, EasyEat empowers businesses in the food industry to establish a strong online presence. This theme ensures a delightful browsing experience for visitors and a hassle-free platform for owners to showcase their delectable offerings.
Final Words
The use of WordPress (for the creation of restaurant websites) is increasing with each passing day. The selection of an appropriate theme strikes the mind of individuals. Because of the availability of a lot of WordPress themes for restaurants website, they always remain in a dilemma which theme they should choose. These are the top 10 WordPress themes for restaurants. Go through them one by one and choose one theme which suits your needs perfectly. Good Luck!