Developed and Maintained by the WebFactory Ltd., the Coming Soon and Maintenance Mode Pages plugin for WordPress can be your next one-stop straightforward platform for swiftly creating coming soon and maintenance mode pages for your website which might be undergoing changes.
The Coming Soon & Maintenance Mode plugin offers over 50 themes for almost all kind of online and offline businesses. Meant to help you craft an amazing Coming soon/Maintenance page up in less than five minutes, the plugin is all about taking the complexity out of the process.
The bundle for the Coming Soon & Maintenance Mode plugin offers multiple features, 50+ Themes, Instagram inspired 26 Background image Filters, and 47 spectacular content animations.
The Features of the Plugin
1. Themes
Featuring a wide array of ready to use themes, the plugin offers over 36 agency focused themes and 28 Pro themes. These remarkable themes are professional looking and are also easily customizable. If you want to move ahead with the themes listed with this plugin, you can simply preview and activate it right from the plugin.
2. Design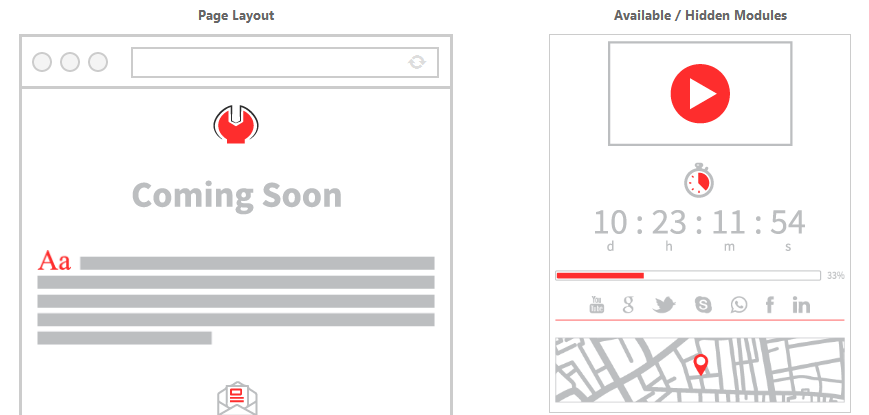 The features related to the plugin's Designing and Layout are met with a Drag-and-Drop builder which is quite simple as compared to other WordPress builders. The 10 modules of this builder are completely customizable. To change the order of these modules, you can simply drag and arrange them.
The builder offers the feature to add a transparent background to the entire content section with the Content Overlay. Other builder features are 4 Content Position, 47 Content intro Animations and spacing between modules.
The plugin lets you choose a background for your site in the form of a static image background or an animated video background from a 400,000+ images gallery. You can even position the image in 9 predefined ways, set the size of this background image and add filters to it. Setting the background Color is easy and adding a Youtube video is seamless.
You can also upload a Logo from your Media Library and select Maximum Logo Height. The plugin also lets you add Logo Title for SEO purposes.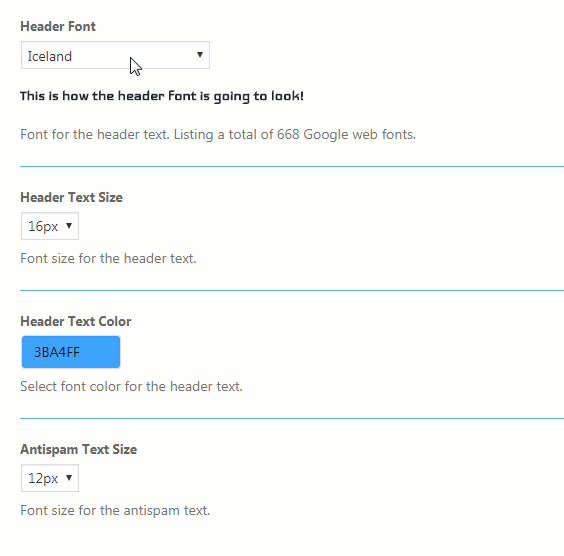 You can set the Header text on your pages to have a Font from over 700 Google fonts, a custom Text size and a Text color.
Your site's Coming Soon page can have a video from any video platform and it can display a Video ID as well. You can choose to autoplay these videos and set them on mute for autoplay.
Adding a zoomable and Responsive Map to your site's Coming Soon or Maintenance Mode pages is easy with this plugin. You can add a Subscribe Form and Social Icons to your site pages. A Countdown module makes it easy for you to set a timer for your viewers to see. If you want to be extra creative with your site's Come Soon/Maintenance mode page, the plugin will let you add a Progress Bar.
However, if you have your own plans and want to add custom changes to your pages, you can opt for the plugin's custom HTML module that will override all the other plugin module settings.
3. SEO
An SEO-enabler, the plugin helps your site's Coming soon pages with its SEO Analysis. Featuring the SEO Snippet Preview, it provides a real-time preview of how your site will appear in the Google's search results.
While your site is under the 'Coming Soon' mode, you can choose to exclude that in the Search engine results by using the plugin's Exclude Search Engines feature. It will show your usual/normal site to the visitors in the result. Enabling the website tracking feature, the plugin's Tracking Pixel & 3rd Party Analytics Code will help you integrate any 3rd party tracker for site tracking.
Other SEO features of the plugin feature:
The Social Preview Image i.e. the preview of your site displayed on social media.
A Block Search Engines feature to completely block search engines by sending a "503 Service Unavailable" response
Favicon Image – show a custom image in peoples' browsers
Add a Facebook Page URL or a Twitter @username for metadata and better social networks integration
4. Support related
If you would ever have any issues with the plugin and its functioning, you can seek support for troubleshooting from the team behind the plugin with their built-in contact form.
Other Features:
The plugin has some pretty amazing features that let you share a Secret Access Link with people who might need to see the normal site behind the coming soon page. Otherwise, you can choose to let the Logged in users see the normal site.
You can also integrate Email services such as MailChimp via API, Zapier, Universal Autoresponder Support.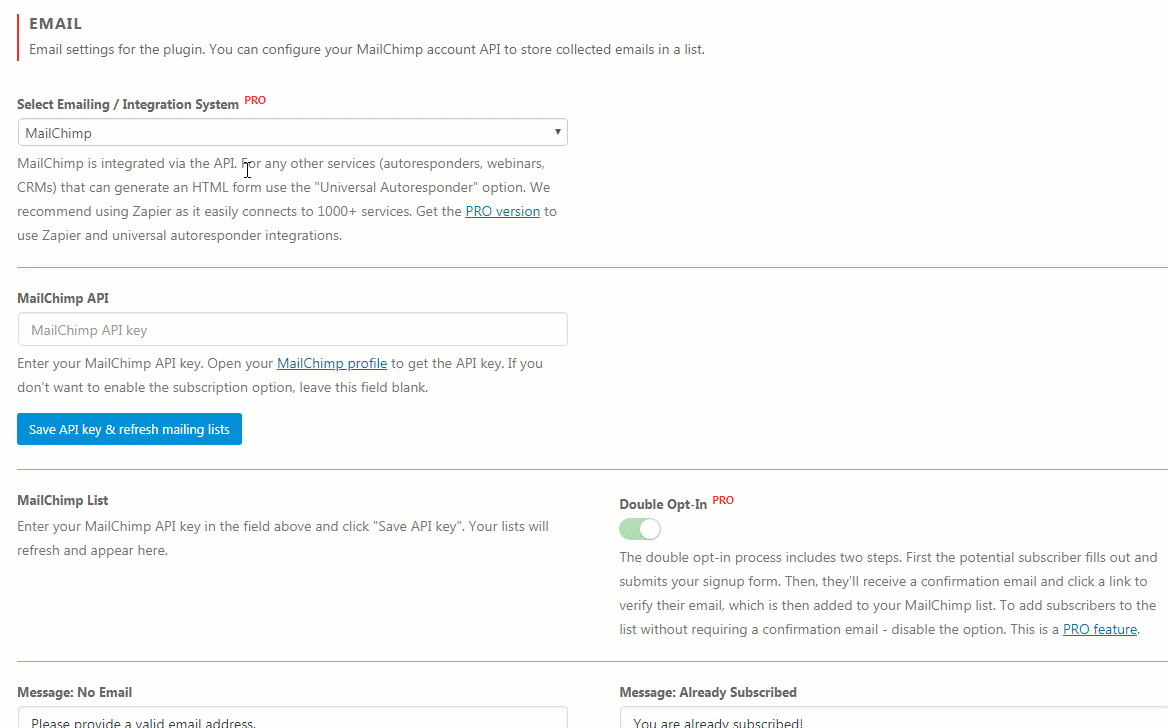 Pricing:
The plugin offers 3 types of Pro Licenses, in case you want to avail all their bundled features.
A Pro Lifetime plan is meant for single site owners; one-time payment for a single site for a lifetime, valued at $69.
An Agency Unlimited Lifetime plan for unlimited client & personal sites offered at $199.
The most affordable Pro Yearly plan for a coming soon page for a short time, can be canceled at any time, priced at $19/year.
Note: Once you have bought one of their plans and don't like the progress with the plugin, you are fully protected by their 100% Risk-Free Guarantee. 7 seven days and complete 100% refund.
Verdict: A great and affordable deal for all the bundled features of the plugin.
The Final Verdict
The Coming Soon & Maintenance Mode Pages plugin is an amazing bundle of features. It can be your one-stop point for all the needs that arise when it comes to creating a Coming Soon/Maintenance Mode page on your website. With the affordable pricing, you must definitely go for the choice of this plugin.