All kind of content needs excellent writing, keywords, uniqueness, and smart message delivery. To fulfill all the needs in one piece, the need is for tremendous skills and multiple brainstorming sessions. There are other conditions that need to be met with, which can only be possible if you have the support of an experienced writer.
If you work hard to provide quality content to your audience, you need a platform that provides experienced writers and uniqueness. If you think your business, brand, or agency can benefit from the same, Content fuel is an excellent option for you. The platform provides expert writing services for all your content requirements. Hence, the service is a must-try if you are looking to rank up in SEO search for your blog or website.
In this blog post, we have discussed for you all the other questions that arise when getting started with a writing service.
What is Content fuel?
Content fuel is a professional SEO writing service that provides content for all backgrounds and brands. You just have to provide a fixed rate depending on the plan you are choosing every month. It hires only top-grade writers who are experienced in how to rank the content high enough on the search engines.
In addition to the above, other services that are offered by Content fuel are ghostwriting services, content writing subscriptions, articles, blog writing subscriptions, etc. Moreover, it provides digital content for your infographics, newsletter, and website.
How does Content fuel work?
The working of the platform, i.e. from signing up to getting your result is effortless and user friendly. You just have to follow some steps and provide necessary instruction to the respective writer for receiving quality content.
Once you have signed up. the process starts with submitting your content request. This process means you have to fill a description form containing your requirements and the topic of your content. Remember to be thorough in your description of the requirement in order to avoid multiple revisions. Moreover, you can submit multiple content requests for your unique work. Make sure that you provide clear instructions for the kind of work you are expecting from your writer.
Depending on the form filled by you, the team assigns you a qualified writer that perfectly fits your description. The team makes sure that you are being allotted a writer that has complete knowledge of your business niche. The writer will start working on your content as soon as they get the content request. The usual turnaround time the writers take ranges between 48 to 72 hours, depending on the complexity of your requirements.
After you get the perfect writer for your content, you can communicate with them about any further specifications. You can ask them questions about the content and for any updates. Communication will help you stay on the same page and avoid any misunderstanding.
After you get the first draft from the writer, you can discuss with him/her about the revision or edit, if any. Let them know of all the edits you want in the particular section or if you want to change the writing pattern.
Finally, the writer will make changes according to your suggestions and provide you with the final piece. After reviewing the final content and approving it, you can either upload it directly on your blog or deliver it to your client.
The pricing plan for Content fuel
Content fuel offers you three kinds of pricing plans, depending on your needs. Sometimes, price is the main factor that limits small businesses to take assistance in content writing services from professionals. But this is not the problem with Content fuel because all its three plans are quite affordable.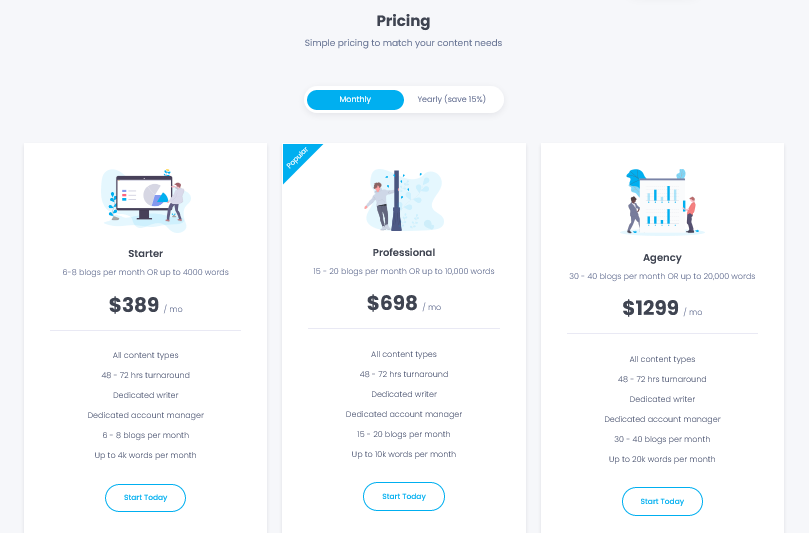 The first option you get in Content fuel is the Starter plan, Professional plan, and Agency plan. The three plans offer all content types with a 48 – 72 hrs turnaround time, and with the help of a dedicated writer. However, the category in which they differ is the number of blogs and the word count they provide per month.
In the 'Starter' plan, you get a limit of 4000 words per month and a maximum of 6 to 8 blogs. Here, you just have to pay 389$ per month and is mainly beneficial for beginners and digital marketers.
You get 15 to 20 blogs in the 'Professional' plan, but the word count cannot exceed more than 10,000 words per month. This plan will cost you 689$ per month. Moreover, the plan is best for a professional that works with creating content daily.
However, in the 'Agency' plan, you can demand 30 to 40 blogs per month with a word count of up to 20,000 words. Here, you have to pay 1299$ per month and is an excellent option for big digital marketing agencies.
In all of the above plans, you get assistance for every content type, no matter if it's ghostwriting content, blog writing content, infographics, email, etc. You can also send the drafts for unlimited revisions.
Content fuel Pros and Cons
There are many benefits to the writing service. However, there is one con to the service as well. It is general for every service to have at least one disadvantage. They are discussed as follows:
Pros:
They only hire top-notch and quality writers who have in-depth knowledge and experience about the work.
They are well aware of the needs required in SEO writing service and deliver results right in time.
You don't have to keep a limit on the number of times you send the content for revision. You can tell the writer about the particular section that needs changes and what is your exact requirement. They will deliver the revised content within 72 hours.
You can get the answer to all your queries. If you are not happy with the writer, you also get a dedicated manager to address any such issues.
Cons:
The service might not be very affordable for startups that don't have much turnaround budget for such services.
The overall rating for Content fuel: 4.5 out of 5 stars
Content fuel's content writing service is much in demand. It offers the best assistance and result to its customers. Thus, the service is well fitted to receive a rating of 4.5 out of 5 stars. Overall it has the best delivery related to ghostwriting needs, content writing service, or SEO writing service. It is definitely an excellent platform for getting quality writers for your blogs or sites.