Graphic designing has gained much prominence in the online space, especially if you want to rank high in terms of your site's SEO. It is an essential tool that helps brands communicate with their audience in a more visually appealing manner. Through each design, they can tell a new story and in the most unique way possible.
Finding the perfect match for your brand's graphic designing requirements can be a task that comes with a lot of hits and misses. This is where Penji can help you create graphic designs that express and attract the audience. In this blog post, we have reviewed Penji in terms of its offerings, pricing, pros-cons, and overall performance.
Penji – Unlimited Graphic Design
Penji is an on demand graphic design service that offers you a unique design every time, helping you grab more customers every time, and on-demand; design whenever you demand it. The turnaround time it takes for delivering your design is 48 hours.
Penji is great for all types of businesses, influencers, marketers, advertising, and other agencies. What works best for Penji users is the fact that they can ask for custom-made designs by paying a flat monthly cost. With Penji, it is easy to get unlimited designs for your logos, flyers, UX/UI, album covers, banners, ads, app design, and a lot more. All of this without any complicated hiring or contracts. Users have the complete liberty to cancel anytime.
How does Penji works?

Penji works in a very simplified manner; you just have to follow a few steps. Moreover, it offers unlimited graphic design at a fixed monthly rate.
The first thing you have to do is sign up or log in to get started with the Penji graphic design service. After you sign in, you get a design project form to fill up. It helps the team to understand your needs and the design you desire. In the project form, you can upload attachments or documents if you like, for more clarity. At last, choose the file type you want.
The second step is to connect with the designer that best fits your requirements and choice. You will be able to have a conversation with the designer on the Penji platform itself. You can ask any question and inform them of any specifications.
In the third step, the designer sends you their first draft as per your instruction and form design. You can review it. However, if you are not satisfied with the design, you can send it back for unlimited revisions. Moreover, you get every revision within a period of 24 to 48 hours. You can submit your review of what changes you want in particular for the designer, and he/she may change it accordingly.
Finally, when you are satisfied with the design completely, you can download the design and source file just by clicking. However, download the file only after having complete ownership of the source. You don't have to wait for several hours to get it in the mail this way.
Penji's pricing structure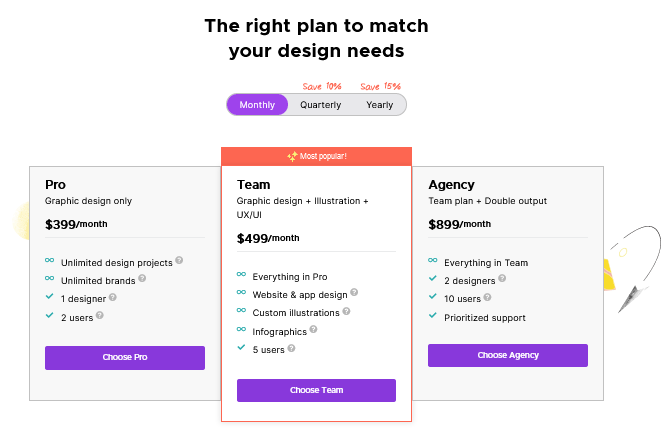 There are three types of pricing plans offered by Penji – pro, team, and agency.
In the pro plan, Penji offers its services at a monthly price of 399$. Under this plan, you can get unlimited graphic designs for unlimited brands. It will create designs for every customer no matter how many different brands you work for in your business. For avoiding any confusion, they will save the designs in different folders. Furthermore, the site can be operated by two users. However, you get only one assigned designer.
In the team plan, you can have access to their services at a monthly price of 499$. The plan renders you with services like Illustration, graphic design, and UX/UI designs. Additionally, you get unlimited design support for custom illustration, designing unique websites, apps, and creating infographics. Moreover, five users can log in to the site.
In addition to the above plan's benefit, the extra benefits you get in the agency plan are that you get two designers and are allowed up to ten user login. The plan will cost you 899$ per month. Moreover, you get a prioritized support system to help you with all your doubts and queries.
Penji's Pros and Cons
Now that you know almost everything about Penji, how it works, and what it offers, you must now be curious about its pros and cons. So we have navigated all of them for you down here:
Pros:
It is extremely user friendly and easy to work with. Everything is explained to you in simple words, and there is no hidden cost apart from monthly fixed cost. So, you don't have to worry about the final cost after your design is ready.
Penji hires professional and highly experienced graphic designers. Basically, they can promise you quality work every time.
There is no commitment; you can discontinue the service anytime you want.
It has a speedy turnaround time so you can deliver the designs to your customer on time.
Cons:
Phone support is not available.
You get a different designer for a different project so it can take time to get accustomed to each designer's way of working and designing. However, you can also request the team leader to assign you your favorite designer.
The overall rating for Penji: 4 out of 5 stars
As per its competency in helping you set your business apart with impeccable graphic designing, Penji can be rated as quite a bankable graphic designing service. The on-demand feature is their unique selling point. It uses the right techniques and knowledge to provide quality work. Moreover, it is all about offering you unique designs. Hence, you need not worry about plagiarized work or repeated designs.
Penji also has the track record of maintaining professionalism – will never let you down by creating circumstances of late delivery of designs. Thus, it will help you create brand value and maintain the same through consistency in their high-quality designs. Penji is a great service that lets you grab the attention of a larger community of audience and in a better way. Thus, it is an affordable way for you to meet your unlimited graphic designing demands easily and rapidly.