The internet may seem like a redundant place but as a matter of fact, every customer journey matters. That's because it could be their first time venturing to purchase a new product or avail a new service.
An efficient team of developers, designers, UX designers and content writers should work in unison to structure the customer journey. And, live chat for WordPress would play a crucial role in getting their answers.
The tactical strategy that you should follow when designing a journey is – never make things explicit but ensure they seamlessly flow from one step to another. A comfortable experience will encourage a visitor to convert into your customer and everything matters, right from how you present your product, the choice of colors and the complexity of the landing page.
Before exploring the key elements of building an online presence for your brand, here is a quick guide on some of the common errors and the basics of building a customer journey online.
Things that Hinder a Customer Journey
A landing page or homepage which is cluttered and has a lot of information stuffed in
Excessive use of multiple fonts and bright colors that could affect the credibility
The WordPress live chat plugin that pops up immediately without any purpose
Slow loading time which boosts bounce rate, according to Google page load time study
Lack of seamless transfer of information that starts with the introduction of the product or service and ends in a Call-to-Action (CTA) button
Image Source: MilesWeb
Building Blocks for Customer Experience
Everyone is selling everything! The digital era is where you will find tens of hosting providers, multiple e-commerce websites and dozens of companies selling smartphone cases. There is information overload and your customer's mailboxes are being filled up with content they would never read.
Take things one step at a time. The process should be implemented in your design, enabling visitors to quickly understand the structure of your website.
Establish your primary offering – Let the landing page of your website immediately convey what you have to offer, be it your product or service
Highlight its uniqueness – Every seller has a USP and your design and content should showcase the unique features
Call to Action – Once the product is introduced, the next plausible step is to encourage them to opt for a trial or purchase the basic variant to check out the product quality
Assistance – At this point, a live support plugin for WordPress will come in handy to help the customer and clarify any doubts immediately
Retaining your customer – Turning a visitor into a customer is the first step and the next obvious step is to retain them for the long-term by turning them into your patrons
What Does Live Chat for Website Do?
The term live chat for website denotes a service that is designed to make the customer experience engaging and productive. A new visitor with little to no knowledge about your product may have some questions to ask you.
Live chat assistance or a chatbot can improve sales without missing out on the moment a user wants to complete the purchase. The purpose of a chat service is to encourage and convince a visitor on the landing page to make a quick purchase or to learn more about the service/product besides checking out the trial.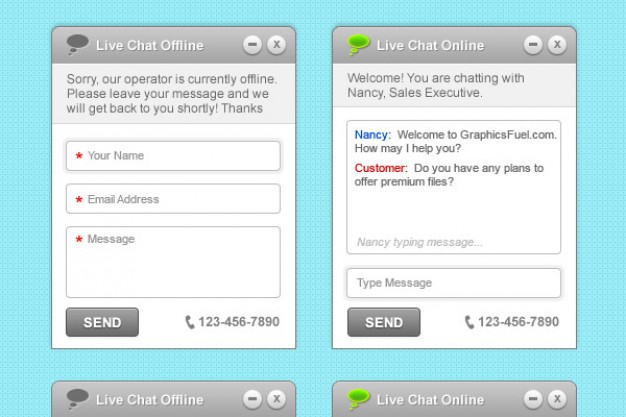 Image source: freepik
It is quite easy to add live chat to WordPress website and if you have a WP website, it is an obvious choice. A couple of immediate benefits your website gains include better user engagement, improved conversion rate and decreased bounce rate caused by a lack of support on a landing page. The plugins make it easier in the modern era allowing a WordPress administrator or even you to do it by following some quick instructions.
3 Instant Improvements Live Chat Can Bring to Your WordPress Website
A customer journey that begins at the initial stage where they find your website listed on Google or another search engine should end with them making a purchase. They should have at least signed up for a trial version of your product for you to consider it as a conversion.
Instant Assistance – The big change that live chat can add to your website is the fact that any visitor will know that help is just a click away. While it is mandatory to make sure your chat plugin doesn't hinder the user experience, it should be easily accessible.
Improves Credibility – A live chat is a service that can only be provided by a brand that is dedicated to quality and customer satisfaction. You can probably specify the working hours for your agents but it is a service which, when handled in real-time, adds up to the credibility of the company from a customer's viewpoint.
Influences Conversion Rate – When there is a question to be asked and the customer needs clarification before the purchase, they would want it answered as soon as possible. With the help of live chat software for customer service, you can witness excellent improvement in conversion rate leading to better business and more sales.
A good WordPress website should get everything right! Users no longer have the patience to wait if a website loads for more than two seconds. What's more, gimmicky marketing terms may not convince them to jump into an offer immediately.
Instead, if you understand the key ingredients that make up for a seamless customer journey including amazing UX design and innovative features like live chat for WordPress, the chances of converting a visitor are much higher.
In the End…
A solid marketing strategy will go a long way where you can fuse the best of creative design, colors, and fonts with a strong call to action words and compelling content. A WordPress live chat plugin does add up to these elements with multiple benefits that your visitors are sure to embrace before making their purchase.
In the comments section below, share us your opinion on how influential you think live chat for WordPress can be.