Digital Marketing is the most innovative, new, and fancy word in trend these days. We all live in a digital world and, it won't be wrong to say that the success of our business relies more on digital marketing these days.
Digital Marketing is there between us since the invention of the electronic media. Well, it isn't necessary that you can do digital marketing through online mode only. There are several ways to promote your business offline and yet digitally.
Having said this, let us be more clear about what is digital marketing?
To put it in simple words, " Any form of advertisement or marketing strategy that involves an electronic media is called digital marketing."
You may ask now that, Why Digital Marketing?
We, as humans respond more to the images and catchy phrases rather than words. Isn't it?
Be it newspaper ads with some images or big billboards of Mc. Donald's, we all find it exciting.
A simple newspaper heading saying "50% off at Dominos" will not attract as many customers as a board saying the same thing with an attractive image of Pizza that makes us drool.
The vast umbrella of digital marketing contains both Offline as well as Online Marketing.
The types of Offline Digital Marketing incorporates:
1) Enhanced offline marketing
This type of marketing is offline marketing including electronic gadgets.
For example, some of the restaurants use i-pads to take orders from the customers which mean you have to select your menu through the i-pad.
The digitization of the menu card attracts customers, give them more clarity about the food, and enhance their 'offline' eating experience.
Talking about the billboards, what do you personally find engaging- a simple one or an electric one?
Undoubtedly, the latter is more attractive and eye-catching than the former one because of the LEDs, animated videos, and lights.
Unarguably, this is the power of digitization.
2) Radio marketing
Guglielmo Marconi invented the radio back in 1895. It took ages for people to realize that it is an effective way to advertise.
Later, all the businesses, from small-scale to high-scale started advertising their brands on the radio.
3) Television marketing
Television and TV Ads are among us since the 1900s. Though these ads are irritating, we sometimes end up buying those products.
The pros of TV marketing is that it reaches to everyone. You can watch a variety of ads even if it's useful for you or not. However, it might be beneficial to someone else whom you know.
4) Phone marketing
Phone marketing is efficient yet frustrating. People these days don't even listen to cold calls and, finally, you find your place in the list of Spam Callers.
What is more engaging is the SMS. People surely read SMS to check if there's something important in it. It is guaranteed to increase your sales.
As said earlier, digital marketing includes both Offline as well as Online Digital Marketing. We are going to emphasize more on Online marketing because the world is using the internet insanely!!
According to the International Telecommunication Union, as of 2018, 55.1% of the world's population has Internet access. Hence, it becomes necessary to promote your business online.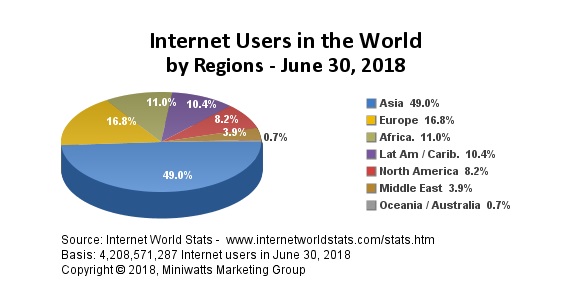 There are seven crucial categories of Online Digital Marketing.
1) Search Engine Optimization (SEO)
2) Search engine marketing (SEM)
3) Content marketing
4) Social Media Marketing (SMM)
5) Pay-per-click advertising (PPC)
6) Affiliate marketing
7) Email marketing

The below info graphic by Unbounce shows the types of Online Digital Marketing.
Let us understand each one of them briefly.
1) Search Engine Optimization (SEO)
WordPress users alone publish over 2 million posts every day. That comes out to 24 blog posts every second which means it's way hard to land up on the first page of the Google Search!
SEO is said easier than done. It involves optimizing your content in a way that you appear in the first page of the google search because the maximum of us do not go beyond the second page while browsing.
If you want customers to read you, know you, and buy your products, SEO is quite essential.
2) Search engine marketing (SEM)
Did you notice the ads that appear on the top of the Google page while you search for a specific product?
You can understand more from the picture below. If we search for 'Men's Watch', you will find several Ads on the top from different businesses.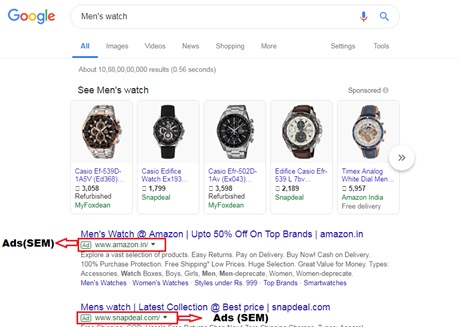 These ads are known as Search Engine Marketing. The only difference is that you have to pay for them.
Advertisements on the top of the page are sure to grab attention and lure people.
3) Content marketing
Content marketing is to give useful and to-the-point content to your customers/readers to engage with them for long-term.
If you create content that is more engaging, meaningful, and helpful, customers will love to stay with you and buy your products.
The image below shows the top priorities of the B2C content creators.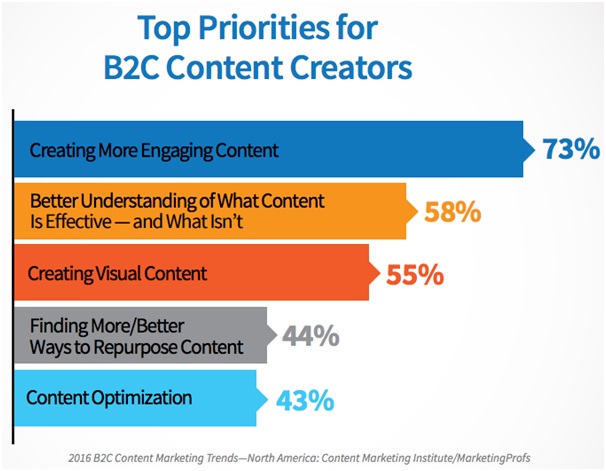 4) Social Media Marketing (SMM)
According to the International Telecommunication Union, out of the total population (7.59 Billion), 54% of the people are on social media.
People use social media every day. Not once or twice but, way more than this. The image below shows the average daily time spent by a person on different social media platforms.
The image above clearly shows that Facebook is one of the most popular social media platforms in the world.
Hence, it becomes a necessity to promote your business on the platform where your customers are already present.
The significant advantage of this type of marketing is that you don't have to invest much and, it gives you detailed insights so that you can target your audience more prominently.
5) Pay-per-click advertising (PPC)
PPC requires investment. It's like gaining customers from someone else's site rather than having them naturally and paying those websites a fee.
Sometimes it might happen that, for a click of 2$ you gain a sale of 150$. Hence, spending this amount is worth it as far as you are advertising wisely.
Google Ads is the most suitable example of this kind of marketing.
6) Affiliate marketing
Earn money by promoting someone else's products.
Say, you own a website with some genuine traffic and, you post an advertisement for a particular company on it. Every time a customer buys the product through your link, that company pays you the commission.
The best example of the affiliate marketing is the Amazon. It lets you advertise for them on your website, YouTube, or Facebook and earn money.
That is all about the Digital Marketing Strategy and its types. Strategy plays a crucial role in deciding the profit you earn through your business.
You can do this literally anywhere and anytime. If you want to rely on a dedicated professional team, you can also hire a Digital Market Agency to boost your business.