When it comes to business, reviews do play an important role. Many people look at the reviews and create an opinion about your business without even having to contact you or know your side of the story. In fact, many times good or bad reviews do affect the buyer's decision as well so that is why you need to be very careful with the reviews. These days most of the businesses purposely try to grab good reviews in order to attract more customers and have a better online reputation
We cannot deny the fact that reviews do matter for a brand or business. They are actually a very crucial part of any business's online reputation. Moreover, customer's reviews are some sort of validation that helps them build a healthy and trustworthy relationship with the brand. Whether you are looking for the best marketing agency or trying to book the best resort for the holiday season reviews does matter a lot. In fact, 84% of people trust online reviews as much as a personal recommendation. The percentage clearly shows the importance of having good reviews.
However, the fact that anyone can write a review for your business without even ever using any of your services or meeting you in person or getting to know in depth about your business is something most of the businesses are bothered of. This is because sometimes these reviews are fake or are written by competitors, ex-employees, or are spam whatsoever, they can badly affect your business's online reputation and can also affect your ranking on the search engines.
Now Question is How to deal with fake review?
There are ways that can help you deal with fake reviews on search engines and social media channels.
Let's discuss in detail.Don't Be Intimidated
1. Don't Be Intimidated
Fake reviews can terribly affect the reputation of your business especially if your business is new. These reviews can create a bad reputation about your brand and as a result lower your business ranking on the search engines and also negatively affect the decision of the customers.
In fact, as a startup, you need to be very careful about these reviews.
Fake reviews do affect your business however, it is always recommended to not get intimidated by this. It must be accepted as a hurdle that you need to tackle to reach glorious heights.
At first, you need to make sure that the reviews are actually fake and not from an authentic user who has had a bad experience with your business. You can figure out fake reviews on search engines and social media platforms by checking the name of the person who has submitted the review and the location.
Let's have an example of Fake Reviews: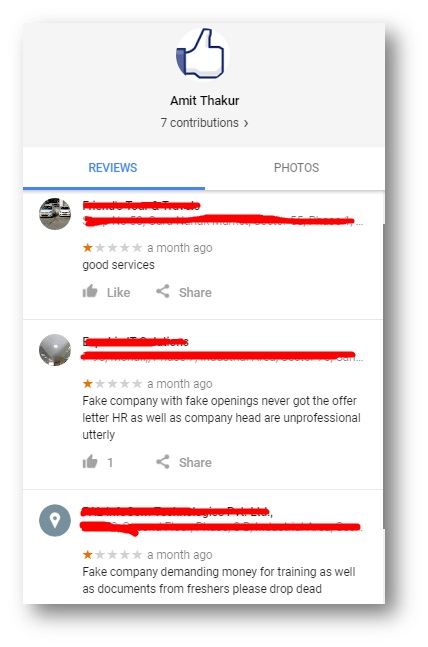 In above case, we can review that fake reviewer put same review to multiple companies and which is totally fake.
It is also important to not bash the fake reviewer and maintain professionalism and dignity as you are representing your brand. But make sure to take the matter seriously and prepare you to handle the fake review.
2. Try To Take Down The Review
You can certainly put down a fake review on Google but you will have to prove that the review is incorrect, unauthentic and unreal.
You can report fake reviews on Google My Business.
Steps to follow:
1. Go to https://business.google.com
2. Click on Reviews from the left side menu
3. Click on Fake review. Now you will get the option of the flag as inappropriate, this way you can easily report a fake review

4. Click on Flag as inappropriate and you will be taken to the Report a policy violation page
5. Submit your case
Read more at Google's official blog:

If you want the fake review to be taken down quick you can both contact Google over an email or call and ask them to take care of the fake review and take it down.
You can also put up the fake review issue on Google product forum. The forum is looked upon carefully and if your problems get the attention it is taken up seriously and the review shall be removed by Google. The main thing is that you should not be ignoring fake reviews it is important to take an action against the review as soon as possible.
3. Give a Response to the Review
A harsh review does not mean that you need to bash the reviewer you can post a response to the reviewer very calmly. It is important to reply to the reviewer within a day in a very formal tone. If you leave a response to a negative review as soon as possible it only shows your dedication towards the work and how serious you are about the business.
However, you shall also respond to a good review, it also shows your concern towards the customer. By answering to the reviews especially the negative ones you can build trust among your customers
You can also contact the reviewer one on one and help in solving the problem. But make sure you come back to the review section and tell the viewers how the issue was solved on your own end. Give detail about how you managed the issue and how every review matters to your business.
However, you shall keep your reply formal rather than trying to defend the problem make sure to address the issue. You shall also not be under denial make sure to keep things, clear and to the point.
4. Explain your case
While you have done everything on your end to get the fake review removed, you also need to have a clear understanding as in why the review must be removed.
That is why you need to keep the URL of the review. You will have to click on the reviewer's name, select the reviewer's name if you see the review under the name of the person then select the URL. This will help you in getting support from Google.
Make sure to have some of the important details and also make sure to describe in detail why the review should be removed. Mention the terms and conditions that have been broken. You will also have to get your case i.d. and necessary details that prove the review is fake.
5. Track fake reviews
It is important for you to keep a track on the fake reviews. Also, make sure that all the flagged reviews have been removed.
To track reviews, follow simple steps:
Go to https://business.google.com
Click on Setting from the left side menu
Make an alert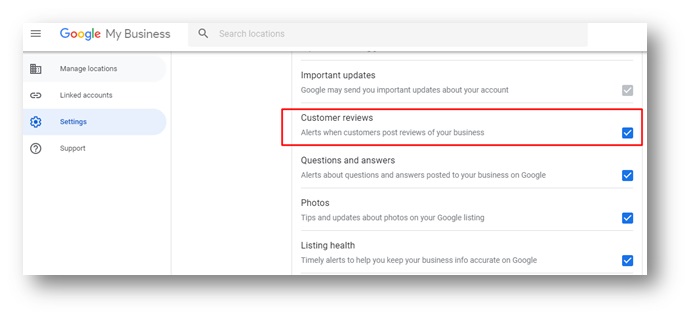 However, if you still see fake reviews adding up on your business profile on Google there are high chances that it is being purposely put up in order to shatter your online reputation. In such scenarios, you can also take legal action if the situation is getting very bad.
Final Thoughts
Fake reviews must be dealt seriously as they not only affect your business's online reputation but can be very demeaning for the overall business growth. You can certainly take down the fake reviews, however; you need to figure out a few things beforehand.
Also, make sure to track the fake reviews that may be piling up on Google or on review platforms like Facebook, Ripoff Report, and Yelp etc. Especially when we talk about fake reviews it can definitely hamper your online reputation and Google ranking so it should always be taken seriously.