According to data by Gartner, "81% of customer experience (CX) leaders report they will compete mostly or entirely on CX." Any way you look at it, customer experience stands integral to eCommerce marketing, sales, and strategy.
After all, CX can directly – and positively – impact sales, customer loyalty, and boost user happiness. In this blog, we will look at the role digital customer experience plays for eCommerce businesses. Let's start with a basic definition first.
"Digital customer experience refers to the overall perception of your brand in the eyes of your customer — built upon the accumulated, consistent interactions they have with your brand, specifically across digital platforms." — Delighted
These platforms could include anything and everything digitally-relevant such as social media channels (Facebook, Twitter, etc.), live chat, email marketing, website, smartphone apps, digital kiosks, among others.
This brings us to the next logical question:
"Why is digital customer experience important?"
Let's look at an example. Say a customer lands up on your website and is browsing through your products. They happen to like a product and end up ordering the same on the first visit (lucky you!). A couple of days later, they browse through your brand's Facebook page and see the same product at half the price. They're bound to feel unhappy about the purchase. To make matters worse, they haven't yet received any updates from the company about the order being confirmed and shipped. You get where we're going, right?
A disjointed customer experience (digital or non-digital) and lack of proactive information are bound to rub customers the wrong way (understandably so). This is why you need to manage your brand's digital touch-points along the customer's journey to offer seamless access and personalized interactions from start to finish. Here's an example of a digital customer journey map for your ready reference:

Long story short, if you wish to enhance the overall CX across digital platforms, you need to provide a consistent, contextual, real-time, and unified experience.
At this point, you might be wondering about how to improve the digital customer experience. Good question. Here are the top-3 strategies you can embrace to start with:
Focus on Your Website's UX: Where UX Meets CX
Think of your website as a digital personification of your brand's core values, character, and goals. In other words, every eCommerce business should look at ways to humanize the website while offering digital convenience. Confused? Here's what we mean:
Use a warm, personalized tone when creating content for your website as Amazon does: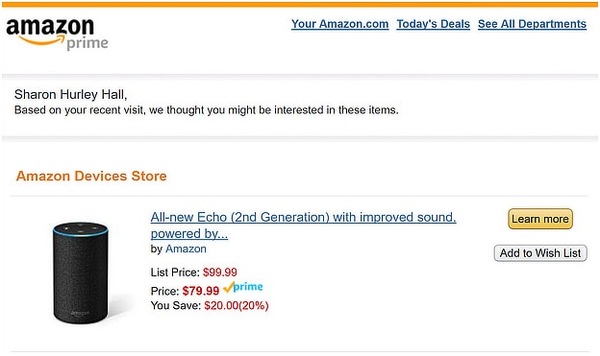 Work towards strengthening 'social proof' by showcasing reviews and feedback from customers. This instils a sense of authenticity and honesty among your target audience and builds a consistent and positive feedback loop. Brands are increasingly using social media pages to highlight testimonials in addition to having a dedicated page on their website: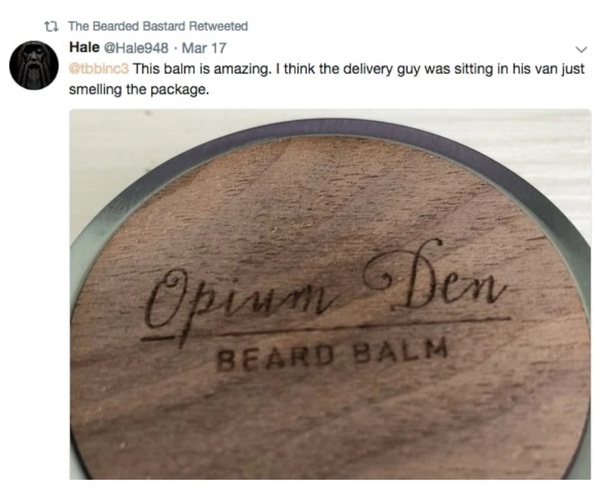 Always aim for a single-click checkout process to ensure customers don't abandon cart while shopping. Their purchasing experience should be short and seamless:
Periodically, keep experimenting with your website design to delight users and offer them something 'fresh' each time they visit your website.
Leverage AI Technology & Software
We live in a hyper-connected world today where customers want everything instantly, at the click of a button. This is where emerging technologies such as Artificial Intelligence (AI) are driving innovation like never before. Take the example of the live chat functionality, which allows brands to offer 24×7 support to customers and acts as a handy virtual personal assistant for all intents and purposes: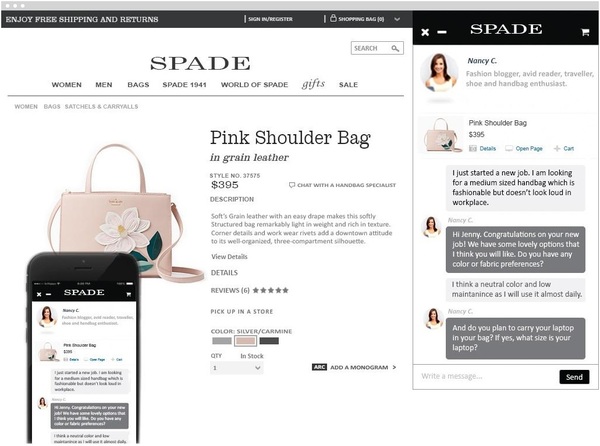 From delivering messages on order updates to helping out customers during the checkout process, the live chat functionality enhances the user experience. Other forms of immersive technologies that brands can embrace include smart speakers, digital signage, VR, wearable devices, among others. One brilliant example of a brand acing AI is Nike. The Nike app uses AI to scan your feet and find the perfect fit:
The tool offers "hyper-accurate" personalized sizing recommendations for customers by scanning their feet with a smartphone camera.
Strive to Establish an Omnichannel Platform
In today's IoT-driven era, connected devices are king, and consistent customer experience is queen. This is exactly why eCommerce brands need to focus on delivering a seamless omnichannel experience, much like Sephora does through its diverse yet connected tools and apps:
Sephora's app features a "Virtual Artist" feature which allows customers to try products, do makeovers, and get access to information regarding deals, new launches, etc.:
The brand also makes use of social media channels in the form of Snapchat takeovers, YouTube beauty videos, and Instagram campaigns to delight and educate the customers: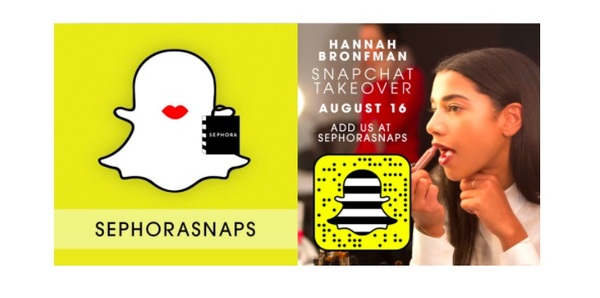 Digital CX Trends Set to Take Over the Future
1. The Era of Personalization with Chatbots is Here
Chatbots have become more mainstream than you'd think. And for good reason. They can assist customers with the right context and help users buy the right product by making data-led personalized recommendations. Take Tommy Hilfiger's chatbot, for instance: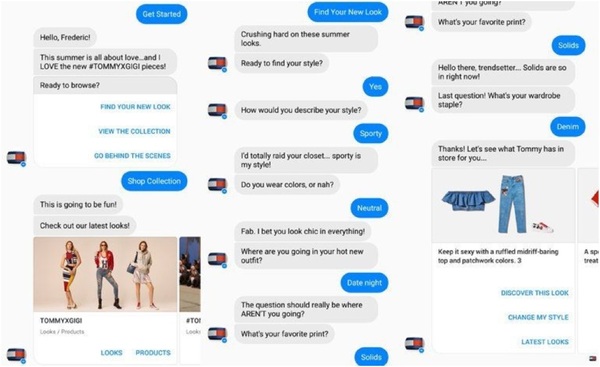 According to data, by delivering a personalized experience, the chatbot enabled 87% of customers to return. That's not all. Chatbots can also boost the conversion rate and take off the team's workload by answering routine questions or providing a knowledge bank that allows customers to self-serve.
2. Video Chat Software is Here to Stay
The pandemic has forced businesses and customers to go online for nearly anything and everything. For eCommerce businesses where in-store experience is vital to the user experience, video chat acts as an effective replacement. This is what a live video chat looks like:
As you can imagine, this establishes a deeper level of intimacy between the customer and the agent; while ensuring that the interaction is more customized and engaging.
3. Customer & Employee CX will be Top-Priority
"Companies with highly-engaged employees outperform their competitors by 147%."
If you're in a customer-facing business, you need to look after your employees, factoring in their satisfaction and rewarding them throughout the customer's life cycle. As counter-intuitive as this seems, remember this: You can only keep your customers happy as long as your employees are happy. A disgruntled customer service agent cannot outshine one that's satisfied with their job and willingly wants to be more productive. Moral of the story? eCommerce businesses should offer tangible benefits to the staff to boost employees as well as customer retention.
4. Agile Principles Will Enter the World of CX
There's no doubt that organizations that can keep up with – and prioritize – innovation as well as iterate at light-speed will lead the highly-competitive CX race. In fact, the use of agile principles to drive innovation and operations will no longer be specific to software development teams. The central idea is to innovate around CX and deliver a holistic customer experience that factors in key elements such as in-store experience as well as personalized customer communications. Long story short, agile development will be key to long-term growth and sustenance.
5. Increased Investment in Data Compliance & Security
Brands will need to shift their focus towards mapping out a plan to thwart security threats and minimize reputation damage in case any security breach occurs. Plus, your CX teams will need to be trained in understanding how to de-escalate anxiety and reduce customers' fears in the wake of cyber fraud. Furthermore, the brand will need to go back to the drawing board to understand how to rebuild customer loyalty and reinforce a positive brand image. All in all, there will be greater focus on compliance, reporting, and safeguarding customer information in today's digital-first economy – from both, a business and an investment standpoint.
6. A 360-Degree Digitized CX as a Result of Mergers & Acquisitions
The era of effortless, digital, and mobile-first customer experiences is upon us. In order to keep up with the dynamic customer requirements, companies will need to re-strategize and think about getting into traditional partnerships or merge with brands that can bring more to the table, such as digital intellectual assets (think: developers, data scientists, etc.), AI resources and technology (think: AI and machine learning tools), etc.
On a Final Note
Customer experience has emerged as a key differentiator for brands across the globe, surpassing product as well as price-led strategies. In today's highly-competitive world, eCommerce brands need to put customers at the center of their digital marketing and digital CX efforts to stay ahead of the game.