WordPress plugins are generally written in PHP programming language. They add new features to a WordPress site and extend its functionality. These plugins will help you in making your day-to-day tasks easier and also deliver a better user experience to you. In fact, these plugins come in a variety and used for multiple purposes viz. security, backup, SEO, media etc.
According to BuiltWith, approximately 15,899,910 live websites using WordPress Plugins today. The plugins provide additional functionality to WordPress sites. So, it is clearly indicating that businesses these days are growing up at a quick rate due to widespread adoption of this platform. So one need to regularly take backup of their website data and must take steps to secure their website.
However, creating regular website backups can be the best thing you can do for your business site which is built using WordPress. This is because backups are the only one which can help you in catastrophic situations when your business site gets hacked and you become helpless in this. There are several WP backup plugins and security plugins are available both free as well as paid which will be very helpful to you especially when you are new to blogging.
In this blog, we have listed out top 6 WordPress backup plugins which you must use before doing review web host.
The complete list is given below:
BackWPup
Duplicator
UpdraftPlus
BackUpWordPress
Jetpack
All-in-One WP Migration
Let's have a look how once can use them:
1) BackWPup Plugin
It is the most popular WordPress backup plugin used by proficient WordPress developers as well as by those who are new to blogging or any CMS. It has approximately 600,000 active installs till now. It has both free as well as paid versions available at WordPress.org. Its free version works well with WordPress MultiSite. The sad thing about this plugin is that it doesn't offer any tool to restore from backup. So, you have to restore by your own. It is more flexible then UpdraftPlus in some features as it offers more customization options while backing up data or review web host. However, this feature makes it less user-friendly than UpdraftPlus.
Key Benefits:
Partial as well as full site backups
Off-site backup to email, S3 services, Dropbox and others
A few different methods are used for automated backups
2) Duplicator – WordPress Migration Plugin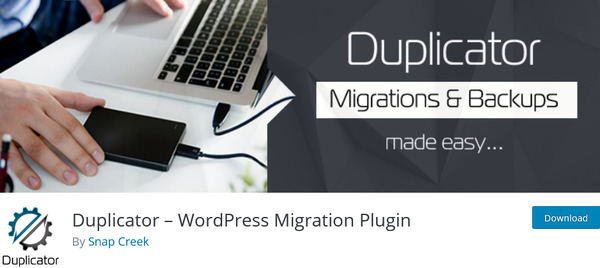 It is one of the other popular backup plugins which is well-rated and most used in WordPress migration. As a new to blogging, you might get to deal with what happens when you migrate your site and what happens when you have to restore or backup the same site. At this time, Duplicator plugin functions great as a backup tool. However, there are many features which come free in other plugins but the same are available in the paid version of Duplicator plugin i.e. Duplicator Pro plugin.
Key Benefits: (Free Version)
Easy site migrations
Full site backup
Easy restore from backup
Key Benefits: (Premium Version)
Off-site storage at Google Drive, Amazon S3, Dropbox
Scheduled backups
A special support for extra-large sites
3) UpdraftPlus WordPress Backup Plugin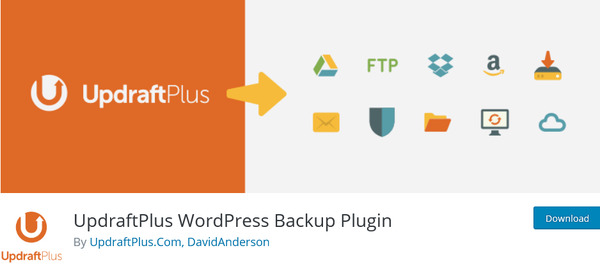 It is one of the best backup plugins available at WordPress.org. And, it is most preferred by various WordPress developers who use it to review web host for the constant growth of their business site. As per the given stats, it consists of five-star rating on over 2,672 reviews which explains it extreme popularity. It is available at no cost. However, a premium version of this plugin is also available consisting of more features.
Key Benefits:
Off-site backup to Google Drive, Amazon S3, Dropbox and more.
Automatic as well as manual backups
A dedicated tool is there for easy restore from backups
UpdraftVault dedicated backup storage which is a dedicated cloud storage service for this plugin
Full site backups or of specific parts of the concerned website
4) BackUpWordPress Plugin

It is a "Human Made" backup plugin, one of the largest WordPress development agencies. In addition to working with business customers such as USA Today, they have also created some of their own products, such as BackUpWordPress. It has both free as well as paid versions available on WordPress.org. If you upgrade to the Pro version from $ 29, you can also back up to external storage, such as Google Drive, DropBox, Amazon S3 and more. In fact, it is a good option for those developers who are new to blogging and want something different what others do. However, you have to manually download your backups on a regular basis as you don't get remote storage.
Key Benefits:
Separate schedules for database backups and complete backups
Complete site backups as well as database backups
5) Jetpack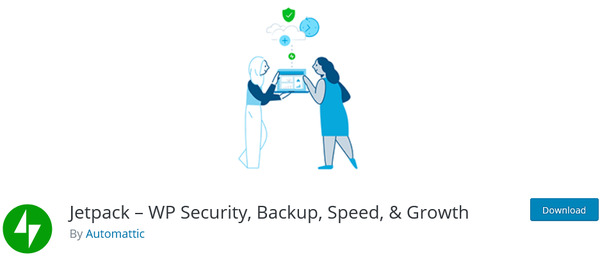 Jetpack is not only known for improving performance, security and grow traffic but it is also a very handy backup plugin. It backs up your website data in real and can be restores in just a click. This plugin was previously known as VaultPress. You can even setup daily auto backs with ease which secures your website from data loss in case of any hacker attempt.
It has both, free as well as paid plans. Free plugin can easily be downloaded from WordPress plugin repository but the paid option can be availed from the official website. With paid plans, website scans and various useful services are offered.
Key Benefits:
It offers one-click restore
Automatic real-time backups on a daily basis which means that if you make any change on your site, it will get synced right away.
It offers easy migrations as it can restore to different sites with just a click of a button
Offers 2 Factor Authentication as well for extra security
6) All-in-One WP Migration plugin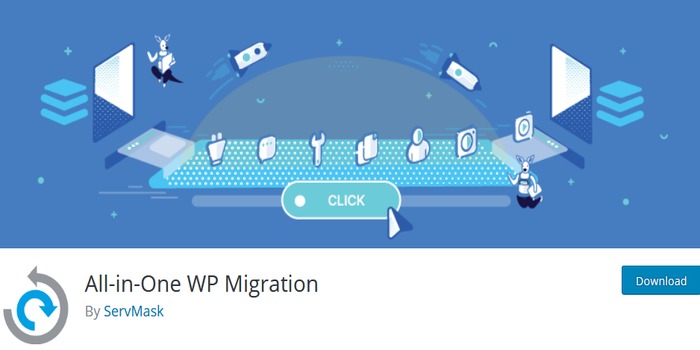 It is a migration plugin similar to Duplicator and serves double duty as a backup plugin. The best thing about this plugin is that it offers an easy restore process before review web host than Duplicator. However, you cannot put backups on an automatic schedule. So, you have to handle things manually. The premium extensions of this plugin offer off-site backups at cloud storage providers such as Dropbox, OneDrive, Google Drive and more. Moreover, it gives you a control over the files which you export, especially helpful when you take partial backups.
Key Benefits:
Easy restore from backup
Partial as well as full backups
Provides functionalities that make migrating your website a breeze
Conclusion
So far we have seen a complete list of top WordPress backup plugins for all your WordPress development needs. These backup plugins would surely help you when you have to review web host or even if you are new to blogging world. This is because these backup plugins come with a lot of features viz. great support, automation, backing up entire site and ease of use which ultimately extends your website's functionality and improves its quality as well as gives its users a better experience.
By using the above-listed WordPress backup plugins, you can handle the various drastic situations such as cyber attack, website hacking etc. Your business website built on WordPress platform will become fully protected if you use these backup plugins. You can easily install these plugins from WordPress.com or if you find any difficulty while doing so, then you can consult with us.