In an increasingly competitive selling market, we seek different tools, data and methods to try and get ahead. Firmographics can help easily manage large amounts of data, so that selling efforts can be effectively managed.
What are firmographics?
Firmographics are an important aspect to consider since they may aid organizations in better understanding their target market. Firmographics are used in B2B sales and marketing to categorize consumers based on their company or organization's characteristics. The descriptive elements of a business or organization are known as firmographics. The following is a list of firmographics that may be discovered, as well as their meaning: industry sector, size, location, and income are examples.
Knowing these segments will change the way that you sell, as you are then able to categorise and prioritise prospects based on how likely they are to purchase your product or service.
What is firmographic segmentation?
Firmographic segmentation is a form of market segmentation that divides the entire population into categories based on firmographic variables. There are many variables that it can be divided by and the questions to be answered under each:
Industry – What industry are they in? How can we group different prospects together under industry? How do I tailor my sales and marketing efforts to this industry?
Location – Where is the company geographically located? How do I segment by geography? Are there particular considerations I need to make under location?
Financial Performance – What is the financial performance of the firm? Are they growing?
Status – What is the status of the firm? Are they publicly or privately owned?
Company Size – How big is the company? Are they considered a small, medium or big sized enterprise?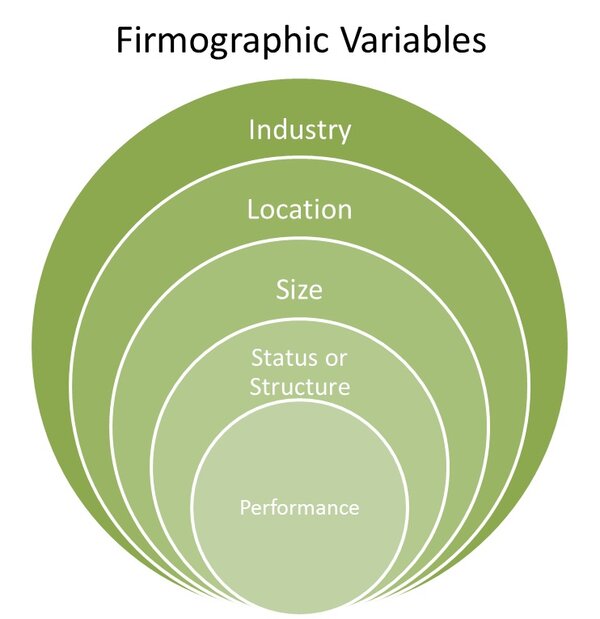 Source: WiglafJournal
There are also some segments that are less commonly used:
Purchasing Cycle – How often do they purchase new materials? When do they reorder?
Customer Satisfaction – Were their customers recently dissatisfied? Can you help address that problem?
Maturity of Business – How long has the business been operating? At what stage of maturity are they?
Internal Technology – What technology do they use internally? How does your product/service actually complement this?
The right segmentation strategy can help you get the most out of your time and resources. Companies will often want to figure out who their ideal customer profile (ICP) is and where they may be found, which can assist them in making more educated product features and marketing choices while avoiding inappropriate targeting techniques that would waste money.
What is the purpose of firmographics?
Optimize sales and marketing efforts
A firm may be confident in its marketing approach if it uses messaging that is specifically tailored to the issues that each market segment is experiencing. Having messaging that has context, will be highly effective in your sales and marketing efforts.
Marketers use firmographics to look for similar qualities in segments and between them. Knowing how consumers react to your product/service and which channels get the most response are crucial. This means you have a strategy in place, as well as a budget for implementation, so you can concentrate on the channels that are performing well. Instapage has indicated that 77% of people respond better to a personalised service or messaging. This will ultimately be beneficial to your marketing ROI.
Uncover business details quickly
Firmographics help businesses learn business insights about B2B target markets by assisting in the answer of frequently asked questions such as how big the firm is, where they are based, and what sector they operate in. With these details, you will be able to better speak to the key selling points that are relevant to the prospect.
Leverage data to uncover future opportunities
Firmographics can often be a good indicator to uncover trends and hence, predict future sales opportunities.
What is an example of how firmographics is used?
To understand the firmographics approach, consider an example. Assume you run a company that produces digital receipts. Your product may be perfect for small to medium-sized businesses (SMEs) in high growth areas with a focus on your local region and an industry that requires a large number of receipts to be sent out. You can then use firmographics to discover firms that are SMEs, have high yearly revenue, are located in nearby areas, and engage in industries like manufacturing or professional services. By analyzing your ICP using traits, you will be able to quickly identify prospects that are worth pursuing and focus on them.
The applications of firmographics and how it can shape the way you sell is bountiful. Another particular useful firmographic data is looking at technology used. If you product integrates with with a particular technology. When a new customer adopts their technology, this is an interesting opportunity to sell a seamless integration across systems.
Where can you find firmographic data?
There are a few methods to find firmographic data:
Online search is a common method used to find firmographic data. Through google and other search platforms, you can find data on firm financial results, company location and further trends on industry growth, sector trends and more. The best sources of data will be via annual reports or accredited sites. Whilst effective, this method is extremely time consuming.
There are several sales intelligence tools, such as Triggr, that allow sales people and marketers to perform targeted searches for a particular firm to discover firmographics, buying signals, and contact data. The advantage of this approach is that it takes less time and allows you to concentrate your efforts on selling.
Concluding Remarks
Many businesses have had to change in order to survive and continue flourishing in an uncertain climate, whether it's via increased technology adoption, pivoting to focus on new market segments, or diversification into new goods and services. Salespeople must account for these changes when prospecting for sales to ensure that they are targeting the proper clients with the proper message.
It won't happen overnight to perfect prospect targeting, as it does with many continuous improvement procedures. Salespeople can put themselves in the finest position to sell more effectively, strategically, and profitably for the long term by continuously categorizing new sales prospects and recategorizing existing customers who may be evolving.