Do you think it's a perfect time to give your website a new appearance? What about your traffic? What if you start losing it?
If your website is following old and traditional design trends and you want to give it a complete makeover following latest technology and new trends. So, you can grab more customers and have a substantial increase in your business. Meanwhile your website in the maintenance phase, your visitors would be in trouble finding your services and your traffic meter will show a declining rate and your heart start pounding simultaneously.
After being redesigned, your website is having a perfect outlook with amazing features that so adore, but wait the significant number of visitors have gone now.
Causes of Traffic drop
Within the process of web designing your website has lost some of its old features and new features have taken their place. The search engine optimization has now changed with the replacement of old keywords, titles, URLS, and content at some extent. It will take time to record new changes in your website and to bring back your organic traffic. Here are some tips to sustain your traffic flow after a website redesign.
Not configuring redirects for your website is one of the major causes of losing the traffic. If you haven't considered replacing your old URL's with new URL's throughout the redesigning process then you are in the safe zone. Nevertheless your website's URL have been changed, your visitors find it hard to access the updated version. One way to get rid of this turbulence is introducing redirects.
Setting up redirects in your website is an efficient way of leading your visitors to the new version of the site and in the absence of it they may simply think that the website is gone.
You can check pages with non-existent redirects through Google search console. There you will find those pages through Not Found tab.
It is also a good idea to design a new copy of your website. So visitors couldn't feel any inconvenience finding your services. However, the copied version of the website should not differ to the original one as it should have all the keywords added in a proper format so visitors can find you against these keywords through search engines.
The addition of original keywords will not hurt your rankings and will sustain the traffic flow simultaneously. If you can't do this by yourself, consider hiring a professional SEO expert.
Maintenance mode extension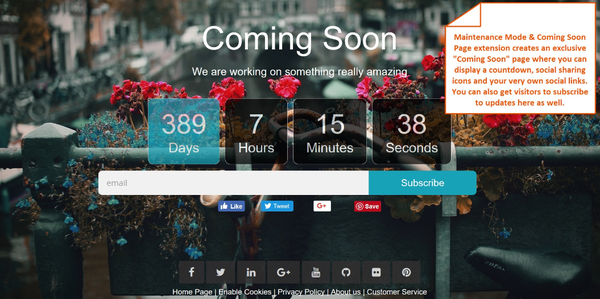 Meanwhile your designer is busy designing your new website; you can inform your visitors about the maintenance process in a more proficient way. Coming Soon / Maintenance Mode for Magento® 2 offers an extensive way of configuring coming soon or maintenance page with in no time.
The coming soon page is exemplary to generate crave for upcoming product or website. Also, users will be provided a leverage of signing up to become subscribers. Restrain users from viewing the site with broken images and missing text and fonts; instead make use of this flexible extension to make your website look eye catching. You can add your desired media files to make it appear more attracting.
Keywords
The new appearance of your website looks stunning and you are receiving praise from many in your circle but the issue is still the same that is the smaller number of visitors. The one reason can be the improper addition of keywords. Here you can take benefit from an old copy of your website. You need to identify which keywords were bringing most fortune for your site. Bring those keywords back in your newly designed website and put them in appropriate places. These keywords will bring an up rise to your traffic and significantly increase your rankings as well.
Robot.txt
The robot.txt file is considered as backbone for your site's exposure to the audience. This file tells search engine crawlers which pages are meant to be indexed and which are not. If that file was there at the time of designing process, make sure to incorporate all the necessary pages that are needed to be indexed.
Site Structure
The structure of your site is an important factor for search engines to decide its rankings in the search engine index. You can view how your website is crawled through the sitemap of your website. You will find all the pages of your website listed there. If you have redesigned your website then it will be difficult for search engines to keep track of your website properly and understand it completely. The solution for that hindrance is submitting your Sitemap again to the search engine database. Also, don't forget to submit it to the search engine console to regenerate traffic to your site.
SEO
Don't stop the process of optimizing your website for search engines as SEO is one of the important factors to make your website more user friendly and up to the mark. Make sure that the content of your newly designed site has a proper structure and meets all the necessary SEO based guidelines.
If your existing professionals are unable to bring rejuvenate your website former traffic privileges, consider hiring an SEO professional. The individual will be responsible for taking care of internal and external links of your website and should make necessary changes for persistent user retention.
301 redirects
As discussed earlier how important are redirects for your newly designed website. Your website's visitors will get annoyed when served with broken site structure.
The proper way of setting up your redirect is using 301 (permanent) redirect as it informs search engines that your website has moved permanently to the new address.
Final Words
With changing technologies, you feel a need of introducing new features and making considerable changes in the user interface of your website.Facing a continuous decrease in your traffic is overwhelming when your website is acquiring new changes. Following the above-mentioned tips, you can significantly fix your newly designed websites traffic drop by optimizing for SEO standards.