Nothing happens by chance especially in today's world where everyone is craving hard to gain the top spot. Of course, several technologies and platforms are seen competing but no matter what, Magento keeps winning. I personally find Magento eCommerce website development a revolution; it has become the next horizon to explore. The following blog presents how a few Magento extensions can enhance your business.
Being one of the most powerful eCommerce platforms, Magento offers a virtual storefront and helps in selling directly to your valuable customers. At the moment, business processes are many such as product management, payment methods, shipping options, checkout processes. And they can be made easier just with the help of a few Magento extensions.
For example, If you wish to increase the functionality of your store, a Shopify app is the solution to take into account. As a store manager, extensions can make your life easier. Besides, they can even do both, improve the ease-of-use and add great features for your customers.
Gone are the days when people used to have archaic email templates for your customer's transactions. In the present scenario, customers hardly read these old-fashioned emails. In fact, now you can also use receipts and other transactional emails (orders, registration, etc.) to build relationships and cultivate returning customers.
Magento Email Templates, in particular, helps in achieving these long-term business benefits. With the help of targeted promotions, customer segmentation and search engine optimization can at the same time attack as well as allure customers to continue browsing through the displayed products. This is not necessary at all, as alluring can be done even after they have already performed a transaction.
Magento Email Templates offers seven styles to choose from. Right from photos to texts, font, and color, everything can be customized for all your transactional email templates.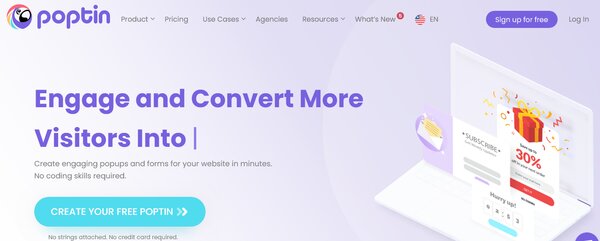 The Magento extension from Poptin empowers e-commerce enterprises by facilitating effective lead generation and optimization of conversions. Seamlessly integrated within your Magento store, Poptinprovides a user-friendly platform for crafting and deploying captivating pop-ups, forms, and banners.
This enables the capturing of visitor interest, gathering of valuable customer data, and amplification of conversions through customizable designs and advanced targeting features. Whether the aim is to expand your email subscriber list, diminish cart abandonment, or augment sales figures, Poptin's Magento extension furnishes you with the necessary tools to heighten user engagement and accomplish marketing objectives with efficiency.
Elevate your online store's performance by embracing Poptin's tailored and intuitive Magento extension.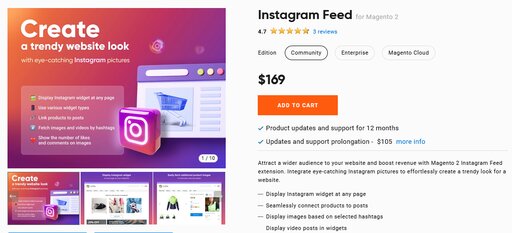 Being a significant marketing channel, social media is riding on a wave. Now, do you think that your brand's primary target market is the young and tech-savvy people? If so, I am sure they must be having their own Instagram accounts. It may quite interest you to know that this module creates a sidebar mini gallery as well as a full gallery page on Instagram, where each
one can be configured separately to use a different user. Moreover, there is no coding needed for this extension. Instagram for Magento offers:
Choosing the right placement of your mini gallery (mostly in the left sidebar)
Right sidebar or footer Shortcodes uses Magento's native js library for faster loading times
No added jQuery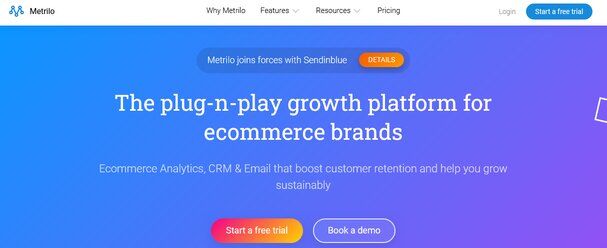 Metrilo offers a Magento extension that empowers e-commerce businesses with advanced analytics and customer insights. Seamlessly integrated into the Magento platform, this extension enables merchants to comprehensively track and analyze crucial metrics like customer behavior, purchase patterns, and conversion rates. With Metrilo's tools, businesses can make data-driven decisions to optimize their marketing strategies, enhance customer experiences, and boost sales.
Here are a few more features:
Comprehensive Analytics: Metrilo's Magento extension delivers detailed insights into customer behavior, sales trends, and conversion rates, enabling data-driven decision-making.
Real-time Monitoring: Monitor store activity in real time, empowering you to respond swiftly to changes and opportunities.
Customer Segmentation: Easily segment your customer base for targeted marketing campaigns and personalized engagement.
Conversion Optimization: Utilize data to fine-tune your strategies, enhancing customer experiences and increasing sales conversions.
Seamless Integration: Effortlessly integrate Metrilo's extension into your Magento platform for a streamlined analytics and marketing solution.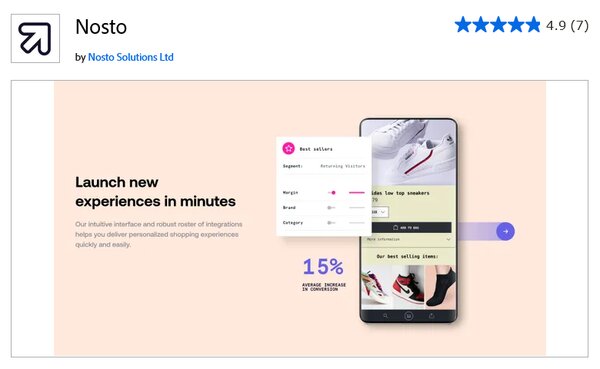 Nosto offers a powerful module tailored for Magento, enabling personalized e-commerce experiences. It utilizes AI to analyze customer data, delivering individualized product recommendations, populating dynamic content, and optimizing email marketing. Enhance engagement and conversions by providing shoppers with relevant, tailored content at every touchpoint.
Features:
Personalized Product Recommendations: Nosto's Magento module employs AI to suggest products based on user behavior, increasing cross-selling and upselling opportunities.
Dynamic Content: Create personalized content blocks that adapt to each visitor, enhancing relevance and engagement.
Behavioral Pop-ups: Capture exit intent with customizable pop-ups, offering tailored incentives to retain potential customers.
Email Optimization: Nosto optimizes email campaigns by dynamically populating them with personalized product recommendations.
A/B Testing: Test and refine strategies with A/B testing functionality, ensuring continuous improvement of personalized shopping experiences.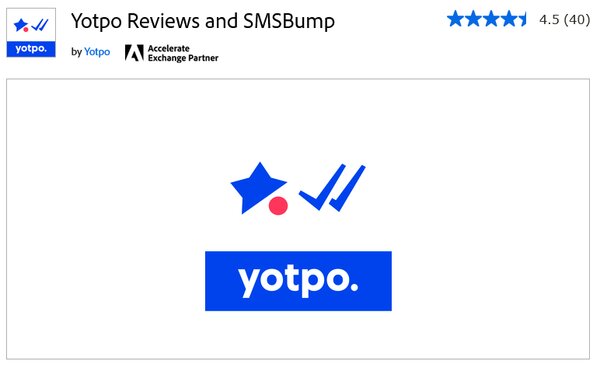 SMSBump provides a Magento module focused on SMS marketing automation. Reach customers directly through personalized text messages for abandoned cart reminders, promotions, order updates, and more. This module leverages the immediacy of SMS to boost customer engagement, recovery rates, and overall sales while offering a convenient and effective communication channel for e-commerce businesses.
Features:
Yotpo Reviews Magento Module:
Authentic Reviews: Collect and display genuine customer reviews to enhance credibility and boost conversion rates.
SEO Advantage: User-generated content improves SEO, driving organic traffic and enhancing search engine visibility.
Visual UGC: Showcase customer photos and videos to provide a richer, more trustworthy shopping experience.
SMSBump Magento Module:
Abandoned Cart Recovery: Automatically send SMS reminders to recover abandoned carts and increase sales.
Personalized Messaging: Deliver targeted promotions and updates through personalized SMS for better engagement.
Order Notifications: Keep customers informed with SMS alerts about order status and delivery, improving post-purchase satisfaction.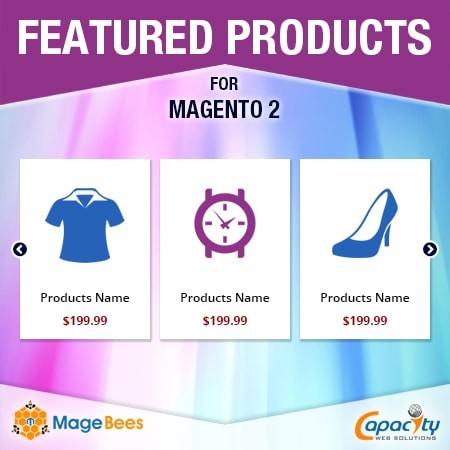 Featured Product is a free Magento extension that aids you in displaying the "stars" of your store. I am sure having a beautiful product slider will provide great assistance in stunningly highlighting your products like never before. The extension also allows you to move the slider wherever you'd like it to appear (home page, left/right sidebar, etc.). Its key features include:
Easy to install and use
Ability to use the shortcode
Mobile friendly
Free and reliable support
Supports multiple languages and stores
Wrap Up
Life is full of possibilities, and so is the field of Magento development. Of course, you will find plenty of other extensions out there just pick one which can help your business. Remember, The sky really is the limit- Turn your virtual storefront into pretty much anything you can dream up.