As a blogger, you need to make sure that your blog stays on top of the game in terms of design, speed, SEO readiness, and overall functionality.
A common way to do it is by hiring a designer who will take inputs from you, use his resources coupled with a small fraction of creativity, and come up with a design that will cost significantly more than your budget.
In case you have a lot of money in your bank account and are busy on many other projects, then it's an easy way to design a decent website. However, if you have just begun your journey in the blogging field and cannot afford to spend money on the web development & designing, then consider an alternative solution to fix this problem.
What better way can you mull over than designing the website yourself?
Whether you are from a technical background or not, you can easily do it if you know which WordPress theme is a perfect fit for your website. This is where most bloggers and young internet marketers get stuck. Since there are hundreds of themes available online, they find it confusing to settle upon any one option.
If you can relate to it, then here is a theme that you can install on your website and get unbelievable results. Point Pro is one of the most popular WordPress themes in the market, incredibly easy to install, and comes with a long list of features to keep your site ahead of the game.
Here is a detailed review, explaining the primary features of the Point Pro theme and why you should opt for it. Take a look at it and put an end to all the doubts you had regarding this theme.
PointPro Theme Overview: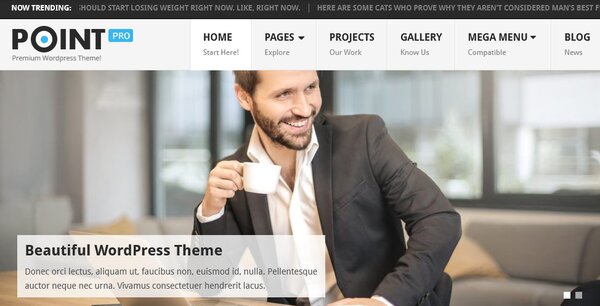 Point Pro is one of the most ambitious WordPress products ever introduced by MyThemeShop. The primary goal of the team that designed Point Pro was to bridge the gap between users' expectations and website performance. This theme does its job brilliantly and ensures that users don't have to face any trouble while installing or running it.
Loaded with a broad range of features, Point Pro makes blogging as easy as it could be without affecting user experience and earnings. Here are some of its basic features you can check out and decide if it's a good fit or not.
Search Engine Supportive Structure
There is no use of any theme unless it supports the latest SEO standards. With Point Pro WordPress theme, you will never have to worry about Google algorithm changes again. It's search engine ready and requires no extra manual effort from your side to rank your website.
Usually, three primary factors that affect a site's SEO score these days are content, load time, and mobile responsiveness. Point Pro addresses all these issues in the best possible manner.
If you have a product-centric or business website, then its unique 'Blog' feed feature will help you publish search engine friendly and industry-specific content on a regular basis to get constant organic traffic from Google.
When it comes to loading speed, Point Pro comes with a load time of under one second on desktops, laptops, tablets, and smartphones, ensuring that you never face any traffic loss due to speed issue. It also performs excellently on smaller devices and offers an unforgettable experience to users coming from smartphones.
Eye-Catching Layout & Lightweight Design
SEO readiness can drive traffic to a particular site, but unless it's perfectly designed, users won't stay online for long. In an attempt to enhance the layout, many sites end up using different third-party tools, javascript, and additional codes, which not only increase the loading time but also worsen the overall performance of the site.
It's an alarming issue that most websites in today's time are dealing with. Thanks to Point Pro's remarkable layout and lightweight design that you don't need to waste your time and efforts dealing with this problem.
It comes with the best-in-class homepage design that gives a classic touch to your site, unique slider sections that increase the user engagement rate on your image-rich posts, and drag & drop feature to place your favorite content sections anywhere on the homepage.
Besides, you can also create a separate team section and feature all your team members with direct links pointing to their social media pages.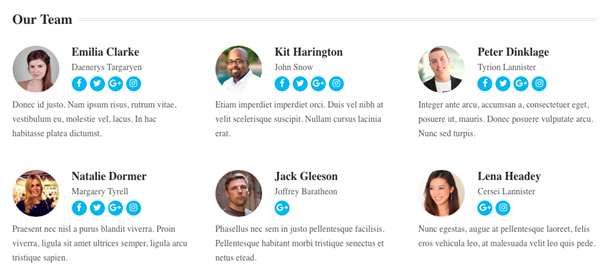 The project section of Point Pro helps you share regular news and updates about your current projects with readers and also create a buzz in the market well before their official launch.
Along with these primary features, Point Pro offers you endless color combinations, fascinating backgrounds, more than 600 Google fonts, an extensive collection of icons, and stunning menu designs to keep all the readers hooked on to your site for a long time.
Powerful Options Panel & Site Customiser
It comes with a robust theme options panel which allows you to make vital changes in the layout and functionality of the site in a hassle-free manner. There are dozens of options to choose from. You can simply use them and revamp your site's layout as many times as you want.
The Live Site Customizer feature, on the other hand, helps you take a glimpse of all the changes in real-time before they go live. Both these features improve the site performance and make it incredibly easy for you to customize your website without anyone's help.
The best part is that you don't need any technical knowledge or coding skills for making these changes.
Built-In Support For Premium Plugins
To enable several world-class features on your site and increase its potential by a significant margin, you might need several premium plugins for different purposes.
Many themes stop functioning correctly once you try to install third-party plugins. But this isn't the case with the Point Pro theme. No matter how many third-party plugins you install, its performance will never get hindered.
It comes with built-in support for WP Review Pro, WP Subscriber Pro, WP Mega Menu Pro, and what not. You can easily install them and increase your site's conversion rate by a huge margin without facing any problem.
Money Back Policy, Updates & Technical Support
Point Pro comes with a 30-day money back policy, so you can ask for a return if you're not satisfied with its features. However, you'll never need to use this policy as it's the best theme in the market in terms of design, performance, ease of use, and user experience.
It receives regular updates for 12 months from the date of purchase. During this period or even after it's over, you can contact Point Pro's premium support team 24/7 and fix any technical error or doubt immediately.
In case of any trouble, while installing or running this theme on a day-to-day basis, you can refer to its extensive documentation, which includes a number of graphical and video-based steps to help you activate or deactivate any function easily.
You can also post your queries in its support forum and get relevant answers from expert users, developers and WordPress pioneers. All in all, the technical support system of Point Pro is undoubtedly the best in the industry. No matter what type of problem you face, the support team has got your back and will help you fix it as soon as possible.
There are many other features, such as child themes, multi-browser support, RTL support, translation readiness, import/export support, WooCommerce compatibility, gallery archive page, off-canvas mobile menu, clean HTML5 & CSS3, etc. that enhance Point Pro's performance to an extent that no other theme can compete with it. Try it once and take your blog's search rankings & earnings to all new heights this year.
You can click here to know more about its features and the download process.