Airtame, a Danish startup that produces a wireless HDMI solution for both the business and education sectors, has announced the launch of their second generation hardware product, Airtame 2.
The company started in 2014 with a record-­breaking crowdfunding campaign and a mission to remove cables in professional environments. The new product will deliver much more than a cable-free solution by tapping into digital signage and app integrations. Whereas the first generation Airtame was mostly a screen mirroring solution, Airtame 2 is re-imagining how to turn blank screens into smart, collaborative displays.

"Our objective with Airtame was initially 'just' to get rid of cables – a relatable and common issue in many organizations," says Brian Kyed, CPO and Co-Founder at Airtame. "We realized since that there's much more to the issue. After years of product development and user feedback, we're proud to deliver Airtame 2, which not only removes cables but helps you use screens better."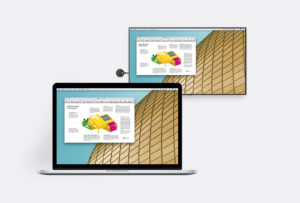 Airtame 2 retails at $399 per device, and, compared to the first generation device, features 4 x more RAM, a 200% increase in wireless reach, an intuitive LED and a Kensington Lock slot for added security.
Not long ago, Airtame was awarded a €1.15 million EU grant through Horizon 2020. The company also announced recently that they reached 100,000 devices shipped. Airtame has doubled its revenue two years in a row.
About Airtame
Airtame is a wireless screen mirroring solution that allows you to instantly display content from any laptop or mobile device, to any display. Its multifunctional use case means that it can also be used as a digital signage solution.
Airtame started out as a record-­breaking crowdfunding campaign in 2014 during which they raised a total of $1.3M. Since then, Airtame has grown into a company with over 90 people from across the world and have shipped over 100,000 devices.
Airtame's mission is to help professional environments use screens better.