As you can see, expanding to different sales channels has been popular as a good way to scale up your online business effortlessly. So, if you are selling with Shopify and seeking more sales from a bigger marketplace, keep scrolling down. This article will provide everything you should know about Shopify Walmart integration.
The collaboration of Shopify and Walmart comes into force when the whole economy is attempting to recover from Covid-19 outbreaks in June 2020. Undeniably, the biggest merit is that Shopify store owners can introduce their products to an average of 385.41 million visits on Walmart over the last 6 months.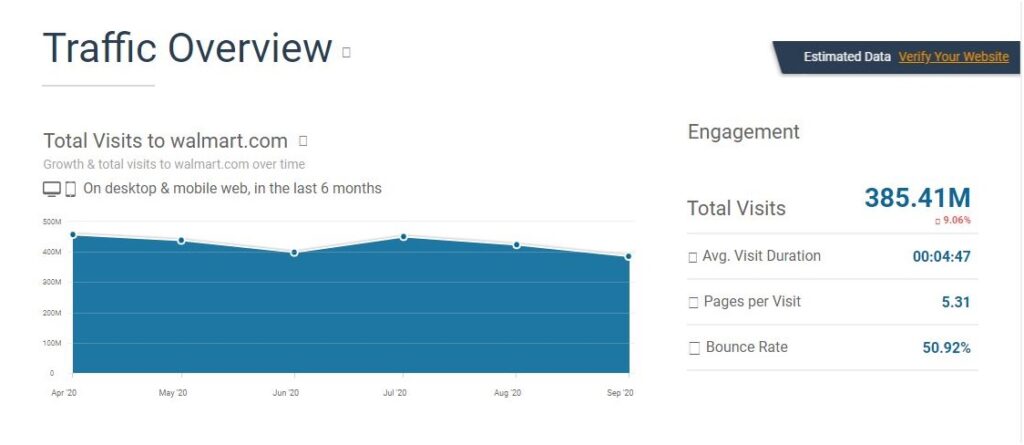 Source: Similarweb
Plus, Shopify Walmart partnership opens a new door for small businesses to the surging traffic on this marketplace. As a result, Walmart can improve its competitiveness by providing customers with an expanded assortment of products.
Since both platforms are famous for their top-notch features, in this article, we will be providing you with the fundamentals of selling on Walmart with Shopify and then walk you through some simple steps to set up a fully-integrated eStore.
Overview
Shopify is one of the largest hosted cart solutions that offers hundreds of built-in features and apps for you to create and launch your new online store. Therefore, if you are about to lay the first stone to your online business, or you have already been a big seller, Shopify is an ideal place for you.
Similarly, Walmart is among the world-top omnichannel retailers that allows merchants to register for an online kiosk and share the same space with other sellers. In addition, the massive scale of this prominent marketplace will help you benefit from great demand of online shoppers all around the world.
Both Shopify and Walmart are two of the most trusted names in the eCommerce industry. The collaboration of these big brands' dynamic portfolios would bring a promising vision for eCommerce multi vendors, Shopify sellers, and product seekers as well.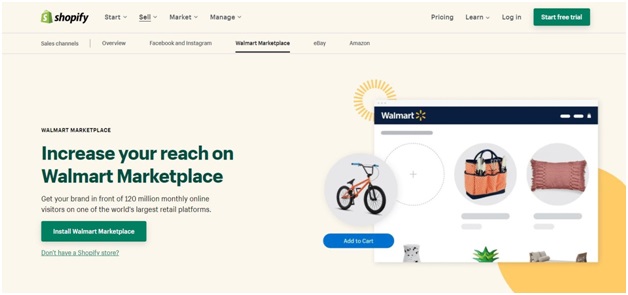 Sell on Walmart with Shopify
Now, let's take a closer look at the reasons why Shopify Walmart integration is beneficial for you to install in the next paragraphs.
Why should you sell on Walmart Marketplace from Shopify?
With the launch of the Shopify Walmart integration, you will benefit from hundreds of remarkable features to leverage your eStore effectively.
1. Instant customer reach
Once approved, Shopify suppliers can freely upload as many products as they want on their new online kiosks in one go. As a result, installing Walmart from Shopify's App Store allows merchants to immediately reach millions of new customers on Walmart.com marketplace.
2. Easy product setup
Not only does the Shopify Walmart integration give you a chance to expand your customer base, but it also provides complete control over your new catalog from the Shopify dashboard. Therefore, there's no need for extra effort on multiple sites. Instead, you can connect your existing products on Shopify to Walmart.com for central management.
3. Automated platform synchronization
Another benefit of running a fully-integrated Shopify Walmart store is that it saves you a lot of time switching between these two platforms. You can directly customize the order status, inventory level, and item details via your Shopify store's backend.
By automatically managing all transactions from Shopify, your Walmart channel will be kept in sync. As a result, you can avoid many potential problems such as overselling or out-of-date information.
4. Low cost
This partnership motivates online merchants to connect their Shopify store to Walmart marketplace by charging a low participation cost.
It is free to add Walmart.com to your Shopify account. In addition, you don't need to spend money on subscription fees and upkeep costs. However, you must pay for referral fees which are set at a reasonable level and automatically deducted from sales.
5. Ease of registration
You can easily install Walmart as a new selling channel and get more sales from this prominent marketplace with some simple steps. As long as you provide accurate information that these platforms require, your new source of profit will be valid in about 2 weeks.
If you want to have a detailed instruction to debut your Shopify Walmart store, keep reading because we will walk you through every step in a minute.
Requirements to sell on Walmart Marketplace
Paying attention to Walmart eligibility before registering is of great importance when creating a seamless multiple eStore afterward. To ensure satisfaction rates from both buyers and sellers, Walmart has a set of eligibility criteria to verify vendors' information and authenticate the products they offer.
1. Sellers
With the aim of increasing its market share, Walmart puts a huge effort to ensure customers' shopping experience. This is the reason why this marketplace wants the sellers to satisfy some basic requirements as following:
Must be companies in the United States with a US Business Tax ID (EIN) and Form W-9.
Have a background of legal or successful eCommerce business.
Provide a good track record showing their best-in-class customer service.
Comply with Walmart Seller Performance Standards.
As you can see, customer service is an important factor to be eligible for selling on Walmart with Shopify. It can be compelling shopping experience, quick response time, on the go support or all of these above .
2. Products
That Walmart holds high standards for the products sold on the site is a must to enhance customer satisfaction. Therefore, your Shopify store's items should fulfill the requirements as below:
Have GTIN or UPC GS1 Company Prefix Number.
Have a competitive price.
Are packed and sent from a B2C US warehouse with returns capability.
Conform to Walmart Prohibited Products Policy.
Meeting all these basic conditions will essentially make the verification process faster for Shopify merchants to scale on Walmart. Now, let's dive into step-by-step guidance on how to set up your Shopify Walmart eStore.
Shopify Walmart integration tutorial
Let us walk you through 5 steps to successfully integrate your business into one of the most prevalent marketplaces with your existing Shopify store.
Step 1: Get access to Shopify App Store and search for Walmart Marketplace. Then click the "Add app" button.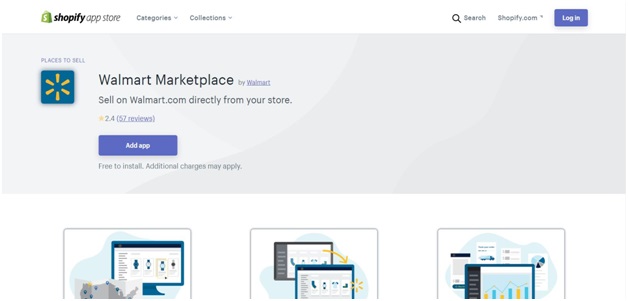 Step 2: Next, you will need to provide your Shopify store's URL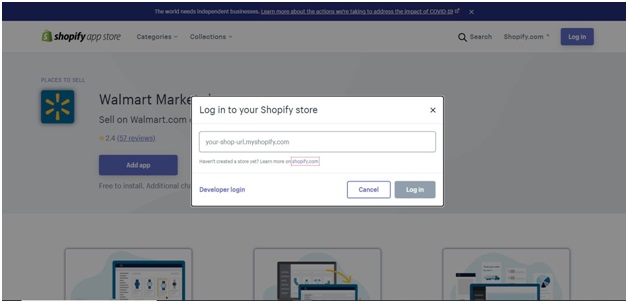 Step 3: At this stage, Shopify sellers will need to fill in the company registration form to let Walmart know more about their businesses as well as product catalogs and fulfillment network.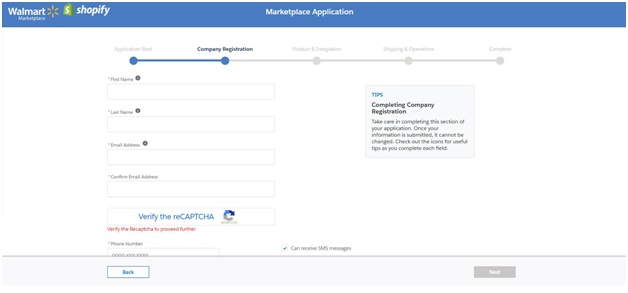 After receiving sufficient information about you and your business, the Walmart team will normally spend 2 weeks reviewing. Therefore, what you have provided should be accurate to make the process faster.
Step 4: While waiting for an eligibility check, you can start uploading your products to Walmart.com. Once approved, you will need to complete your Seller profile and request your shop's launch in the Account section of your Shopify dashboard.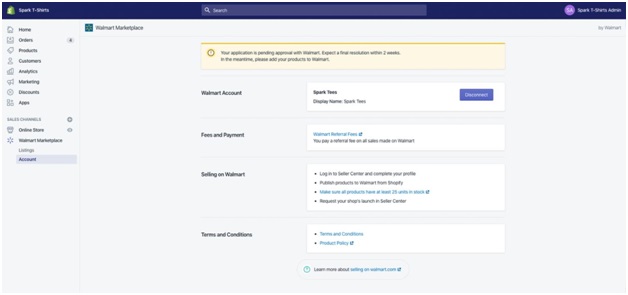 Step 5: Now it's time to discover new features of selling on Walmart right in your Shopify seller center. You can try adding product attributes in bulk or setting shipping details in advance to check whether all transactions are performed smoothly or not.
Woo-hoo! It is the end of our instruction on how to integrate the Walmart marketplace into your existing Shopify store. We hope that you do find this procedure easy to follow and soon drive more sales from this Omnichannel integration.
Looking for ways to migrate to Shopify?
If you are in need of re-platforming to Shopify to make use of this beneficial integration, you can contact LitExtension – a leading shopping cart migration expert. They have scored 4.8/5 stars with more than 264 reviews on Trustpilot and served over 50,000 satisfied customers from all over the world.
You can perform the migration process on your own or delegate everything to their experts with the All-in-one package. All your important data including products, customers, orders, reviews,.. will be automatically, securely transferred to your new store within a few minutes. This way, you can quickly grow your online sales from selling on Walmart with Shopify.
Final words
In summary, Shopify Walmart collaboration has been an optimal choice for eCommerce vendors and especially those who are running their businesses on Shopify. The combination of outstanding features from two prevailing eCommerce solutions surely makes your online store booming with sales.
Through this article, we hope that you can clearly understand how to set up a fully-integrated eCommerce store with Shopify and Walmart, and quickly drive more sales from this expansion.