If you're beginning to work remotely or seeking to find an alternative solution to your remote work and video conferencing capability, then this article is for you.
Nowadays, there are plenty of video conferencing applications, both free and subscription-based, to choose from. Here, you'll find free video conferencing applications with comparisons to help you choose the best app.
What to Look for When Choosing Video-Conferencing Application
Before you go into choosing the best free video conferencing solution, you need to know first what to look out for. Because with plenty of video conferencing apps on the internet today, you may find it challenging to narrow your choices. It's even harder to find one that is truly free.
Here is what you need to look out for before settling on a particular video conferencing app, especially when choosing a free app:
Ease of use
The average number of meeting attendees
Estimated length of your meetings
Ease of collaboration
Needed level of collaboration
Locations (geo-location) supported
Devices supported
Price or subscription plan
Note: If you are going to work at home and use video conferencing apps, you also need to learn PC repair tips and tricks just in case of any hitch. Also, ensure you clean your junk and folders regularly to prevent third-parties from tracking your internet activities.
7 of the Best Free Video Conferencing Applications
This list will help you narrow down your best free video conferencing options. We don't recommend any, so you get to decide what's best for you. We've also included top features, pros, and cons to help you make an informed decision.
Zoom

Before COVID-19, Zoom was just an ordinary video conferencing app and tool. However, it has eventually risen in popularity. Why?
Zoom unifies group messaging, simple online meetings, and cloud video conferencing, into one easy-to-use platform. It supports audio, HD video, and screen-sharing capabilities across different platforms, including:
Android
iOS
Windows
Mac
Blackberry
Zoom Rooms
H.323/SIP room systems
Online
Zoom has free and subscription plans.
The top features of the free plan include:
Host controls
Host up to 100 participants
HD video and audio support
Free 40 minutes meeting time
Multi-user screen sharing
Unlimited (uncapped) face-to-face meetings
Zoom is currently the most used video conferencing app both for businesses and individuals. Even governments have adopted the use of Zoom.
Cisco Webex Meetings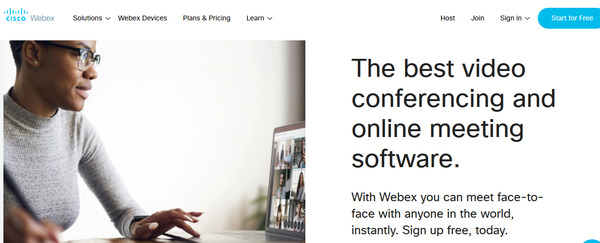 Supported in 52 countries around the world, Cisco Webex Meetings is the most expensive video conferencing app with a free plan. You'll get what you can from Zoom and more, such as:
HD video, audio supported
screen and document sharing
40-minute time conferencing limit
1 GB of cloud storage
Hosts up to 50 participants in a single meeting
Host control
Active speaker view (you can track of the current speaker in every given moment)
Calendar integrations
Real-time polling for team decisions making
Encrypted meeting recordings
It is also supported in almost all platforms – PC, Mac, iOS, Android, etc. If you're using a Mac for your meetings and conferences and get a glitch in between the meetings, you can check out the Mac troubleshooting guide to sort the problem.
Microsoft Teams

Initially, only available on Office 365, Microsoft Teams is now one of the best video conferencing apps in the market, available for anyone to use. It also offers a free plan.
You'll enjoy the top-notch Microsoft tech development for free and still be able to achieve your meeting needs. Some of the top features of the free plan include:
Hosts up to 300 participants
Offers search and unlimited chat messages
Built-in HD video and audio for teams and groups
Real-time collaboration with the office
Supports co-authoring
Supports screen and document sharing
Allows unlimited app integrations such as Trello
Offers 2 GB Personal and 10 GB team file storages
Supports guest access to allow anyone to join a meeting
To get more features on Microsoft Teams, you can opt to use the paid plans.
Google Meets (Google Hangouts)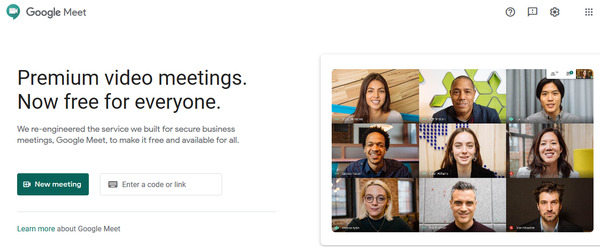 Formerly Google Hangouts, and now Google Meets, it is a close competitor to Microsoft Teams. All you need to have is a G-Suite account. You'll just create a meeting link and share it with others who want to join the video call. Meets are also fully integrated with G Suite and allow you to work on-the-go via mobile devices. The top features of the free plan of Google Meet include:
Hosts up to 10 participants for free
HD Video, audio, and messenger conversations
Gives team chat and threaded discussions
Join calls via Google Calendar
Screen and document sharing capabilities
Virtual rooms
Video meeting recordings
Full G-Suite integration
If you have a small team, Google Meets is the app for you.
Dialpad
With Dialpad, you can set up video conferencing sessions and allow participants to join without PINs. It has a simple interface that makes it intuitive. It has a subscription and a free plan. Some of the top features of the free plan include:
Call controls
HD audio & video
Screen and Screen sharing
Up to 10 ten participants in a single meeting
45-minute meeting duration
Video and audio meeting recording
It is both browser-based and mobile app
Unlimited conferences
Conference recording and playback
No pins required unless you're on a free plan
Being browser-based makes UberConference a favorite for most people. Otherwise, you can also use the mobile app if you're working on the go.
Skype

The oldest, and the largest video conferencing solution in the market, Skype has 1 million+ users every day. It was once the only known app. For a long time, it offered a premium video conferencing solution. But it has a free plan. Some of the features of the free plan include:
Hosts up to 25 participants for meetings/conferences
Real-time translation capabilities (support ten languages, with the text translator supporting 60 languages)
Screen and document sharing
Ubiquitous in the business world
HD video and audio calls
Integration with social media, cell phones and calendar
Capability to include cell phone calls into the meeting
Skype is one of the best in the market and it is one that is already established.
Slack

Almost equal to Skype, Slack offers even more features. It provides some of the best texts, videos, and team collaboration tools and allows integration with third-party apps such as Google Drive and calendars. Slack offers a free unlimited version with an unlimited number of users. It is so far the best application for the management of small teams. Some of the top features of the free plan include:
Message visibility of up to 10,000 messages
File storage of up to 5GB on your workspace
Allows up to 10 third-party app integration
Allows video conferencing with up to 15 participants
Messenger
Individual calls
Small teams within the team for collaboration
Screen and document sharing
Both app and browser-based
Note: Slack is the best channel for team collaboration and managing small teams.
Keep Your Data Safe When Working Remotely
Working from home is slowly but steadily gaining ground, and video conferencing is becoming a norm. At the same time, cybercriminals are also increasingly attacking data of the unknowing individuals and businesses who have inadequate or lack data security. This is why you need to be always cautious and keep your data safe. Here is how:
Use a quality VPN to encrypt and mask all your internet traffic from hackers.
Use quality anti-malware software to keep you safe from malware entities and viruses.
Use strong passwords (you can use quality password managers.)
Download software and apps only from official or trusted sites.
Learn essential PC tips and tricks and always keep watch for vulnerabilities.
Final Thoughts
We've listed seven of the best free video conferencing applications above. However, these are not the only ones. But they represent the best with features that support businesses or individual meetings and conferences. They also have paid plans that can enable you to get more features for better conferencing and team collaboration.
We believe one or more of these applications will help you meet your video conferencing needs. While working online, take time to ensure you keep your data safe from hackers.