WooCommerce is one of the most popular eCommerce platforms in the world. It is preferred by millions of online stores because of its flexibility and ease of use. But, in most situations, WooCommerce is not the sole contributor to this 'ease of use' – it is the plugins.
WooCommerce supports the use of third-party plugins to obtain functionalities that are otherwise unavailable on the platform. But due to the overabundance of plugins in the WordPress plugin directory, it might be difficult to filter out the ones that are most essential for your WooCommerce store.
For this purpose, we have hand-picked a few key plugins that would help you thrive in the marketplace. Take a look.
Subscriptions for WooCommerce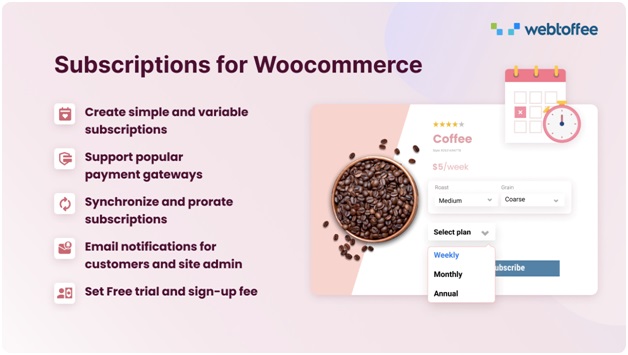 This WooCommerce subscriptions plugin from WebToffee lets you add simple and variable subscription products to the WooCommerce store. Subscriptions, for most WooCommerce stores, are an untapped area with great revenue potential.
The plugin is compatible with several common third-party plugins including multiple payment gateway plugins. With this plugin, you can synchronize subscriptions, set up billing schedules, give free trials, and much more. Also, you have the option to enable product download dripping, charge sign-up fees, and create subscription discount coupons with the plugin.
Some of the key features of the plugin include,
Supports simple and variable subscription products
Ability to set free trials and sign up fees
Offers subscription synchronization
Enables prorating first renewals
Automated email notifications
Multilingual support with translations for about 10 languages
WooCommerce Menu Cart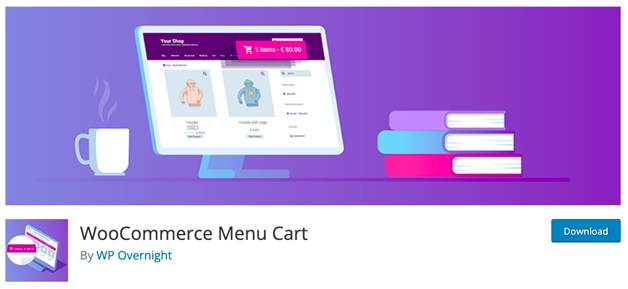 The WooCommerce Menu Cart is an easy and simple-to-use plugin from WP Overnight. The tool is not just compatible with WooCommerce, but also with WP eCommerce, EDD, Eshop, and Jigoshop.
The core purpose of this plugin is to add a shipping cart button to the navigation bar of your theme. This easy-to-use plugin lets you do that in a matter of minutes. Generally, the WooCommerce design that you use to set up the store might contain a cart icon on the menu bar. However, not all WordPress designs may not have this, especially the ones that are not primarily designed for WooCommerce. In such situations, you can add a cart icon on the menu bar using plugins such as this.
The core features of this plugin include,
Display cart icon on the menu bar
You can add the number of items in the cart to be displayed along with the cart icon
You can add the price of the items to be displayed along with the cart icon
Customize with custom CSS
Stripe Plugin for WooCommerce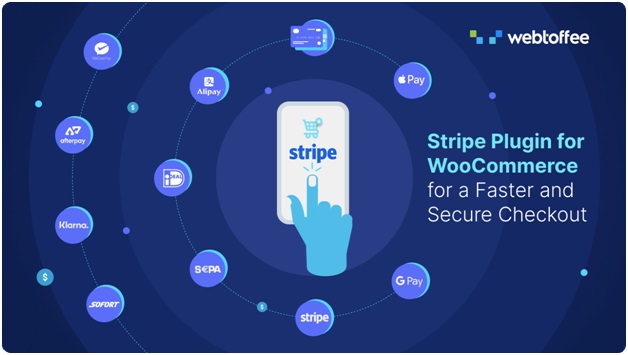 This payment gateway plugin facilitates the integration of your stripe account with your WooCommerce retail outlet. Stripe is a secure payment gateway trusted by millions of businesses around the world. The plugin lets you offer a simple and trustworthy payment interface familiar to your customers. This can positively reinforce your customer's conversion decision.
The WooCommerce stripe plugin accepts a plethora of payment methods including credit cards/debit cards, Sofort, Apple Pay, Google Pay, Klarna, and more. The plugin supports stripe checkout. This stripe checkout page is custom designed to optimize conversions with real-time card validation, faster loading, and more.
The premium version of the WooCommerce stripe checkout plugin also supports recurring payments for subscriptions.
Some of the key features of the plugin include,
Easy transaction monitoring and management
Simple payment method customizations
Support for recurring payments
Multilingual support
Compatible with WPML
Checkout Field Editor for WooCommerce
Every store is different, therefore the requirements of every store should also be different. WooCommerce only offers some basic fields on the checkout page. But you may require some additional fields or you may want to add your own custom fields to your checkout page. You can do so with the checkout field editor plugin.
You can add about 20 additional fields to the Billing, Shipping, and Additional sections on your store checkout page with the free version of the plugin. More checkout fields and the ability to add custom fields are only available on the premium version of this plugin.
You can also edit or hide default checkout fields, rearrange the field positioning, change labels, validate the fields, and more with the free plugin.
Listed below are some of the key features of this plugin,
Add custom checkout fields
Edit and delete default fields
Enable and disable checkout fields
Display checkout fields in the emails and order details page
WOOCS – Currency Switcher for WooCommerce
Payments in multiple currencies make globalizing your store difficult. The WOOCS – Currency Switcher is an easy tool that helps you manage multiple currencies in your store. The plugin lets you change the currency in which the product price is set to any selected currency rate in real time. Customers can also pay using this set currency to avail of the product.
You can add any currency to your WooCommerce store using this plugin. The plugin has more than 7 currency aggregators to change rates automatically. The product rates are auto-updated at specified intervals of time. These can be updated at intervals as low as 15 minutes.
Some of the key features of the plugin include,
Checkout with selected currency
Different GeoIP rules
Multiple fixed price and amount rule
Price based on user roles
Choose price based on country
Smart Coupons for WooCommerce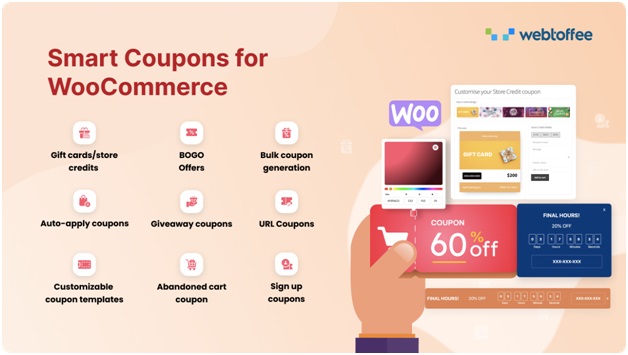 Coupons are one of the driving factors that attract users to a store. Also, customers are more likely to purchase from you, if you give them any positive reinforcement such as coupons. Smart Coupons for WooCommerce is one coupon plugin that lets you set up WooCommerce coupons suitable for your store and use case. The plugin lets you create multiple types of coupons with variable complexity.
You can create BOGO Coupons, product giveaway coupons, cart abandonment coupons, and more with the WebToffee coupon management plugin. Also, the smart coupons plugin enables you to create highly customized coupons that can even be fitted into the most complex situations. For example, percentage discount coupons on specific products when they satisfy the shipping and location restrictions.
Some of the key features of the Smart Coupons for WooCommerce plugin includes,
Auto-apply coupons
Advanced coupon customizations
URL and QR Code coupons
Store credits and gift cards
Giveaway coupons
Bulk coupon generation
Sign up and nth purchase coupons
Volume/quantity-based coupons
Advanced Shipment Tracking for WooCommerce
This is an easy workflow automation tool with which you can manage tracking information regarding your orders. The shipment tracking plugin lets you add tracking information to your website which your customers can see and track seamlessly.
Keeping the customers informed and involved in the process helps to build a good customer relationship. It can help you avert delivery-related issues and unnecessary post-shipping inquiries. Moreover, the shipment tracking directly from the website increases overall customer satisfaction.
With this plugin, you can even separately ship the products in the same order. The support for multiple tracking numbers enables the plugin to do so. You can even import tracking info to your store with a CSV file. This will be beneficial just in case the drop shipper provides tracking information in CSV files.
The core features of the plugin include,
Optimizing order fulfillment workflow
Adding tracking information to orders
A built-in list of 300+ shipping providers with pre-defined tracking links
Shipment tracking APIs to update the tracking number generated by third-party services.
Add multiple tracking numbers to the same order
YITH WooCommerce Wishlist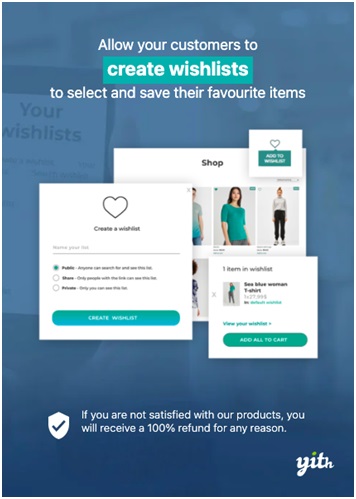 The YITH WooCommerce wishlist is a plugin that adds a wishlist feature to your WooCommerce store. Wishlists are private product catalogs that customers make for themselves. With this WooCommerce wishlist, your customers can keep track of the products that they are interested in, monitor product availability, share interests with friends and family, etc.
Moreover, the YITH plugin enables you to analyze your customer's interests and identify popular products. It can help you further understand your customers and their requirements. This can be useful information that you can use to improve your platform.
With the information from the wishlist, you can send targeted emails to your customers regarding the stock status of their wishlist products. This creates FOMO and often results in conversions.
Some of the key features of this plugin include,
Lets you identify the products that customers are interested in
Enables creating multiple wishlists
Lets your customers create public, shared, or private wishlists
Ability to share wishlists with friends and family
Advanced wishlist management
YITH WooCommerce Ajax Product Filter
Filters are productivity tools that add convenience to a process. Filters in a WooCommerce store helps a customer to find the right product they are looking for. This WooCommerce product filter plugin adds filtering options to your store. You can add several filters such as category, size, color, brand, price, and much more with this plugin.
The plugin lets you set up unlimited preset filters that can be displayed on the product and category pages. You can even add these filters to pages that you have custom designed using the page builders such as Gutenberg or Elementor.
You can also make use of filter customizations to create the right filters for your store. The plugin provides customization options such as style customization, etc. Also, the filters are responsive and work as expected on mobile devices.
Some of the key features of the plugin include,
Filters optimized for mobile devices
Adjust the positioning of the filters on the screen
Filter presets on different pages
Add filters in the modal view
Customize filter style
Add filters to toggle
Advanced Dynamic Pricing for WooCommerce

This freemium plugin lets you dynamically change discounts and pricing with certain preset rules. With this dynamic pricing plugin, you can add or remove rules to create different kinds of discounts and prices. You can make the fixed amount and percentage adjustments using this plugin. You can also set fixed prices for the products or product groups using this plugin.
The plugin also supports role-based pricing and bulk pricing.
Some of the core features of this plugin include,
Product and category level discounts in
Multiple filters for cart items
Apply cart discounts and fees
Use tables to get bulk rates
Hide/show original prices
Hide/show on sale badge
Conclusion
Listed above are some of the most popular WooCommerce plugins used to improve the performance of your website. Many of the plugins are even intended to add convenience to the customers. You can use these plugins to get better store performance.