A Payment Gateway is an e-commerce application service provider that authorizes payments for e-businesses, online retailers, and 'bricks and clicks'. Automatic processing of credit card, debit cards and other forms of payment, the gateways allows you to list your merchandise.
Question arises here is, how do seller process payments from customers. Which Payment Gateway for online seller is best? If you want your customers to experience best buying, you will definitely need a hassle free payment gateway that is effective and reliable. There are number of gateways available in market today like PayPal, Payoneer, 2Checkout, TransferWise etc. You can compare best gateways in order find the best possible option for you.
After a thorough research, we have created a list of top payment gateways for eCommerce business. List of highly effective gateways are:
PayPal
2Checkout
Google Pay
Authorize.net
Amazon Pay
We have explained the features of these best Payment Gateway options, hope this will help you in finding the best options for your eCommerce shop:
1.PayPal
PayPal being the most popular platform for international payment and businesses. It is widely accepted by most eCommerce platforms and businesses. Anyone can easily create a PayPal account and start selling and buying anything.It operates in over 203 countries and support credit cards like Visa, Mastercard, Citibank, American Express etc.
Features:
Most secured and trusted payment option with 2 step verification option.
Quick and easy process of sending and receiving money.
It doesn't have any monthly or yearly fee, they do charge a bit for paying and receiving money.
2. 2Checkout

2Checkout is founded in 1999 and since it serves in around 196 countries. It integrates with tools such as Shopify, WooCommerce and more. It will end up working wonder for your online business.
Features includes are:
Multiple Payment Methods: major payment methods including credit cards, debit cards and etc.
Advanced Fraud Protection: No worries with 300 fraud rules applied to every transaction therefore highest level of protection.
Flexible Integration: 3 customizable checkout options choose from them.
87 currencies and 15 Languages: Easier for customers around the world.
Recurring Billing: Ongoing intervals automatic bill customers with membership and subscription.
Mobile Optimization: With confidently customers can buy products.
Implementation is simple with payment API libraries available in PHP, PYTHON, .NET, JAVA, RUBY programming language. Popular open source carts integrate easily with 2checkout.
3. Google Pay
Previously known as Google Pay, it's payment processing service allow businesses to sell products online. Google Pay is a mobile payment system that acts as virtual wallet for users to make payments and transfer straight form their phones. Offered service is free for users and card information can be stored for later usage. Accessible to android users, apple Smartphones as well.
Gateway features included are:
Email invoices
Generate Reports
Recurring Billing
Virtual Terminal
Security Features includes:
AVS
CCV
PCI DSS Compliance
SSL
Payment Methods are: Major credit cards, Debit cards, eChecks, JCB. Have more than 31 languages.
4. Authorize.net

Authorize is a payment Service provider allowing merchants to accept credit card and electronic payment through websites. Available for 24/7 for processing transactions. Offer number of value added services, assist merchants in managing their business and protecting themselves from fraud being conducted.
Merchants log into secure website Merchant Interface to manage their transactions, configure account settings, view account statements, report generation and more. Since it is browser based therefore no hosted solution, no software to install or maintain.
The payment gateway offers many features and options depending on specific merchant's business models. Typical services fee-setup, monthly and pre transaction are determined by re-seller.
5. Amazon Pay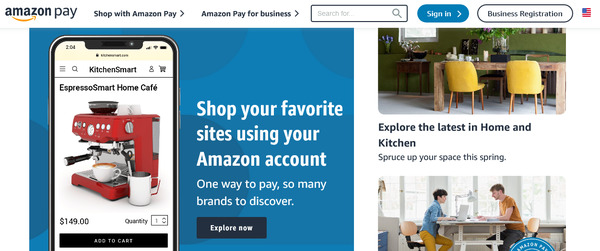 Amazon Pay is designed for both merchants and shoppers. The fast, easy and reliable gateway solution caters to millions of people around the globe who sell and buy through Amazon. Two different packages- Pay with Amazon (Merchant) and Log In And Pay (Shopper).
Simplified gateway accepts payment online and on mobile.
Application enable user to access information from merchants site with strict protocols used when it comes to security.
Expand start ups to largest enterprises helping in build their business while forging stronger relationship.
Merchants can see their conversion rates improved significantly as checkout process becomes faster Pay without hassle of carts and checkouts.
BONUS:
Payza provides you with easy and secure way to send and receive money online. Connects millions of members around the world with their money. Anywhere, anytime, always and secure.
Personal features include are:
add funds and withdraw: load e-wallet or claim money
Send money quickly, easily and for free
Center for resolution
Support more than 22 currencies worldwide
Referral program
Local Payment Options
Secure Online Payments
Business features listed:
Payment Buttons
Centralized Management
Shop Cart Integration
Corporate Disbursements
Secure Online Payments
This is just reference to all great Online Payment Gateways all are popular enough and used by many online stores and people all around the world. Consider them when deciding what your options are.