Since the web design world is evolving day by day, it becomes essential for web designers to keep themselves updated with the latest trends, popular email tools, designs and technologies. Whether you have a small site or a big site, you need ensure a beautiful, responsive, and user-friendly design to give your real-time visitors a rich user experience.
Apart from this, make sure you grasp the changing behavior of your visitors and also keep connected with the fluctuating web marketing demands – as this will help you render the best possible results for your website. Just think creative, user-centric and captivating while adopting new web design trends into your web project.
Here in this blog post, we bring you the list of 5 hottest web design trends that are expected to shine in 2017. The following web design trends will take your website to the new heights of success.
So, let's explore them one by one:
1. The rise of card design and grid layouts

Source: Trello
Although the card design is not new in the web world, it will get more popularity and exposure in 2017. This particular design trend gives more simplicity, responsiveness, and flexibility to the site. You can your contents in the cards to showcase the vital part of your site your web visitors quickly and easily. It keeps the content manageable and gives web visitors rich user experience.
On the other side, grid layouts are ideal for those web pages that have a huge amount of data or content. The grid layouts make the content more accessible and readable – no matter what you are offering to your potential web visitors. You can use them to create a portfolio of your site or to display the key information to your targeted web audience.
This web design trend is for making content more accessible, readable and digestible for web visitors. You can take inspiration from Pinterest. It is one of the biggest example of card designs and grid layouts.
2. Focus more on Animated GIFs
Animated GIFs have already gained a lot of popularity in the web design world. Entertaining, grabbing and relevant GIFs make your content more interactive and user-centric. It gives new experiences to the web readers and encourages them to stay more on your site.
Just make sure that you use them on particular areas such as sales pop-ups or popular products. This lets visitors know more about your brand, without any rigidness. Even, you can add animated GIFs on your homepage to gain the attention of web audiences in a subtle manner.
3. Domination of high-quality videos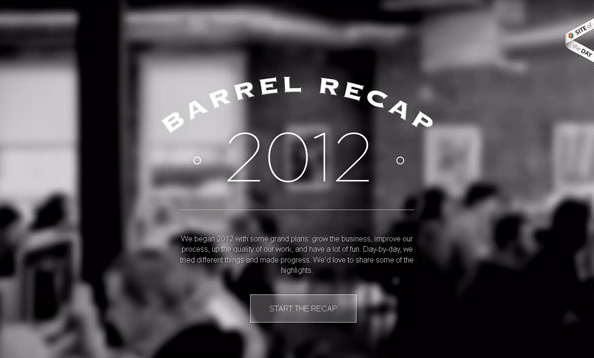 Source: Barrel Recap
Today's website owners are leveraging the high-quality, engaging, and relevant videos to convey their business message to a large number of web visitors quickly and efficiently. You can use homepage background videos on your site to convey a story related to business, product or service in the most engaging manner.
This particular web design trend will not only boost your user experience but also help you get higher conversions on your website.
4. Flat and Bright colors
In 2016, we have seen many websites using flat and bright color schemes to give a rich user experience to their real-time web visitors. Since the color scheme of a site is one of the vital aspects of a web design, you should focus on using visually appealing and intriguing color schemes to grab more attention of web visitors.
Rather than using simple and moderate color schemes, you can use bright and luminous color palettes for your website. This can boost the overall design of your site and encourage people to visit your site.
Instagram is one of the great examples of this particular web design trend. The vivid gradient logo of Instagram has grabbed a lot of attention among social media audiences. So, make sure, you use the right combinations of bright and blazing color schemes that can enhance the design of your site and showcase your content in the most engaging manner.
5. Bold Typography are in fashion
Being a web designer, you should focus on improving the accessibility and readability of a website. With the use of typography, you can enhance the interaction aspect of your site with ease. This means you need to grab the art of typography in order to provide the user-friendly experience to your web visitors.
In today's scenario, website owners are driving towards big and bold typography to boost the overall look and feel of a site. Use creative ideas to develop large and appealing typography on your site to leave a long-lasting impression on your visitors.
Use of geometric shapes in website design goes a long way in making the website user-friendly. Selection of vibrant tones and gradients by your website design company can make the design appear bright with contrasting color elements. Emphasis on typography with due stress on the use of appropriate font design along with the use of translucent buttons to aid the minimalistic design is a trend that would be seen in the year to come.
You can also customize them by tweaking the colors, combining them with images, arranging spaces and other creative techniques to make your site stand out from the crowd.
Endnote
These are the top five web design trends that will definitely luster in 2017. If you are creating a new website for your business, then consider these trends and create the modern, engaging, interactive and responsive site to give top-notch experience to your targeted web audience.