Developing a professional-looking website can help you get more visibility among your targeted web audience with ease. You can convey your message, establish a unique brand image and generate more revenues by encouraging people to visit your site and buy your products and services – no matter what sort of website you have.
With the aim of generating higher conversions and maximizing ROI, different spheres of businesses are leveraging WordPress CMS platform to create beautiful and interactive websites.
Although WordPress is a simple, intuitive and user-friendly web development software, you may need the assistance of an experienced WordPress developer who can help you set up a technically-sophisticated website, without any heavy lifting.
Hiring a professional, dedicated and enthusiastic WordPress developer becomes essential if you are new to the web development world. As you are not aware of different aspects and elements of this CMS platform, you could find difficulties if you are backed by the support of a developer.
With that concept in mind, we bring you the list of 10 places from where you can hire an experienced and dedicated WordPress developer for your next web project.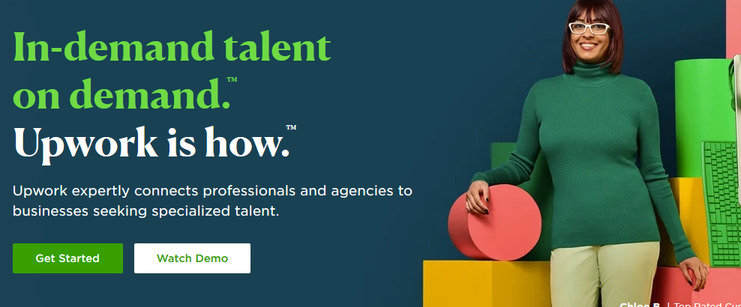 Build creative, intuitive and technically-robust website by hiring proficient WordPress developers from UpWork. The Company has gained a lot of popularity by delivering high-end web development projects to all scales and sizes of business all around the world.
You can hire their developers on part-time, full-time or hourly basis for your next WordPress development project. They understand the needs of their clients and thus deliver the tailor-made project to enhance your site's productivity.
WPCodingDev believes in delivering customized, high-quality WordPress development solutions to different scales and sizes of industries across the globe. They offer a complete rate of WordPress development and customization services to their global clients on time and within an estimated budget.
The company is equipped with certified and dedicated WordPress developers who have great experience in developing top-notch WordPress products as per your needs.
You can hire their developers if you want to set up a professional WordPress site for your business. They can help you deliver the customized web project that will take you to the new heights of success.
3. Toptal
Toptal is a great platform for outsourcing freelance WordPress developers, designers, and coders for your next web project. You can find a professional developer according to their development skills to develop your WordPress as per your business needs. They will help you deliver the top-notch project before meeting a deadline.
The website specializes in rendering best services related to the freelance development and design needs to help you meet your business goals with ease.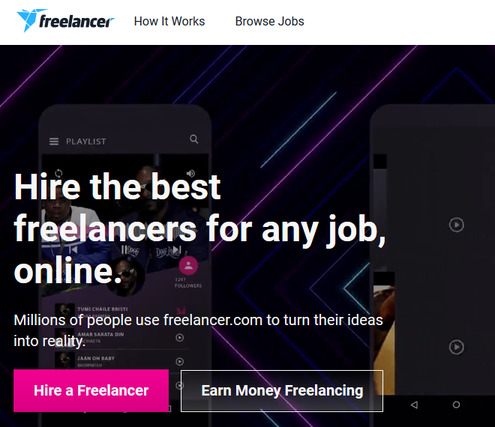 Freelancer is a perfect place from where you can hire an experienced WordPress developer for your web business. The company helps you find the best developer according to your business needs to let you boost your brand awareness with ease.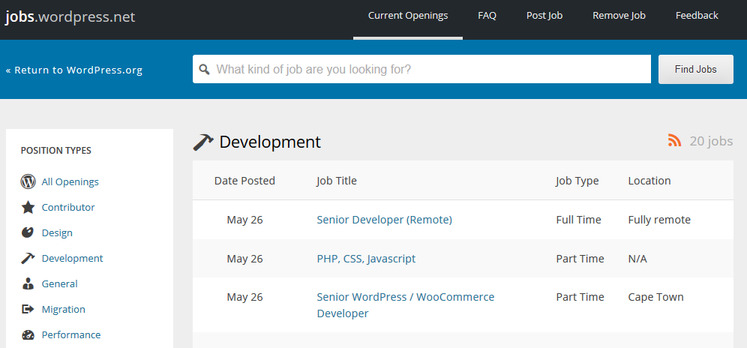 WordPress Jobs is one of the most renowned resource for finding reputed developers. It is officially maintained by team behind WordPress.org.
You can post your job listing and there are chances of finding most skilled developers around. The job posting process is so easy that you don't need to create an account to publish your listing.
6. Sparx IT Solutions
Spark IT Solutions is a one-stop solution for creating highly-interactive and responsive WordPress sites at the reasonable price. The company is backed by a team of professional WordPress developers and experienced WordPress coders to let you deliver the best quality of web products on time.
You can also hire a WordPress developer from Sparx to create a successful WordPress development project, without any heavy lifting.
Since their development teams are well-versed with cutting-edge technologies and tools, along with latest WordPress trends, you will get the finest quality of work for your web business.
7. PSD to WordPress Expert
If you want to develop a fully-fledged WordPress site, without any coding knowledge, then you can hire an enthusiastic WordPress developer from PSD to WordPress Expert. This is a certified web development company that takes pride in delivering an extensive range of WordPress development and customization solutions across the nation at the most competitive price.
You can hire their WordPress developers who have ample years of experience in developing productive and cost—effective WordPress sites. You can outsource a developer either on part-time, full-time or hourly basis according to your business needs.

Codeable is a well know marketplace for finding expert WordPress developers. They have a very high customer satisfaction rate as compared to other marketplaces.
You can find suitable developers for WordPress plugin customization, WP customization, WP theme developers etc.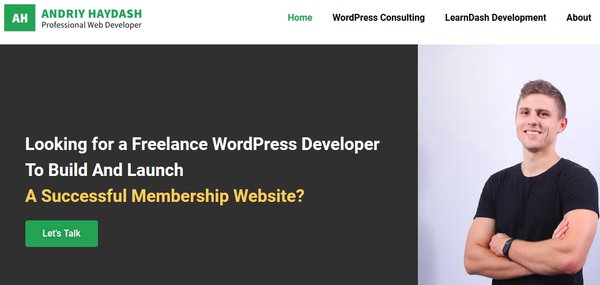 Andriy Haydash is a freelance WordPress developer who helps thought leaders build and launch successful course & membership sites. He doesn't just have good programming skills, but also understands the value of marketing and copywriting as great sales tools. If you feel stuck with your WordPress membership or e-learning site you can contact him today to get help with your issues.
10. CssChopper
Since its inception in 2009, CssChopper has become one of the dominating web development service providers across the globe. The company specialized in converting PSD to WordPress theme as per their client's tailor-made requirements.
They also offer professional WordPress developers to different sizes of businesses to let them leverage their WordPress development solutions, speed-optimized and customized WordPress blogs and sites at the most reasonable price.
Their developers will help you create beautiful, unique, and intuitive website on WordPress platform within a given time frame. You will get all the best quality of services depending upon your business requirements.
Conclusion
These are the top 10 places from where you can hire a professional, proficient, and dedicated WordPress developer for your new/next web project. They will not only save your time, money and efforts, but also deliver you the best option for you.
Save
Save
Save
Save