If you are acting as a digital marketer, then you must have heard about Twitter Emoji Ad Targeting. Twitter launch this initiative back in July 2016. It gave businesses to join with their respective customers via emojis they use in their tweets. The majority of the ads are reasonably different from this Twitter emoji ads.
You must be wondering!!!
This concept was introduced two years back, and still, marketers don't use it often. Yes, it is a fact, and there is no denying that. Even after two years from its launch, this concept is kind of new for digital marketers.
Sod this visual communication is always more effective than that of the written information. It is the reason and fairly a gain of Twitter Emoji Ads.
In this post, we will cover all the points under the Twitter Emoji Ads and Ad banners. As I said before, this is still reasonably a new concept so let's begin with some of the basic facts.
Here we go,
What Is Twitter Emoji Ad?
Twitter Emoji Ad is a type of advertisement or post which target audience with the use of emojis. That wasn't hard to grasp right? Twitter is flooding with emoji posts. From 2014, Twitter experienced more than 110 Billion emoji (The numbers are increasing exponentially).
That, my reader, is the power of emoji. So, if you are into Twitter marketing, I reckon you start using emoji right now.
How Advertisers Are Comprehending?
It is a trick question. It is a way for an advertiser. The entire concept of emoji ads is to connect with the audience and then share value. But are the advertisers understanding?
Told you, it is a trick question. As an advertiser, you can ask questions to yourself and see whether is it that effective.
People who tweet certain emoji because they are interested or it is just for the context of the situation?
To address this question, you can make use of emoji tracker. It is a perfect tool to track the use of emojis.
Look at these screenshots,
Then I select Select the emoji "Face With Tears Of Joy". The following window gave all the necessary information required.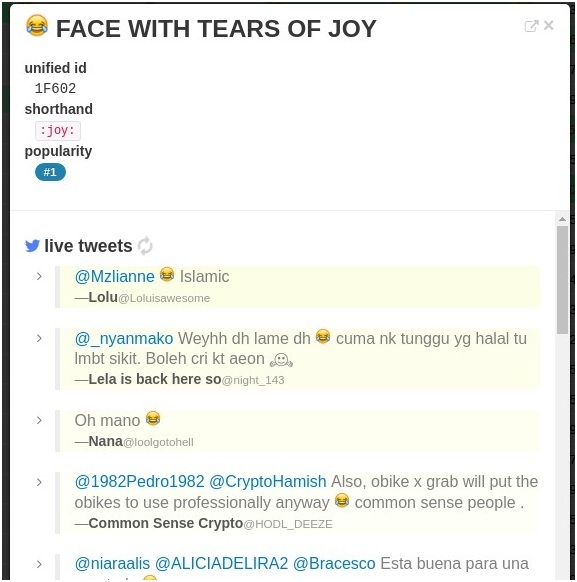 Honestly, it is hard to say whether the present people support a particular campaign or just using it for fun (contextual).
Take an example of the Hamburger emoticon. You can certainly check how people are responding to the campaign with a hamburger emoji on it. All you need to do is direct the message loud and clear. That is the power of Twitter. In no time, you will get a trending Tweet yelling about your brand.
Can Emoji Delivers Results?
Will it increase sales? That is hard to track with this. However, one thing is clear. Engaging customers can easily be achieved by Emoji ads on Twitter. It gives an interactive message to your target audience which they love to follow.
In a nutshell, Twitter emoji ad campaigns are the best bet to increase customer engagement. In a way or another, it does deliver results.
Ways That Will Help You With Tweet Engagements
There are many ways which will help you in understanding how you can leverage the reach of Twitter for your business. Let's have a look at what you can offer your audience with emoji ad campaigns on Twitter.
Imagine The Perfect Emoji That Defines Your Business
The first thing to nail the campaign is finding the right emoji. Imagine if your business is transformed into an animated image, how will it look. Then use the first emoji that comes to your mind. You will get the right emoji in a matter of seconds. Check this campaign of 27 Restaurant.
It is the way you need to imagine. Generate your creative juices and juice up your campaign like a pro.
Did You Show Your Appreciation?
Another way to use the emoji is by appreciating your current customers. You can use claps emoji or any other emoji or your choice which shows the consent of appreciation towards your customer. Check this out,
Here the post was by Stance. It is a small tweet ad, but the message is well received.
Emphasize part of your Tweet
A wide range of emojis can act as symbolic signposts in your Tweets. Humans are wired to look where a finger or gaze is pointing — even if those pointers are emojis! Try using one, or a pair, to direct attention to a link, a photo, or anything else you'd like to emphasize.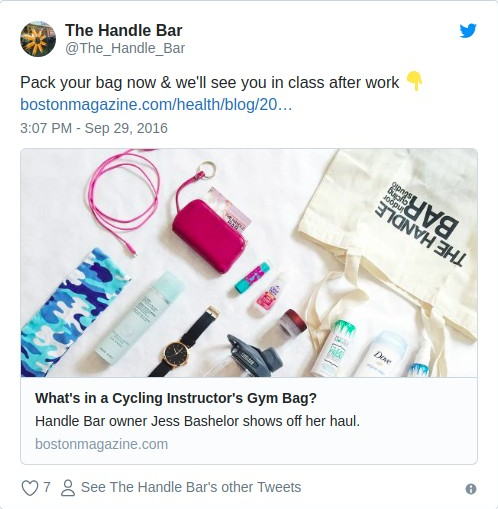 The Handlebar uses a friendly pointer to encourage readers to click-through to a blog post.
Over To You
So, As you can see, advertising for your audience can be fun. Using emoji is one of the most engaging methods of advertising your post on Twitter. There is no denying that Twitter trend is ongoing with lightning speed. Taking off your advertising campaign with emoji can add kudos to the engagement level.
Tell me how do you like the post. You can add your remarks in the comments section. I will get back to you for sure. Till then, happy campaigning.