WordPress 5.0, the most awaited version of WordPress, is releasing soon. WordPress keeps on releasing regular updates to make its content management system free of bugs, add new features, and improve user experience. However, WordPress 5.0 is anticipated to be the biggest release of CMS for coming months.
The most significant feature of the latest WordPress version will be Gutenberg editor that will bring new and modern publishing experience. Currently, WordPress uses TinyMCE (Tiny Moxiecode Content Editor) as the default content editor. Gutenberg will replace that.
What is Gutenberg WordPress editor?
Gutenberg is the name of editor that will be introduced with WordPress 5.0. The functionality of Gutenberg will be based on blocks. What this means is that all the content including images, videos, text, etc. will be inserted in the form of blocks.
Content blocks will transform the way you use WordPress. Whether you are an author, developer, or a host, Gutenberg will make rich content integration seamless for everyone.
If you are wondering why WordPress is replacing the current editor, then here is the answer. In TinyMCE, the content styling requires embeds, shortcodes, widgets, custom post types, theme options and other formatting aspects. Content blocks will provide a unified way to style all the elements. This will enhance functionality and provide consistent user experience.
The core development team behind WordPress think that blocks will make it easier for users to search, understand, and move around the page.
Features of Gutenberg: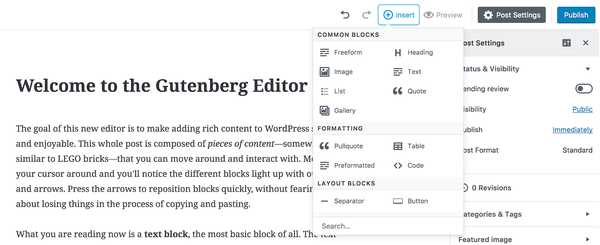 TinyMCE Editor contains a toolbar of options, whereas, Gutenberg will replace the toolbar with a dropdown.

In Gutenberg, the authors will get twice the writing space than the current WordPress editor. Moreover, the writing experience will be improved, eliminating unnecessary buttons.
Seamless switching between visual and text editor
There will be a dropdown to move from visual editing mode to text editing mode, and vice versa.
Developers will be able to preview the HTML code within the text editor itself. It will eliminate the need for users to shift between text and visual mode.
Additionally, there are several more features in Gutenberg, like 'Recent Block' for faster insertion of blocks, new visual styles, table of contents option in sidebar, and information popup for word and block counts, etc.
More with WordPress 5.0
Removing scheduled release timeline
The latest and innovative version of WordPress will also change the way new versions are released. Currently, two major WordPress versions are released every year, along with several minor updates.
WordPress 5.0 will remove the scheduled release timeline. The core team behind WordPress will release only significant updates without a scheduled time frame. Users don't update to the latest version because they think that there are just minor updates. Since, WordPress 5.0 will release only important updates, it will encourage users to keep their site updated.
Improved WordPress Rest API
The new WordPress version will bring improvements to the WordPress Rest API so that developers can easily build applications using the CMS as a framework.
Because of the blocks in Gutenberg editor, it will become easier for users to create themes. The current WordPress release requires users to have some form of development background to assemble a theme.
Current WordPress themes and plugins will be affected
Since, there will be a new editor with WordPress 5.0, the current WordPress themes and plugins will be affected. The new features will require plugins and themes that complement the Gutenberg editor. Developers might need to update their plugins or build new ones that support Gutenberg.
Minimal Twenty Nineteen theme will be shipped with support for Gutenberg editor on front-end, as well as on back-end.
When will WordPress 5.0 release?
The Beta 3 version of WordPress 5.0 has already been released, which you can try out on a testing site. It will become generally available on 19th November 2018.
How to update to WordPress 5.0?
When the WordPress 5.0 releases, your site will automatically update to the latest version according to the web hosting provider. Alternatively, you can visit WordPress admin dashboard, click on Updates icon, and then click Update Now button.
Wrapping up:
WordPress 5.0 is simply the most significant WordPress update that will change the experience for everyone including authors, developers, and other users.
Only time will tell how users love Gutenberg and WordPress 5.0. If you have already tried the beta version, let us know your experience. If you are a developer, you can contribute coding or test changes to make the CMS error-free.