Ranking in the search results in 2023 is more complex than ever before, with Google constantly updating their algorithms to improve the SERPs and ultimately better answer people's search queries. It is no longer as simple as publishing regular optimized blog posts and building some links on relevant directories.
An effective SEO strategy is multi-faceted, adaptable and needs to strike a balance between being data-driven and intuitive. The SERPs are a volatile place, with new SERP features being introduced by Google all the time.
It's no longer about doing some keyword research and pinpointing which queries to target based on search volume, but about becoming an authority in your niche, thinking about what your target audience wants to know and delivering your content in a format that suits the search intent.
Although it can be possible to devise and implement an SEO strategy using only free tools like Google Analytics, Search Console, Keyword Planner and Google Trends, there are also a ton of paid marketing tools out there that, for a small investment, can help to make your job a lot easier and get you one step ahead of your top-ranking competitors.
To help you in the decision about which SEO tools are (and aren't) worth investing your hard-earned money in, here's a round-up of our favourites.
1. Ahrefs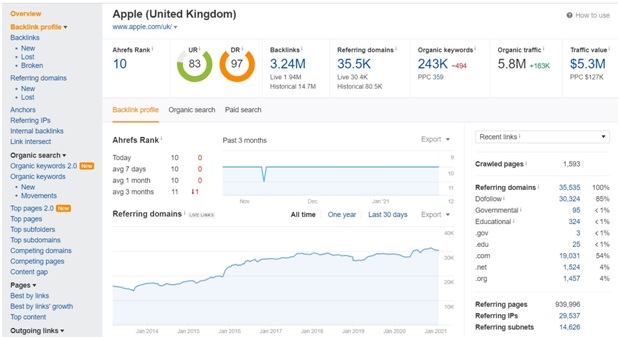 Ahrefs is advertised as an 'all-in-one' SEO tool, offering site audits, competitor analysis, keyword research, content analysis and rank tracking from one simple interface. It is designed to appeal to both newbie marketers and those with in-depth expertise about SEO. Although the tools within Ahrefs can take some getting used to, Ahrefs offer a huge amount of free advice on their YouTube channel, their blog and their dedicated help centre, so you don't have to waste time trying to figure out how to utilise each of the tools.
Ahrefs is particularly popular among marketing and SEO agencies, as the tools span across multiple areas of SEO, from carrying out technical site audits to conducting a backlink analysis and devising a content marketing strategy. Despite Ahrefs targeting marketers of all abilities and spanning their tools across multiple aspects of SEO, this doesn't mean what they do have to offer is of poor quality or limited. Each tool is carefully crafted offering a huge range of features.
The Ahrefs 'Site Explorer', for example, enables you to analyse organic traffic overall or by page, dig into backlink profiles, and pinpoint rankings for thousands of terms, whether you're analysing your own site or your competitors to get ahead. See an example of how you can use Site Explorer to analyse the backlink profile, organic traffic and keyword rankings of yours and your competitor's sites to get ahead:
Suitable for those skilled in technical SEO to carry out site audits right through to content marketers with the 'Content Explorer' and 'Content Gap' analysis tools, Ahrefs really does have it all and this is reflected in the slightly higher price. Ahrefs will cost you a minimum of $99 per month for the Lite package, up to $999 per month for larger agencies, with the most common Standard packing coming in at $179 per month.
The right package for you will depend on the scale of yours or your clients' SEO campaigns. Essentially, the more you invest per month, the more keywords you can track, site audits you can perform, site analyses you can carry out and more. Spend time figuring out your requirements before you invest, but overall Ahrefs is entirely worth the price and can hugely level up your marketing campaigns.
2. SEMrush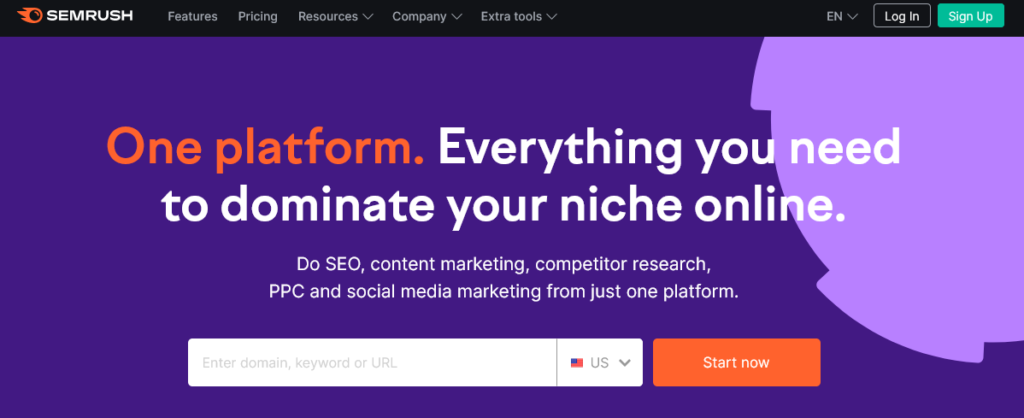 When it comes to SEO tools, Ahrefs and SEMrush are the two main players in the industry. Ask any successful marketing agency, and you can guarantee that their SEO team are either using Ahrefs or SEMrush to benefit their strategies. Unlike Ahrefs though, SEMrush aims to help marketers implement their entire marketing strategy and doesn't just hone in on SEO. While SEMrush is most commonly known for its SEO tools, you can also use it to benefit your social media and PPC campaigns.
SEMrush has six main areas – SEO, local SEO, social media, advertising, social media and content marketing, all of which have many key features within them to allow users to conduct competitor analysis, keyword research, carry out audits and much more. You can essentially plan entire marketing campaigns using one interface and agencies can even use it to generate leads and bring on new business.
The opportunities are endless but are dependent on how much you are able and willing to pay for the tool per month. Essentially, the more you can invest in SEMrush, the more features you get access to and the more integral it can become in every aspect of your online marketing:
Digital Marketing Reviews are a team of marketing professionals that have been working in the industry for decades and have a vast and in-depth level of collective experience. They offer insightful and comprehensive reviews of all the best SEO, social media and PPC marketing tools like SEMrush that are out there, enabling businesses to easily pinpoint which tools are worth their money and which aren't right for their needs.
3. Pro Rank Tracker
Rather than dipping their toes into several areas of digital marketing, Pro Rank Tracker hones in on SEO, keywords, and specifically rank tracking. You can monitor your overall visibility in search by tracking your rankings for tons of short and long-tail keywords, with Pro Rank Tracker allowing you to track rankings across different devices, locations, search engines and more so you can gain a deep insight into how your brand is being seen online.
The rank tracking tool allows you to track the progress of your SEO efforts by comparing your base rankings alongside your yearly, monthly, weekly and daily improvements so you can identify any fluctuations and pinpoint whether your technical SEO, onsite content, outreach or PR campaigns are having an influence.
Pro Rank Tracker is popular among marketing agencies as you can track the ranking history and progress of many websites. To use Pro Rank Tracker to your advantage, you need a strong understanding of your website's industry and target keywords so you can input these and make sure you're tracking keywords that offer the best opportunity for boosting your visibility in search. You can view the visibility of your tracked URLs overall in the dashboard, or be more particular and analyse the success of each site's rankings in 'list view'.
Aside from being able to track the visibility of an unlimited amount of URLs with even the most basic pricing plan, you can use Pro Rank Tracker when doing keyword research through their 'keyword discovery' and 'keyword suggestions' tools. The discovery area lets you know which terms your URL is ranking for that you don't track already and may want to focus on, so you can ensure you're not missing out on any ranking opportunities. The suggestions area provides huge lists of keywords that you may want to track based on your current rankings which you can add straight to your keyword list.
You can track both transactional and informational queries, analyse the SERPs for any of your keywords to pinpoint your top competitors and generate holistic reports for your team or client to review, all for as little as $25 per month. If you're unsure about whether to invest in Pro Rank Tracker, you can benefit from their entirely free plan, which allows you to track up to two URLs and twenty keywords so you can trial the features and see if they work for you.
4. Mangools

Mangools is a newer tool in comparison to some of the long-standing big players in the SEO world, but that doesn't mean it's any less competitive when it comes to adding value to your campaigns. Rather than being aimed at experienced SEOs and agencies with vast experience, Mangools is simple, user-friendly and aimed to make SEO accessible to people of all levels of expertise. Mangools offers five main features: KWFinder, SERPChecker, SERPWatcher, LinkMiner and SiteProfiler, all of which are hugely beneficial and can easily become integral to your SEO campaigns.
KWFinder largely does what it says on the tin, it allows you to easily carry out keyword research and find opportunities for keywords to target and track that are relevant to your site.
You can filter through keywords using key metrics like average monthly search volume, difficulty to rank, average organic traffic, cost-per-click and more. Mangools' keyword tool is similar to Ahrefs in the metrics used and opportunities you can generate but is a lot cheaper to invest in making it ideal for those working under stricter budgets.
Once you've pinpointed the best keyword opportunities, you can use SERPWatcher to track your rankings and set up alerts so you're always informed on the visibility of your URLs in the search results.
On top of the keyword tools available with Mangools, you can analyse SERP opportunities SERPChecker to make sure your content matches the search intent and you can adapt your content to try and win more visibility in search e.g. through Featured Snippets, Carousels, News Stories and much more. The SERPs are constantly changing so it's important for your content to be designed not just to rank but also to offer your users information in the best and most convenient format for that purpose.
All in all, Mangools is a highly affordable SEO tool to invest in with all key features you need to monitor rankings, find keyword opportunities and analyse the sites of your competitors, starting at just $29.90 a month. It's ideal for those who want a simple tool to navigate that don't have large budgets to invest but still want a tool to add value to their campaign.