Here are the top 5 WordPress plagiarism checker plugins I am going to discuss today, which will be very helpful for you if you are worried about plagiarized content. Our top picks for 2021 are:
Copyscape
Prepostseo
Check Plagiarism
Plagiarism Auto-check
Copyscaper
The definition of plagiarism is very simple. You are considered to be stealing someone else's property when you use their work without crediting their ideas.
Just as in a robbery, the penalties for plagiarism are severe worldwide. The real problem is that many people are not even aware that they are doing it.
We strive to spread awareness of plagiarism while trying to teach the user how to prevent it. You can find endless real examples of plagiarism to help you identify them in the future
Above mentioned plagiarism tools are perfect to check plagiarism, and thus verify the integrity of your written content. These tools are trusted by millions of people around the world, who use them daily as part of their work or studies.
How does plagiarism plugin work?
For those who are not very familiar with the technologies, the problem may seem strange at first.
After all, the car's starter starts the car and a dishwasher washes the dishes, but the plagiarism detector doesn't actually detect plagiarism, it identifies snippets of identical text.
The article you submit to these plugins is carefully scanned. You will find some red parts in the results because of the common phrases used in the article.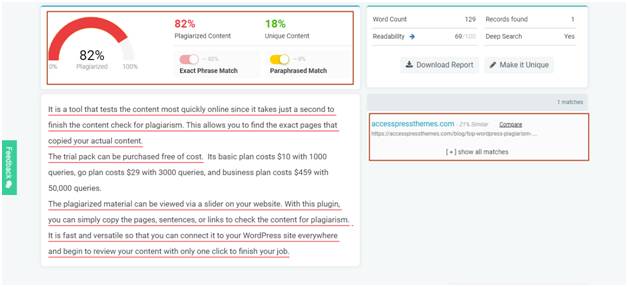 If there are complete non-original phrases in the article, plagiarism checker will find the original source from where it is taken or purchased from the internet.
Why is the plagiarism checker plugin important for WordPress?
Searching for plagiarism in a text is a very much difficult task, some will say it is impossible, which is why anti-plagiarism tools are very important to check plagiarism automatically.
Duplicate content results in the lower rank of your page.
If you publish an article that is not a hundred percent unique, there are possibilities that it will be blacklisted by Google and other search engines.
SEO specialists use this type of free plagiarism checker tools to ensure that their freelance writers writing the articles a hundred percent unique.
You can check content on your website to make sure no one has stolen from you.
These free anti-plagiarism programs check phrases one by one in various search engines, comparing it with content already indexed.
Following are top plagiarism checker plugins for WordPress for 2023: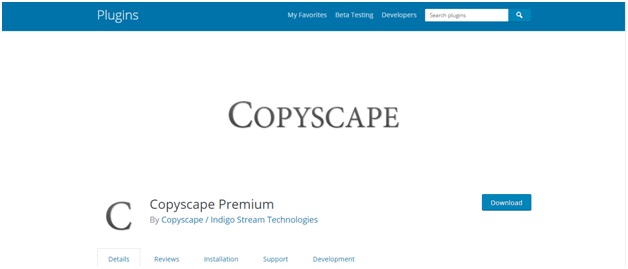 The Copyscape plugin uses the Copyscape API to check if the data is plagiarized or not. This plugin adds a button to your WordPress website so that you can check the plagiarized content whenever you want.
This plugin shows the 'Copyscape check' button to the WordPress interface. You can also set the plugin to check the content automatically when you 'Publish' article.
When the plagiarized content is found, a report is generated against the matching posts or pages. It also presents a detailed comparison by highlighting it.
Another useful plugin that can be used to check duplicate content is Prepostseo.com. Your post or page can be scanned by just one click using this plugin.
This tool checks sentences of your post against millions of web pages and show the plagiarized sentence with a hundred percent accuracy. It also shows which sentences are unique
Key features of this plugin to check duplicate content are the following.
Check the content in millions of web pages
Display overall unique percentage of your data
Check sentences one by one
Compare results on single click
Check each word as well
Real-time checking
Another plugin in our list is Check Plagiarism, which has almost the same functionalities as above mentioned plugins. It can check your data by just one click button and show the percentage of duplicate content.
Its installation is very simple
Download Plagiarism Check Pro
Add extracted file to the WordPress
After uploading, activate it.
Click on the admin panel, got Plagiarism Checker Pro, and enter the API key and secret key of the Plugin.
To access these types of programs, there are different alternatives such as installing them independently on computer equipment or hosting them on a cloud server.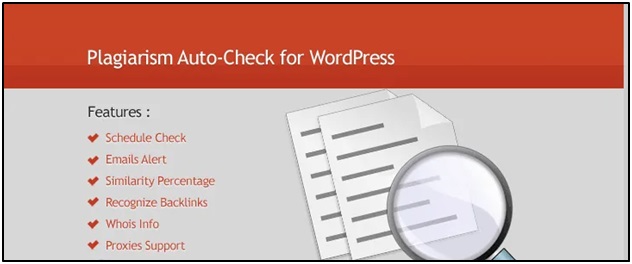 Plagiarism auto-check has been the best plagiarism checker plugin on WordPress for a long time. The reason behind is the user-friendly layout that it provides upon installing.
It tells the exact amount of duplicate content as well as the source of the original content. Moreover, it is also capable of telling about who stole your content. It will show the user name, email and other useful data about who copied your product.
This plugin can be used to make your content secure as well as track the engagement of people for a specific content.
Here are the features of this amazing plugin:
This plugin will help you in sending the official notice to the user who stole your content
The plugin automatically scans the internet using scheduled way and notify you through e-mail
The tool is concerned with Good search API in order to use it's services
Copyscaper is another plugin for checking the pages that have copied your content. This also tells about their violation of duplicating your content.
Besides, it also tells whether you copied somebody content or not.
Here is the list of features it provides:
If gives user-friendly layout
Automatic performing
Schedule way of checking
Tracks plagiarism check report
Grab user's WHOIS information for sending notice
A Large Database
Behind this process of detecting plagiarism is an important computer task.
This type of program works with a crawler (or online database) that contains a huge amount of work from sources such as documents from other participants in the platform, academic articles already published, databases from different publishers, or more than 10,000 million of web pages.
Once analyzed, a document is issued in which a percentage of plagiarism is presented and shading in those parts that are not their own, along with a link referring to the original and the degree of importance that plagiarism has.
Who use plagiarism checker plugins?
Everyone can use a plagiarism checker plugin, but some of the specific field persons are the following:
Students: Universities sometimes offer WordPress portal to their students to submit their assignments and projects. The students can install and activate the plagiarism checker plugin to check their plagiarism in the submitted content.
This way, they can remain away from duplicate content.
Teachers: When WordPress portal is allotted to the students, they submit their assignments on that. However, teachers get the added benefit of checking the plagiarism on the same. This way, you can easily mark their duplicate content, if any.
Content writer: Some websites use to hire content writers to post content on their WordPress site. The writers can use these plugins to check plagiarism if any. This way, they can get rid of punishment.
Bloggers: Bloggers have to write content continuously, and this is difficult for them to check on an external source. However, they can easily use plugins to check plagiarism instantly and quickly.
Webmaster: The main content of the pages in a WordPress site is much essential as it is indexed on Search Engines. This means that it needs to be unique and free of plagiarism. However, webmaster can use these plugins to check instantly and remove any plagiarism.
Moreover, they can also find who is copying their content and they can easily send DCMA notice to that user through this plugin.
The advantage for bloggers on WordPress
Right now, while you are reading this, someone in the world may be copying the blog that you worked on very hard. And if by bad luck, this site has a greater domain, you will be the plagiarizer.
Google is not Google because yes, its Panda algorithm detects when and where an article has been plagiarized, but it will not put those blogs that write the article first, but the one that has posted it and has a greater domain.
You must take care that your texts, in addition to being attractive and effective in Google, are original, so you must be aware of not committing self-plagiarism.
There are two types of crime in plagiarism:
Conscious Plagiarism
Unconscious Plagiarism
The second is because, for lack of concentration you are curating content from other sites, and, without intention, you get to copy them to the letter.
Conclusion
A work is considered to have been plagiarized if it has a high percentage of coincidence with someone else' work, either literally or with different semantics.
After using the above-mentioned plugins, you can avoid duplication very easily. Your content will be considered good in Google's eye and it will be ranked on first pages.