To be successful as a blogger and create a recurring income source, you need to take care of various things, such as your site's loading speed, content, SEO score, rankings, user engagement, and design.
Unless all these factors are looked after, you cannot achieve desired results. There are two ways to forge ahead, either hire a designer who can help you build a perfect website or opt for a WordPress theme that takes care of all these factors without putting a dent in your pocket.
The second option is not only cheaper, but also more convenient and less time consuming than hiring a professional. So, instead of wasting your time in headhunting a web designer, select a good WordPress theme and transform your site's layout right away.
If you are not sure which theme can get you positive results, then take a look at the options mentioned below. These 30 handpicked WordPress themes for blogging are considered the best in the business. You can take a close look at all of them and select the one that fills the bill perfectly.
1. Clean
In case you're looking for a WordPress theme that's lightweight, minimal and fast loading, check out Clean immediately. It's one of the most popular and elegantly designed themes available in the market. As soon as you install it on your site, you'll notice the difference in terms of the site performance and ranking boost.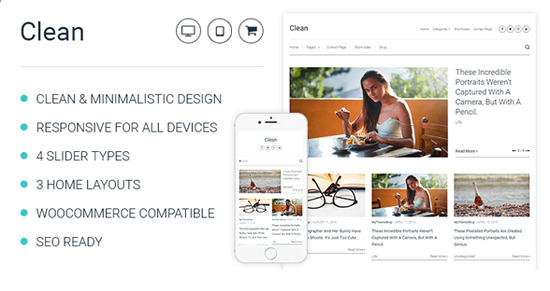 2. Viral
Running a viral site isn't that easy, especially when you're in a highly competitive niche. Unless it's attractively designed without compromising the loading speed and uses exciting color schemes, you'll face many problems while ranking it. This is where a WordPress theme like Viral can do wonders. It's correctly coded to handle the high volume of traffic and offer an impeccable experience to users.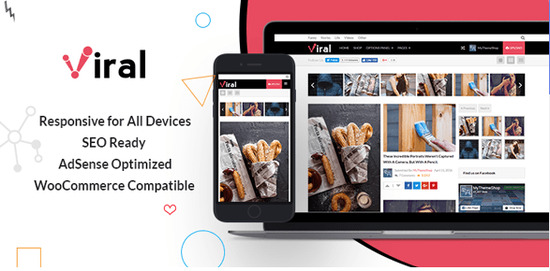 3. Spencer
If you are a travel/food blogger who loves to share everyday life experiences with the audience, then the Spencer WordPress theme should be on top of your list. It features a custom typography, WooCommerce Integration, Multilingual Support, infinite color scheme and SEO ready design.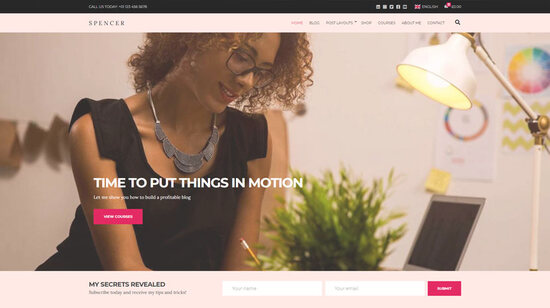 4. Didi
Didi is a modern WordPress theme for fashion and style blogs. Go for it and bring down your site's load time, and also start selling customized products to users from all over the world. It's easy to install and requires no extraordinary technical knowledge for day-to-day operations.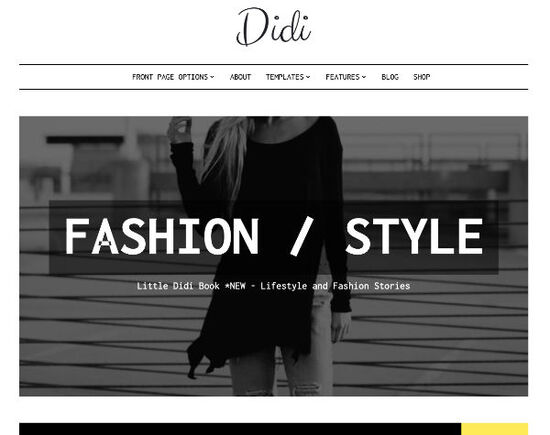 5. Foodica
As a food blogger, you need to take multiple initiatives from time to time to grab users' attention and prompt them to spend more time on your site. The Foodica WordPress theme can help you on this journey and make it incredibly easy. It offers a clean layout, SEO ready design, slider homepage, and built-in support for WooCommerce for those who want to sell handmade food items online.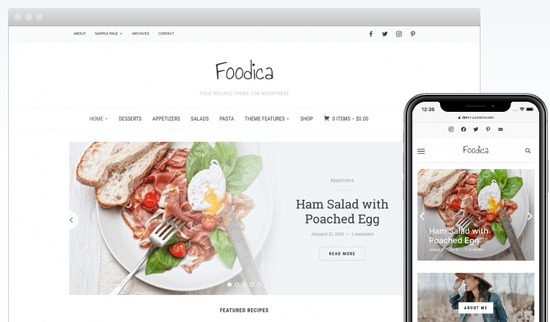 6. Travelmatic
Are you a travel blogger and love to document all your travel experiences in the form of blog posts? If yes, then use Travelmatic WordPress theme to design a perfect travel blog. From the places you visited to the dishes you tried and items you shopped; this theme lets you present all your travel experiences in the most beautiful way to the audience.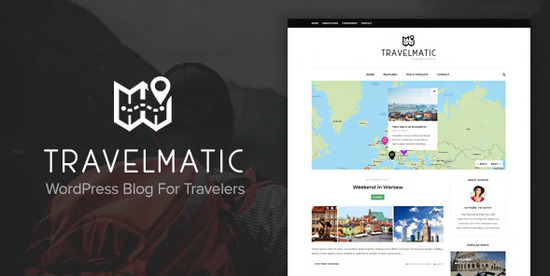 7. Writing – Personal Blog
Writing WordPress theme from Themeforest can be the ideal theme for those who are looking for a simple yet attractive WordPress theme for creating a blog. It has great features such as easy setup, responsive & Ratina ready, SEO friendly, WordPress Live Customizer for easy customization etc.
8. BloggingBox
No matter if you're exploring tech, entertainment, sports, health, lifestyle or politics niches, BloggingBox has got ample features to ensure your blog's performance and search engine rankings touch greater heights in no time. It's packed with a slider layout, strategically placed social sharing icons, shortcodes, beautiful Google fonts, lightning-fast loading speed, and striking colors.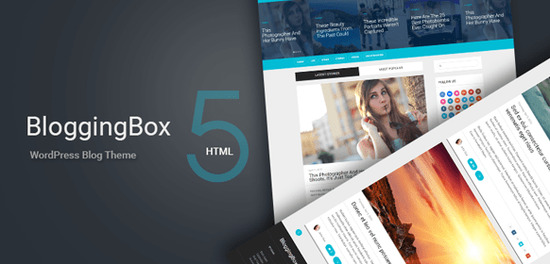 9. Appetizing
Appetizing is a stylish pro-blog WordPress theme for creating a stunning food, fitness or lifestyle blog. It's loaded with dozens of unique features that make your recipe blog posts stand out and garner instant user attention. You can use its featured content blocks to highlight any of your favorite blog post, image or video.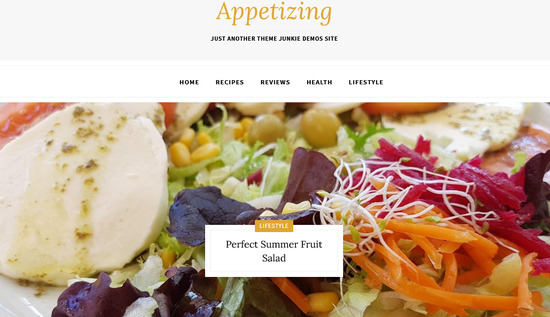 10. Paperbag
As a blogger, if your focus is on providing a personalized reading experience to all the readers without any unnecessary animation or graphic effect, then go for Paperbag without any further delay. It's minimal and has a lightweight design that loads quickly on tablets and smartphones. Paperbag features multiple layouts, infinite style variations, and custom widgets.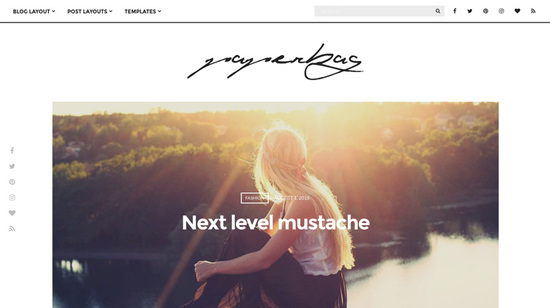 11. Pinboard
If you're one of those many users who are in awe of Pinterest's layout and want to design a similar looking website, then here is an excellent opportunity for you. With Pinboard, you can give a unique Pinterest-alike touch to your site's design. Give it a shot without any further delay and have a magical experience.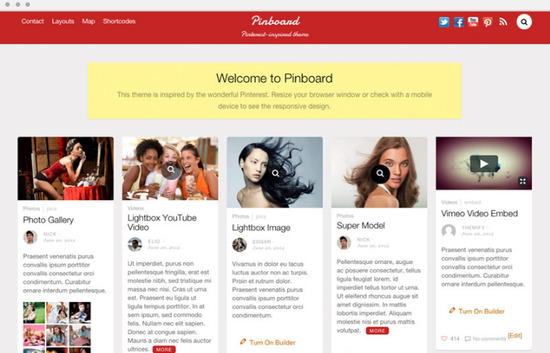 12. MusicNight
If you're an artist, musician, singer or guitarist and want to have a substantial online presence or have clients who are involved in the entertainment industry and wish to increase their reach, then MusicNight is the best WordPress theme to design a fantastic website. It's equipped with one click demo install, music album management, WooCommerce integration, event manager, custom audio player & playlist, support for Visual Composer, artistic and single layouts, and many other features.
13. Feminine
There is no better theme than Feminine for sites publishing women-centric stories or product reviews that are majorly used by women. In case you also run a blog with women target audience, then go for the Feminine WordPress theme without any second thought. It's feature-rich, lightweight, easy to install, offers premium technical support and regular updates.
14. MoneyFlow
MoneyFlow has all the features that a professional blogger needs. It is SEO optimized theme with easy monetization options. With amazing layouts, one can easily create an engaging blog which is responsive at all the devices and featured section to make the most out of your targeted posts.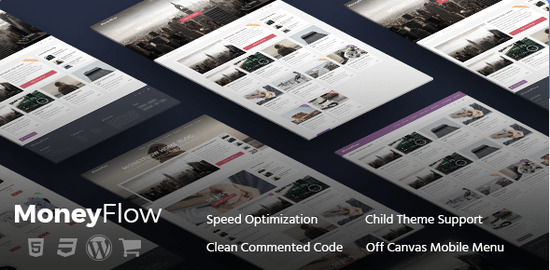 15. VideoBox
Do you have a video content focused site where you publish a lot of videos on a regular basis? If yes, then here is a brilliant theme to change the way your website looks and functions. You can install the VideoBox theme on your site and start publishing YouTube, Vimeo, and self-hosted videos quite comfortably. It's loaded with a robust options panel, retina ready design, visual customizer, and WooCommerce support.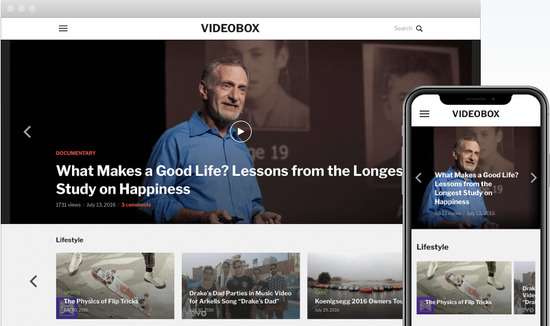 16. Silver
Silver is one of the most splendid and stylish WordPress themes for visual creators and fashionistas. It's lightweight, mobile responsive, and can be used as a business website, blog or style-conscious individual portfolio.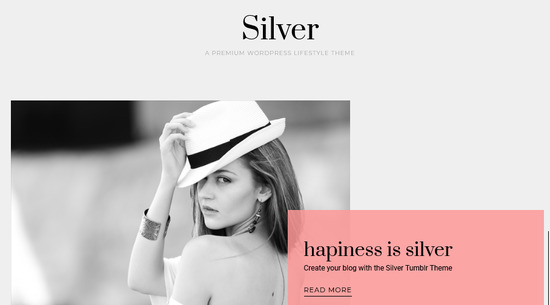 17. Shout
Shout is an eye-catching and custom-designed blogging WordPress theme that supports all the major plugins, and can be translated into multiple languages, offers one-click demo installation, world-class support and WooCommerce integration for online shop set up.
18. MyBlog
If you're looking forward to installing a blazing fast WordPress theme on your blog that can revamp its loading speed, add multiple functions, and improve its search engine rankings without any extraordinary effort, then take a shot at MyBlog theme. You don't need any technical knowledge to install and set up this theme.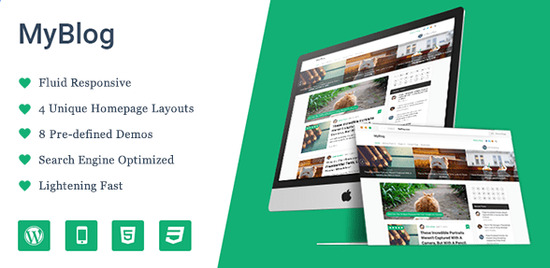 19. Indigo
In case you have a lifestyle blog that covers your love for travel, tech, popular videos, latest fashion, and outdoor activities, then Indigo should be your most preferred WordPress theme to go ahead with. Not only does it empower you to design a beautiful site, but also lets you set up a customizable online store where you can sell anything to users from all over the globe without facing any trouble.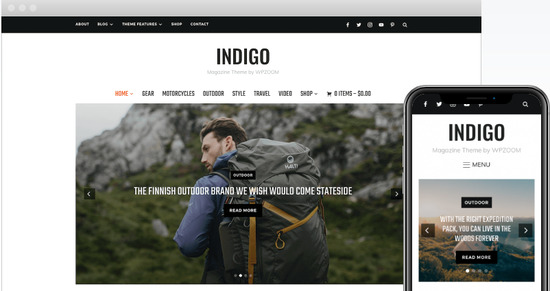 20. Moment
Moment is a minimal yet feature-rich WordPress theme for bloggers and internet marketers who aspire to stand out. It offers a unique & masonry layout, sturdy options, SEO ready design, built-in support for Elementor, The Divi, and SiteOrigin page builders. Besides, it comes with premium 24/7 support, regular updates and single click demo import for easy installation and set up.
21. Wayfarer
Wayfarer is an ideal theme for explorers, travelers, nomads, adventurers, and eager souls who wish to move around and experience the nature as it is. Packed with a lightweight design and feature-rich slider, Wayfarer offers a perfect environment to showcase your impressive skills to users. Try it out and give a splendid touch to your travel stories.
22. Rima
Now you can design a stunning online portfolio to acquire new clients and be in touch with your audience with the help of this fantastic theme. Rima is colorful, fast loading, easy to manage, and offers detailed documentation.
23. Splash
Splash is a responsive WordPress theme, perfectly suitable for sites that publish lengthy review-based articles. It has an amazing ratings & review system, multi-lingual support, unlimited colors, and WooCommerce support. A perfect theme to highlight your content and get loads of organic traffic regularly.
24. Stack
Stack's design is inspired by Metro theme and Windows 8 Metro design. Even though it's colorful and has a number of features to make your blogging experience hassle-free, the load time of Stack is incredibly low. So, look no further and install it on your site to revamp the user engagement rate without any further delay.
25. Velure
Velure is exclusively designed for those lifestyle and fashion bloggers who aren't ready to settle for anything less than the best. It's striking design and attention to details will leave your audience speechless and prompt them to spend more time on your site.
26. Posty
Being a storyteller, you should learn to present your story to the world in the most beautiful manner. A beautiful theme like Posty can help you big time in this regard. It comes loaded with many features to make your content stand out and push it into the top five Google search results.
27. Brittany
Brittany is one of the most exceptional WordPress themes for fashion and lifestyle bloggers. If you're looking forward to offering a smooth reading experience to your readers, then go for this clutter-free WordPress theme to ensure that they never face any distraction.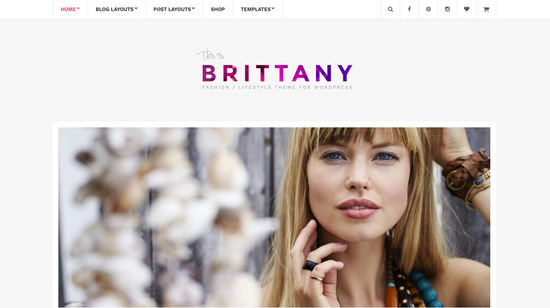 28. Writee
Writee offers all the ingredients that makes a great blog ideal for travel adventure blogging. It supports a large slider at the top, responsive layout with custom widgets.
29. Authority
Go for Authority WordPress theme to revamp the design of your site in such a way that the audience can find an instant connect and feel inspired to spend more time online as well as share the content across different social media platforms. It's easily installable, performs well on smartphones, and comes with a robust ad-management system to increase your earnings.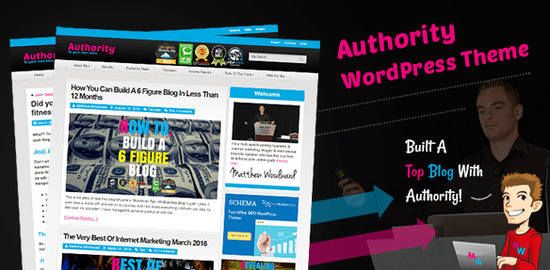 30. Schema
Schema is undoubtedly one of the top five WordPress themes available in the market for bloggers. Whether you're exploring the tech, lifestyle, sports, and healthcare niches or running an affiliate site, this theme will never disappoint you in terms of loading time, ad management system, and search engine rankings.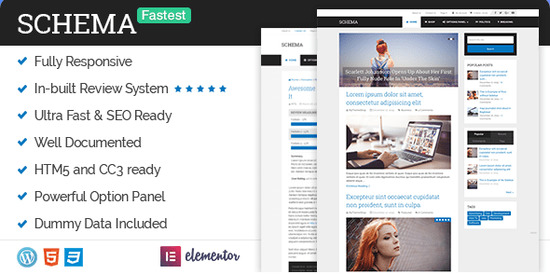 Go with any of these themes and take your blog to all new heights this year.