Frankly speaking, majority of people are not aware of the basics of making a website – Which is obvious; one doesn't have to be techie. Designing and developing a website is no more a hassle now. All thanks to WordPress- Ending all woes of creating and developing a website.
WordPress is no doubt the most impressive and effective platform when it comes to designing and developing a website. This dynamic software application offers simple easy to use steps to create a website or a blog. The reason behind its soaring popularity is; it is easy to maintain, doesn't need to be a "Techie" and one can hassle free update the content.
Now that we are talking about the uniqueness of WordPress; not mentioning the extraordinary "Theme Builders" will be really unfair. Professional yet stylish, WordPress Theme Builders 2021 are out there offering designing and developing websites without any hassles.
We are talking about 10 best Drag & Drop WordPress Theme Builders 2021 here so let's have a look:
1. Beaver Builder

It is widely known name and finest WordPress's drag & drop theme builder plugin in the market at present. Crafted for your success; the plugin is amazingly quick, and comes equipped with built-in onboarding tour that takes off the complexities of "How To Make A Website".
The plugin's helpful features assist developer in customizing and styling which makes is highly intuitive website.
It comes with 20+ page templates
The plug in is SEO optimized
It is web developer friendly plugin
It is equipped with WooCommerce amalgamation
The plugin lets you see all the changes "live" as you start working on it by simply dragging and dropping to your desired page.
It is fortified with advance modules along with content blocks, carousel, sliders, buttons, and background along with other relevant things.
When you combine all these elements, you get purposeful and detail oriented website
2. Themify Builder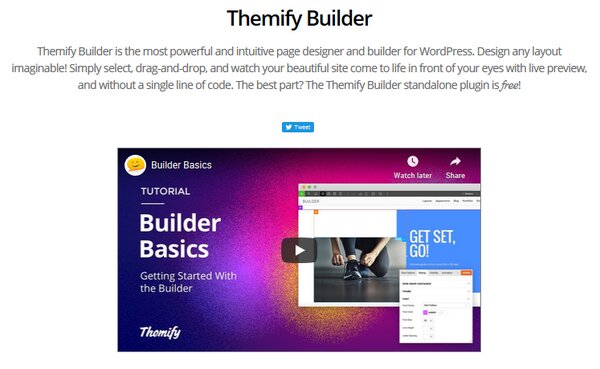 This highly intuitive theme page builder is assimilated with many ready-to-use gears that are easily added to the page that you are working on. The plugin allows you to see the changes and how it will look on the website. This helps in quick editing and to make new changes simple and hassle free. The plugin is most powerful and easy to use WordPress theme page builder that can help you design layouts of your choice, bringing to the life using drag and drop interface. You can watch the changes taking place right in front of your eyes through live preview.
Equipped with cool styling options, the plugin includes Google font support, range of animations, 16 content modules, video backgrounds etc.
The plugin has got parallax scrolling
It is SEO optimized
Supports 3RD party shortcodes
Built in color picker
Background image preview
Support all post types
Incorporated with amazing Google fonts
It comes with ready to use modular and translation
Varied color option
Has web friendly responsive design
There are other add-ons available that lets the developer extends its functionality for betterment.
3. Divi
It requires just one line to describe – an ultimate plugin that you can have for your website. Now take control with any theme, and use it to create fluid, and beautiful layouts inside the content areas of any shape and size.
Comes equipped with 18 pre-designed layouts, counters and WooCommerce; the plug-in is fully customizable, and comes with video backgrounds and yes it is fully responsive. With tons of elements to drag and drop in your layout it is one of the picked plugin in today's date.
The plugin comes equipped with 46 content modules which include post sliders, pricing tables, and email option forms.
It is easy to drag columns and rows in your page along with other handy options like copy, paste, redo and undo.
It has fantastic out of the box features like scrolling on the top, support for background video and side navigation
It comes equipped with multiple section layouts to choose from
The plugin gives you full control over padding and margins.
4. Visual Composer

Packed with latest drag and drop features, it is one of the best Theme builders in today's time. It is developer friendly plugin and responsive that makes your content look great on every device. The plugin comes equipped with a responsive page builder that lets you style the content in the frontend as well as backend without any hassles.
More than 45 content modules available, it is furnished with charts, social media, post grids, and more.
Create unique designs without writing a single line of code
The plug in allows you to control columns across multiple devices.
All the modules can be styled using skin builder
It also lets you insert widget into the content; all these and much more makes this plug in the most favorite amongst developers
5. MotoPress
Responsive layouts, this easy to use drag & drop WordPress Theme lets your website look great on any device. It is enhanced WordPress theme builder that enables to create and develop website visually. It offers a complete solution when it comes to building responsive pages with CODING. All you have to do is drag and drop content elements and you are done. The plugin is fully responsive, extendable and gel well with other WordPress themes.
The plugin offers multiple layouts for end number of designs
It comes with full responsive design
50+ free graphics
WMPL compatible
It features with instant skin switcher
It has WooCommerce integration
You don't need to know coding language
6. Conductor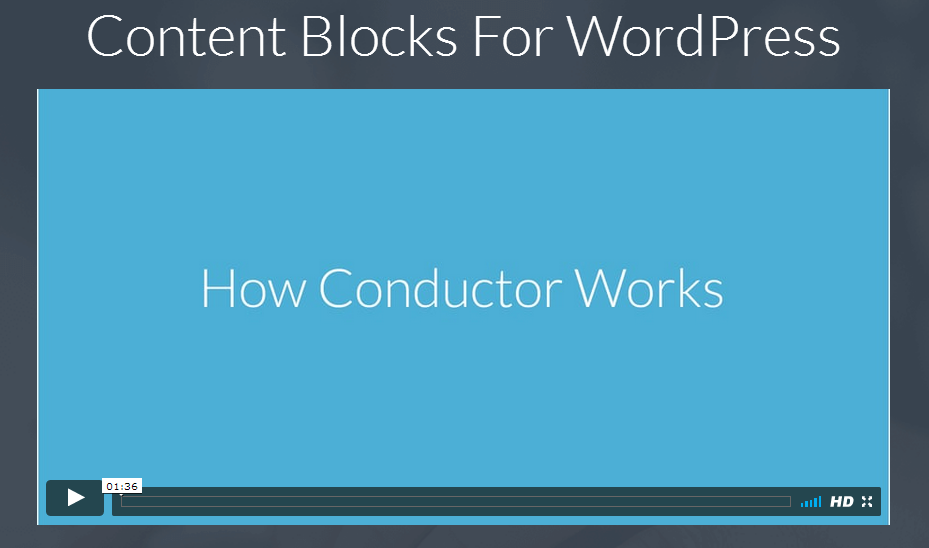 It is amazing WordPress drag and drop theme builder that lets you make changes to your frontend of your website. With this plugin, the developer doesn't have to spend hours and hours coding the content displays. No coding required; the customized layouts help to display the content within fraction of seconds.
The plugin can be used for modifications, changing page layouts, inserting widget to the content area. It is the most preferred plugins when it comes to designing stylish web pages. The usual add-ons are available like tables, custom fields and side bars.
You can save a lot of time using Conductor plugin instead of custom coding
You can customize the layout of your WordPress blog and web pages easily
You can create your own unique collections of contents on any page
It lets you review your real time using WordPress customizer
7. Unicon
A highly intuitive, amazingly flexible and unbelievably powerful; the plugin is well-thought out and well-structured WordPress drag & drop theme builder available today. Extensively developed, visually stunning and full responsive theme builder that incorporates generous amount of qualified tools, page templates, features that enables the developer effortlessly to make stunning and engaging website.
It comes equipped with more than 50 in-house customizable, flexible page elements along with WP Visual composer plugin that practically helps you build page in minutes.
The plugin in all sense bends down to its developer's whim offering cutting edge look to amazethe audience.
The plugin comes equipped with pre-built page layouts, options and sidebars
You can create high converting landing pages and sales page with style
Easy to integrate testimonials, videos and subscription forms
8. Foundry
Last but not the least, Foundry is all professional, colorful, powerful, impressive and you keep adding the honors and it has it. Technologically accomplished, high performance, and elegant responsive design the plugin is well-thought drag and drop theme builder that effortlessly brings jaws dropping creativity to your website.
With dozens of visual composer elements, the plugin is articulately crafted theme builder that efficiently meet the demands of the web developers. Now it is easy to construct your website without writing a code- simply drag and drop the elements and you have high functionality, high qualified website ready in minutes.
The plugin lets you add full width banners, organize your content in columns accordions and panel
Choose from hundreds of Google fonts
Built in WooCommerce
Varied layout preferences, and background images to add
Offers deeper integration with popular ecommerce plugins
No coding necessary
Final Thoughts
Web developers very well understand the importance of drag & drop WordPress theme builder plugins. The above mentioned drag & drop WordPress theme builders are the best one when it comes to designing and developing website in a hassle free manner.
All you have to do is figure out which one will be the right one for your present website creating task. With each of them having unique functioning abilities, it is important that you spend some time in researching and see how the plugin can get you the best creation.