Fast, low-cost, personalized, hassle-free—these are all words that tend to resonate with consumers. They're also the key advantages of buying from subscription-based companies such as FabFitFun, Tiege Hanley and BarkBox.
In case you aren't familiar with the subscription eCommerce business model, we'll briefly explain. Each month, a box of personalized goodies is sent straight to the consumer's door, all at a much lower cost than found at traditional retail stores. From specialty pet toys and treats to men's skin care products, there are few things that can't be packaged up neatly into a box and sent directly to the customer.
This new method of shopping online is clearly resonating with consumers. According to a 2018 report from Hitwise, a whopping 18.5 million Americans visited a subscription box website in the first quarter of 2018, up 24 percent year-over-year.
It's easy to see why retailers are moving towards this new business model in droves. Which subscription-based companies are leading the pack and why? Let's dive right into it.
1. BarkBox
While some subscription boxes have faltered in the last couple of years, BarkBox has continued its strong growth trajectory. The monthly subscription box of dog treats, toys and chews boasts more than 600,000 subscribers and a 90 percent retention rate due to its impeccable customer service.
Compare this number to Blue Apron's retention rate, which some sites estimate is hovering around 15 percent. BirchBox's past struggle to achieve a profit has likewise proven that eCommerce businesses need more than just a subscription-based model to achieve long-term success.
While BarkBox has a lot of things going for it, the company's responsive customer service is largely responsible for its exceptional retention rate. If your dog doesn't enjoy one of his toys or treats, BarkBox rectifies the problem quickly with a replacement that your dog will love.
2. Tiege Hanley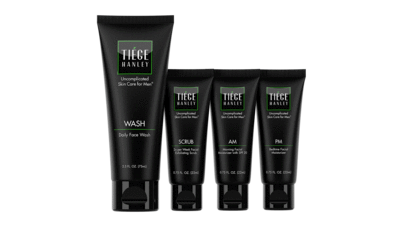 While the men's skin care market still lags behind women's booming skin care market, Tiege Hanley is working to change that. With its fuss-free products and regular-guy persona, the uncomplicated skin care company has quickly become one of the leaders in the men's skin care industry.
What's Tiege Hanley's secret to success? While the skin care company did get an awesome boost by their mega influencer and co-founder Aaron Marino, their success has come from knowing their customer better than anyone else. Tiege Hanley understands that regular guys want their skin care products to be uncomplicated and hassle-free.
Although a subscription-based model naturally streamlines the buying process, Tiege Hanley took things a step further by simplifying their entire skin care routine. Each product in Tiege Hanley's skin care line works in tandem with each other, which takes a lot of the guesswork out of the situation. No hassle, no fuss—just clear, healthy skin.
3. Atlas Crate
It's no secret that flying your little ones across the world isn't cheap, or easy for that matter. Fortunately, there is a subscription box that will help your kids become more globally conscious without breaking the bank.
KiwiCo was founded in 2011 by Sandra Oh Lin, an engineer and a mother of three. Lin saw the writing on the wall—kids needed global activities to spark imaginative play and help them become more appreciative of cultures around the world. Thus, Atlas Crate was created, a subscription box that delivered innovative kids' activities straight to every parent's door.
As a busy parent, anyone can understand the undeniable appeal of a box that keeps kids occupied and learning. However, the real success behind KiwiCo is arguably their dedication to their mission of raising better kids. The company recently launched a new Kindness Box, which pairs kids with a charitable organization such as Alex's Lemonade Stand and educates kids about their cause.
4. FabFitFun
At $49.99 per box, FabFitFun may not seem all that cheap. But considering that the box only arrives four times a year and that each box promises a value of more than $200, it's not difficult to see why the lifestyle products company has surpassed $200 million in revenue.
The key to FabFitFun's continued success has been keeping their subscribers engaged as they wait for the next box (FabFitFun boxes come four times a year, one for each season). The company does this by engaging subscribers across their social channels and launching a message board where subscribers can discuss all things beauty related.
Basically, the company has done what many eCommerce subscription businesses have needed to do to stay alive: build a community around their brand.
5. Graze
Graze, a healthy snacking subscription box, has managed to overcome many of the hardships that take down other subscription eCommerce businesses. Originally founded in the United Kingdom in 2008, the business has managed to stay successful thanks to continuous research into what their consumers are craving.
The all-natural company has made a name for itself offering healthy, science-backed foods that taste delicious and encourage consumers to rethink the way they snack. In addition to jumping on health trends to drive sales, the snacking company also fixates heavily on its data to inform its messaging and deliver satisfying snacks to consumers.
By using sophisticated algorithms and automation, Graze can deliver a personalized box of snacks to their consumers and provide targeted recommendations to them based on their data. The takeaway from Graze: If you can justify the investment in technology, automated retailing can pay off bigtime for your subscription-based business.
Should You Adopt the Subscription Box Model?
With the promise of better customer connections, higher profits and no middleman to speak of, the appeal of starting a subscription box company is undeniable. Even so, a subscription box model isn't for everyone.
Before you get caught up in the hype, do the market research and make sure that you have a viable product that solves a unique problem. More importantly, you need to figure out a way to continue to solve problems for your target market. Only then can you have a shot at long-term success.