The integrity of a website can be easily compromised in an event when its data is lost. With no opportunity in sight to get this data back, webmasters are often left with no options. If you are an avid webmaster who wants to ensure the security of their website at all costs, you must adopt the practice of regularly creating your WordPress backups. With regular backups, you can have your peace of mind even in situations where your website data is either lost or tampered with.
One such great solution to this need of every webmaster out there is the WPvivid plugin. This all-in-one WordPress backup plugin is absolutely free to use and helps you securely backup your WordPress website to the leading cloud storage providers. This plugin is also a great option to help you migrate your WordPress site to a new domain, all in just a single click.
This move and backup plugin offers large database support and has been successfully tested on up to 2GB database size. So, if you had been wanting to get your hands on one of the best Backup/Move/Restoration plugins out there, then you must definitely check out the WPvivid plugin.
Features of the WPvivid Plugin
By choosing to move/backup your WordPress website with the WPvivid plugin, you are in for seamless automatic backups. All you would be required to do is just set up the plugin and forget about it. The WPvivid plugin is efficient to take care of the site backup in the best possible manner. Once done with the backup and in an event when you need to access this backup site data, you can easily restore your WordPress website from the backup with a single click.
The WPvivid plugin also lets you migrate your WordPress website to a new domain with just a single click. You can easily move your WordPress website from dev environment to a new server, from dev environment to a new domain or from a live server to another. If you are looking to move a site to a subdirectory, from a.com to b.com, from a.com to a.com/directory and from a.com to b.com/directory, that can be easily accomplished as well. The plugin also lets you determine if you want to move just the database, the files, or the entire WordPress website.
Here are some other features of the WPvivid plugin that will help you easily backup/move your WordPress website.
1. Cloud Storage Supported: The WPvivid plugin lets you backup your website data to several top-rated cloud storage providers.
Dropbox
SFTP
Google Drive
FTP
Microsoft OneDrive
DigitalOcean Spaces
Amazon S3
2. Support for Page builders: If you are looking to migrate your WordPress website from one platform to another, here are the website builders that seamlessly work with the plugin:
Elementor Page Builder
Page Builder by SiteOrigin
WordPress Page Builder – Beaver Builder
3. The WPvivid plugin provides you the freedom to determine the size of the files that you would be eventually backing up. You can set a size limit for each of the files on your WordPress installation. Once set, any files that exceed the size limit won't be considered for the backup by the plugin.
4. With the WPvivid plugin, you have the option to set up scheduled automated Backups with multiple frequencies: every 12 hours, daily, weekly, bi-weekly, monthly.
5. A lot of times, backups fail to complete due to the limits set by the host. The WPvivid plugin has been optimized for any host out there and hence, the backup success rate is high with this plugin. Also, the plugin keeps no backup size limits; only the ones set by your cloud storage and hosting account.
6. You can also choose how many backup copies you want to keep on your servers. If you have size limits, you can also avail the backup splitting feature offered by the WPvivid plugin and can split your backups into as many parts as you need.
7. You can also create a backup to Localhost. The plugin also cleans up all the temporary and junk files created during the backup and restoration process.
8. The plugin sends you a notification via an instant email report when the backup process is successfully completed. This helps you with the status of your backup progress.
9. If you want, you can easily download a local copy for your local devices/PC from the web server or cloud storage.
10. The WPvivid plugin provides you with the option to either clone or copy WordPress sites and then move or migrate them to a new host/new domain. You can also set up off-site backup schedules and transfer backups to leading remote storage. If you created any backups with 0.9.14 or a higher version, you can easily clone or restore them.
11. The plugin team offers an impeccable support system to help you troubleshoot any issues that might come up during the backup or restoration process. The plugin keeps log files and these files help the team troubleshoot your issues in a jiffy.
How to Install the WPvivid plugin to your WordPress website?
If you think that the WPvivid plugin is the right choice for your site's backup, restoration, and migration, here's how you can easily install it. Just go to your site's admin dashboard > Plugin Menu. You will have to search for the 'WPvivid' plugin and once you locate it, simply click on 'Install Now' and then click 'Activate Plugin' to get started.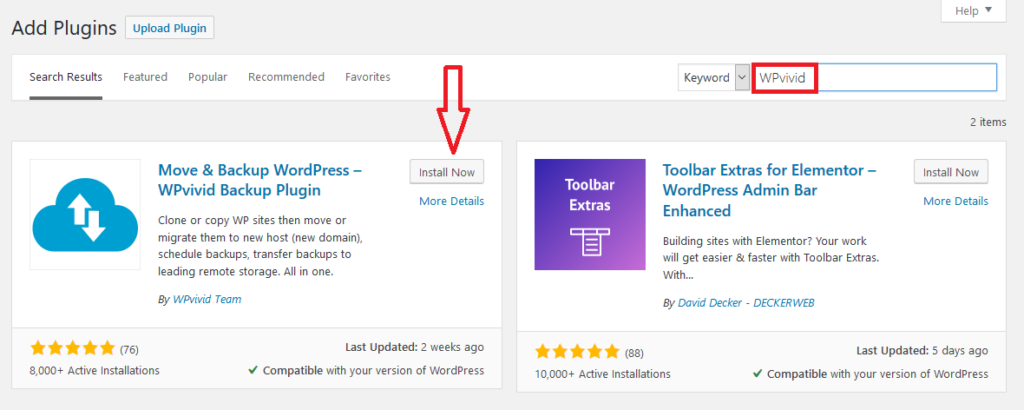 How to accomplish the site clone process wit WPvivid?
All you would have to do is install the WPvivid Backup plugin on the destination site and well as the original site. Once done with this installation, the user will have to generate a site key on the destination site. This site key can be generated easily in a single click. Now, this key has to be pasted to the original site and now click on 'Save' to complete the clone.
Conclusion:
WPvivid Backup Plugin is a great all-in-one backup, restore and migration WordPress plugin. It has a responsive design and works well on all devices, phones, tablets, PCs. The free WPvivid Backup plugin is licensed under GPL version 3 or later and is GDPR compliant.
Overall, a highly recommended Move, backup, and restoration plugin!