We live in an era where all that matters is convenience and to count there are very few things that are convenient as using your own voice to search or ask a question. According to Google, by the year 2020, most of the searches will be conducted through voice-based search.
This quick changing trend has changed the search pattern from text-based search to voice-based search. Voice searches are a completely viable alternative to text-based searches. This is especially true in the case of mobile website users. Text-based searches are mostly used by desktop users.
WHAT IS VOICE SEARCH?
When users make a quick search via digital assistant or using any search engine through their own voice, is known as Voice Search. These statistics have grown with the introduction of 'smart-speaker' devices, such as Google Home, Apples' Siri, and Amazon's Echo.
HOW DOES VOICE SEARCH WORK?
Voice search is basically using speed recognition to understand a query that a user is making and then accordingly tries to find online the most relevant answer that matches the query.
The user is directly redirected to the web page in case of mobile phones. But when you talk about smart speakers then the speaker (in other words, digital assistant) will read out the information that best answers to your query.
INDUSTRY PLAYERS FOR VOICE SEARCH
Some of the brilliant digital assistants by tech titans are:
Google Home – provided by Google developers to its users. You can get answers to your queries by asking a speaker.
Homepad – is Apple gem and Siri that provide her answers to your queries or questions.
Amazon Echo – provided by Amazon is the home to Alexa's voice to your queries.
Cortana – Microsoft's Voice assistant
Below are some of the ways in which you can optimize your mobile website for voice search:
Main focus on Local searches
Natural language processing
Common queries to be kept on top
Organic conversations and long tail keywords
Featured Snippets
1. MAIN FOCUS ON LOCAL SEARCHES
When the main target is especially on native searches then these sorts of searches need to be very specific. The searches will reflect the user activities; say suppose a user needs to find the location of local business while they're on the go, the precise search done by the user will reflect it.
When we remark optimizing mobile website then one ought to keep in mind the universal keyword "Near me". Once doing a specific task says suppose if you're driving or walking then the majority use voice search.
For example, if you wish to observe a flick and you would like to grasp flick theaters that are with reference to your current location. During this case the foremost frequent keywords most ordinarily used is "Ok Google, flick theaters close to me" instead of "Movie Theaters in the Asian country."
In this case, the search engine will check your location to understand which movie theaters are closest to where you are at the moment. It is a more convenient way to ask locations near me.
If we talk about business the best way is to get your website to the top of search lists is to make use of "Google my business" page. In this Google helps you by setting up a local listing of your business which in turn will help set the business. If at any time user searches for something local in your field, due to the local listing of your site on Google my business, your business will show up at the very top of the searches.
Fill in your Google my listing page carefully taking care of the following points:
Opening hours
Website URL
Address
Telephone Number
Email Address
2. NATURAL LANGUAGE PROCESSING
Voice search assistant is used when people look for convenience and speed. When we need to interact and remain at the top searches we need to take care of acquainted words and customary language that's utilized by users. Obtaining a lot of into technical stuff can cause loss of traffic from voice searches. Everyone can express what they wish to find online even if they are not familiar with the intricacies of your business. Colloquial queries usage will cause optimizing the searches.
When we talk about updates then the concepts of typed and spoken search modified a lot due to Hummingbird Update in 2013. The algorithm has emphasized primarily on natural language processing and particularly geared toward users' intent and context of the query.
When we say concerning convenience then one among the foremost common factors is Page Speed i.e. the time required to load a page. This influences a lot on website appearance on prime results in case of voice search. The page load mobile speed is a lot of necessary than desktop for voice search recognition.
The overall design of the mobile website and the mobile-friendly website provides a majority of websites for opting optimized mobile-based voice search. You can check the page loading time and website speed and mobile optimizing choices through PageSpeed Insights.
3. ORGANIC CONVERSATIONS AND LONGTAIL KEYWORDS
At this ever-changing era of technology, users will use voice assistant to possess a little speech communication just in case they need to search out something online. The search results needn't be robotic and cold it should not feel like as if users are talking to an AI algorithm even if they know they are.
The number of designated answers that are on the market ought to be as organic as attainable. The main aim should be the user experience that is given to the users who are searching for your business.
When it comes to optimizing the website to fit these search queries think of most common queries users can deploy while interacting through voice search. Simultaneously, the answers should be optimized and appear at the top on search engines.
While making an online search through voice user's talk naturally as if it seems like they are talking to their buddy. Voice search is more cognate and conversational in lieu of text-based search.
For example, A text-based search could be "time in new york", but when we talk about voice search then long tail keywords and questions are used like "what is the current time in New York". Also in voice-based search users behave as if they are talking to a human. It sounds more natural and organic conversation.
When talking to voice assistant users start like: "Ok Google..", "Hey Siri" etc. This is not keyword based query but communication through a device. So when the user looks for best tea coffee, it's more likely "Ok Google, where can I get the best tea coffee?"
The main difference between text-based search and voice-based search is long tail keywords. The long tail keywords are wrapped in <h2> tag to hold more weight.
4. FEATURED SNIPPETS
When user search for query the answer to user's query that is displayed on top of Google search results is commonly known as a featured snippet. It is basically gets extracted from webpage and URL and page's title are included in it.
When user converse through voice searches what they basically look is for convenience. For this approach Featured Previews or Featured Snippets are the most convenient and relevant. They are small snippets of content from the website that is clearly connected and appropriate to the search query.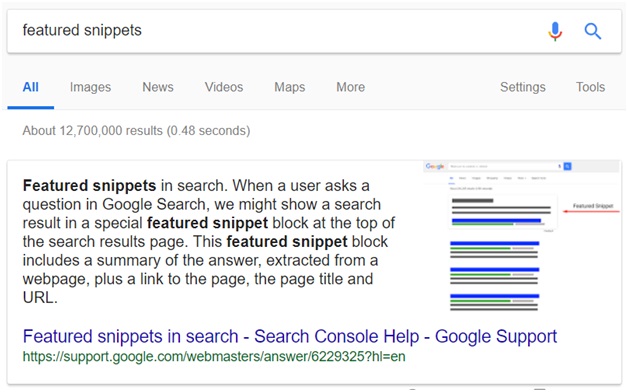 Voice search offers convenience in the form of speed and efficiency. It basically optimizes the queries thusly that it leads the website being at the top of search results. The website needs to be optimized according to the standards of the search engine. Various criteria's and algorithms are triggered that create a featured snippet matching the query result.
With featured snippets also take care of structured data on appropriate pages that can, in turn, help the business to claim the top spot. Depending on the type of content you're sharing Google Structured Data Markup Helper will help it with structured suggestions.
TO WRAP UP: Mobile phones are on the rise and with this popularity; voice search trends have dominated the market. To be ahead of the curb optimize the websites to allocate the resources efficiently featuring the best possible voice search queries.