YouTube is a social media platform that connects users with each other by video. After seeing thousands of other videos, you might want to upload your own. Your YouTube channel is a location where your followers can see all of the videos you've uploaded. So, in this post, we'll go over how to create a YouTube channel, and how to optimize your YouTube channel, particularly your YouTube channel art, to draw in a huge audience.
What is YouTube Channel
YouTube Channel is a free channel that runs in the background. You must have a YouTube Channel if you wish to upload videos to YouTube. Your channel is where you keep track of the videos you make and post, the videos you watch and like, and the playlists you construct. You'll get a web address (URL) for your channel, which you may promote on your website or in marketing materials. Subscribers can join your channel.
How to Create YouTube Channel
Go to YouTube and log in to your account, select "Create a channel" in the upper right corner. After that, you may create a personal channel or a business channel. Then type in the name of your channel.
What are the parts of the YouTube Channel
Name of the channel: Created by you
An image for your profile: You can also select a distinctive brand logo.
Description of the channel: Describe the content of your channel.
Links: You can include any links to your other social media accounts, as well as links to your websites or blogs.
YouTube Art of the channel: The eye-catching banner that takes up the majority of the area on the channel page is one of the most essential factors influencing channel subscriptions.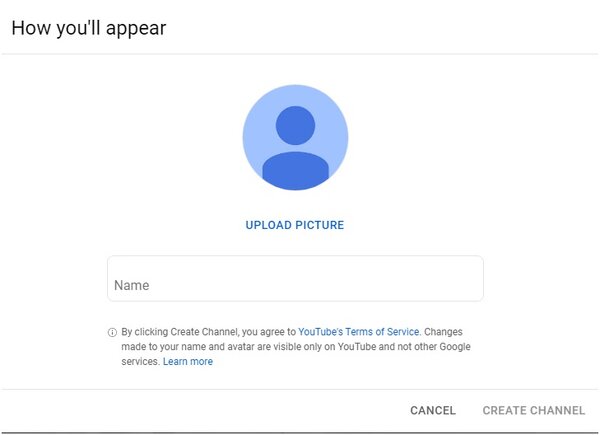 A few steps to optimize your YouTube Channel
Choose a channel name that is easy to remember, recognize, and is linked to your videos.
Create a channel avatar that is unique and attractive. When you submit a video, people will see your channel avatar in addition to your video. As a result, you'll need to come up with a unique brand logo for your YouTube channel.
Channel descriptions are concise, attractive, and aid in determining the style of your channel. It may also be used to advertise important information such as recent videos, upcoming events, and so on.
Make sure your YouTube Channel Art conveys important information in a memorable and relaxing color combination.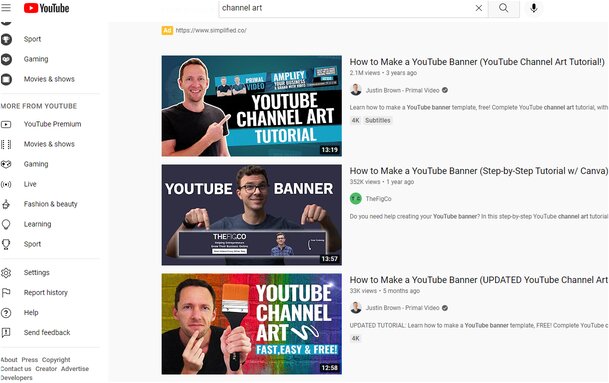 Importance of YouTube Channel Art
Channel Art may assist you in making a strong first impression. When your audience visits your channel for the first time, the visual effects that take up the majority of the screen will be the first thing they see. Your viewers will form a positive impression of your channel if you choose a high-resolution, original, and recognized image. Also, attract their attention with your one-of-a-kind channel banner design.
The art on your YouTube channel displays all of the information about your channel. It's also crucial to build a banner that quickly and properly delivers the most important information about your channel. Through the banner, you may inform your subscribers or audience about your media account, slogan, current activity, upload schedule, and so on. You may also use banners to inform your visitors about current video material, as well as some interactions and expectations.
How to Create Art for Your YouTube Channel
To begin, think about the content and size of your YouTube Channel Art.
Content includes a call to action, a distinctive backdrop or sticker, links to your other social media sites, and your company logo.
It is not necessary to include all of the above in your banner. The first thing you should do is think about the elements you'll need, as well as the design of your banner. In fact, the banner design isn't anything you should be worried with. There's an online YouTube Channel Art maker that has tens of thousands of free preset templates and elements, such as fonts, stickers, and backgrounds.
By referring to the designs of these preset templates, altering and customizing based on them, you may easily create amazing YouTube banners. You can also use this tool to add stickers or watermarks to your YouTube channel art.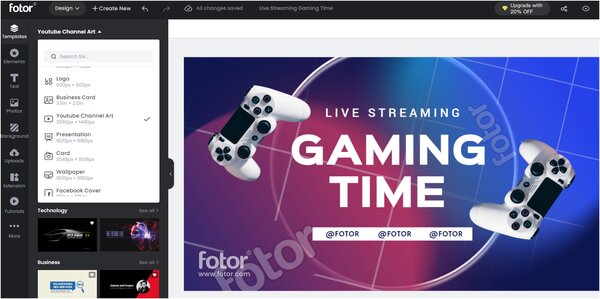 The banner's size is the second factor to consider. For best results, YouTube recommends uploading a single 2560 x 1440 pixel image. You don't need to worry about this because all of the preset templates for the YouTube banner creator described above are this size, and you can produce banners quickly without altering the size.
Another thing to consider is that the banner's bottom right corner may contain links to other social media accounts, websites, and blogs. Make sure the content of your original banner is not obscured by these links.
Steps to Create YouTube Channel Art by Fotor: Begin by choosing a template that corresponds to your video or channel's theme. On Fotor, YouTube banner designs are organized by theme and style, allowing you to browse and select themes based on certain topics. Then drag and drop the sections you don't like, add your own account information, a call-to-action, and other text, modify the background color and pictures, and publish it to your YouTube channel. $6 per month for Fotor pro+ can get access to a larger number of templates and elements if you are not satisfied with the current templates.