Filling out popups is a fast and easy means of generating leads, growing your email subscriber list, and increasing interaction on your website while keeping your costs low. WordPress popup plugins may convert more quickly than landing pages in certain cases.
Using the best WordPress popup plugin to incorporate popup functionality into your website is the easiest and most convenient way.
When you hear the term popups – you think of it as a distraction, irritating, and another similar norm. Still, you have to believe that popup plugins can help make a call to action. Also, you can use the exit-intent popup.
Increase your website's subscriber, lead, follower, and client base with the help of Popup Anything – A Marketing Popup. Using Essential Plugin's lightbox popup, floating bars, scroll boxes, page targeting, existing intent detection, and custom link, you may construct any popup you like.
Today in this blog post, we will review the Popup Anything – A Marketing Popup and how you can use it with the best website builder tools.
Popup Anything – A marketing Popup
Pop Anything plugin can be used with the best website builder for small businesses as it provides ample benefits to the sites.
For example, let's talk about YouTube subscriptions. You may insert this WordPress popup plugin on your site or a blog post where readers are asked to subscribe or redirected to the YouTube channel.
You may use the WordPress Popup on Click Plugin to add an eye-catching popup to your website by choosing from nine different positions and seven different effects. Essential Plugin's Popup Anything has several advantages.
All clicks made by the user are recorded.
An easy-to-navigate user interface.
There are various design choices available for Popup Anything on Click's opt-in forms.
This plugin has more than half a million active installations, demonstrating its power.
A popup window with anything you choose will appear when you click on a link, an image, or a button.
To maximize efficiency, subscription forms may be presented in many efficient popups.
When Choosing a Popup Plugin, What Should You Look for?
WordPress popup plugins on websites are quite common. When executed well, they may pique a user's interest and encourage them to take some action on the website.
Before we go into the details of Popup Anything as the best website builder, let's take a brief look at what makes a great popup plugin.
On the other hand, Popups have the potential to irritate users and drive them away from a website. Therefore, choosing the appropriate popup plugin is essential, which should provide you with all of the features and capabilities required to generate popups with a high conversion rate that display at the appropriate time and location.
Here are some things you should check for when picking a popup plugin for your website:
Simple to install and use, saving you many hours spent on creating popups.
There are pre-made templates available and a visual builder for customizing the designs.
There are several different forms of campaigns, such as popups, floating bars, and slide-ins.
Integration with services for electronic mail marketing
Options for targeting to show popups at the most appropriate moment
Utilizing analytics to monitor performance and enhance result quality
We have reviewed what is included in this list based on these criteria. We have also considered their price in addition to the customer support alternatives that are available so that you can make the most informed decision possible.
What are the essential components of an excellent WordPress popup plugin?
When you are looking for the best WordPress popup plugin here, we are considering the Popup Anything plugin; it may be challenging to choose the most suitable one for your website or call to action purpose.
Here are the following important characteristics of the best WordPress popup plugin:
1. Integrated systems
You are capturing leads by launching pop-up advertisements. For it to be successful, you will need to store emails in a database effectively. The essential plugin has various integration choices available for your marketing automation or email marketing platform. You could have to pay a fee for even the most basic integration with this plugin.
2. Performance
There are many different popup plugins for WordPress, some of which are more effective than others. The best website builder for small businesses adds JS and CSS to your front end, which will unquestionably affect your loading speeds, user experience, and, eventually, rankings.
3. Control
Our WordPress popup plugin will provide targeting and exclusion settings and capabilities like referral detection, geolocation targeting, exit-intent targeting, and product suggestions based on the items that are already in the basket.
4. The depth of available advertising options
Popups are an effective method of capturing leads and generating clicks; however, there are many other methods available, including inline advertisements, floating bars, live chat, and browser alerts.
Because these popup plugins might account for a significant amount of your blog's operating expenses, it is essential to ensure that you get your money's worth by maximizing conversion rates while minimizing the negative impact on the user experience.
Why choose this WordPress popup plugin (Key features and benefits)
So, up to this section, we have seen the overview of Popup Anything – A marketing Popup, a powerful WordPress popup plugin for your site, and a few basic parameters for popups.
It just takes a few seconds to create a popup on your website.
A total of 9 positions and 7 effects are available. Using the WordPress Popup on Click Plugin, you can add an attractive popup window to your WordPress blog or website. Incorporate any form of material into your Popup using the Popup Builder Plugin! (HTML, Image, Shortcodes etc).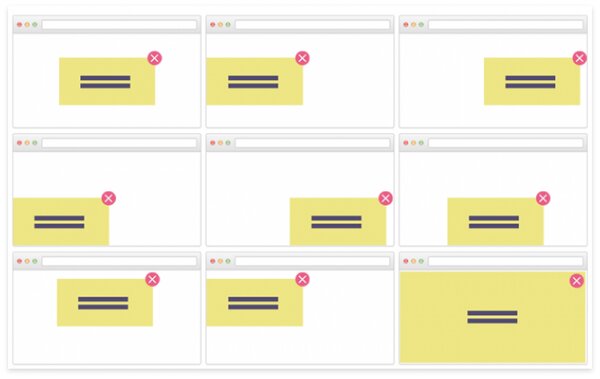 Compatibility With Up-to-Date WordPress Versions
Upgrades to all new versions are made compatible within 30 days of release. To ensure a smooth website experience, make sure your plugins are up-to-date.
It can be used as a variety of popups
Why Popup – Anything considered as best WordPress popup plugin because you can use it for a variety of use like,
When a user is inactive for a certain time, a popup notification is automatically shown. This is utilized to revive visitors and immediately address them as if you had something important to say.
Not all popups must be shown in a new window. Some of the most successful popup promotions are more subtle. Scroll-in promotions are an excellent illustration.
These little side boxes show on a website to provide visitors with information or promotional offers.
Exit Intent popups are an effective method for recapturing abandoning visitors. These popups show when a user actively attempts to leave your site:
This is significant since, as it turns out, 70 percent of visitors to your website never return.
If these visitors attempt to depart, you may reclaim them by catching their attention. In addition, exit-intent popups now function for mobile visitors as well. This implies that you may even target smartphone users that visit your website.
Did you know that more than 616 million individuals utilize AdBlock technology? This implies that even if you have a flawless popup ad, the appropriate buyer may never see it.
Therefore, you may use the Popup Anything plugin that enables you to request that consumers disable AdBlock expressly.
The majority of individuals are unaware that they are losing out on exceptional deals to avoid annoying advertisements. Approximately 77 percent of users are willing to disable adblockers to see promotional offers.
Popups that use cookies allow you to retarget campaigns for your site's visitors. Retargeting has been demonstrated to increase income by as much as fourfold.
You may display specialized popups for upselling, down selling, cross-selling, or any other kind of sale by using the client data.
Since you know your clients' preferences, you may take customization to the next level using cookie retargeting popups.
You may also combine cookie retargeting with your email service provider to generate personalized messages for returning consumers. Profits will significantly increase as a consequence of this customization.
The item with the most downloads in this category
It is the most downloaded "popup on click" plugin on WordPress.org, with over 320,000 downloads and over 50,000 active installations of Popup Anything on Click.
Wrap Up
When it comes to marketing, WordPress popup plugins are one of the most effective tactics. Furthermore, no one solution works for everyone.
There are many ways to include popups on your website, so perhaps this has given you a better idea of whether to do so for your call to action or YouTube subscriptions.
Popups may be a nuisance, but if they weren't so effective, we wouldn't have spent so much time and effort inventing a solution that makes it simple for you to include them in your online marketing plan.